Faculty Position in the Environmental Studies Department Available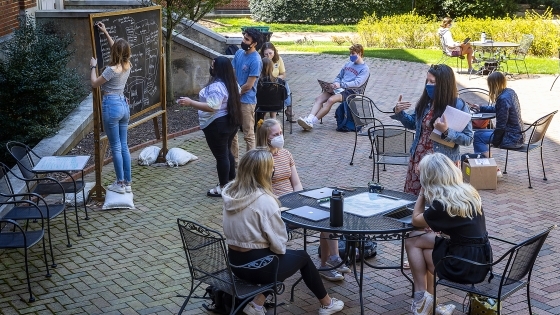 Davidson College invites applications for Visiting Assistant Professor in Environmental Science.
Environmental Studies Department
The Davidson College Environmental Studies Department is interdisciplinary across the natural sciences, the social sciences, and the humanities. Current faculty have worked both within individual disciplines (earth sciences, chemistry, biology) and across these disciplinary boundaries. Students complete an introductory sequence with coursework in all three tracks before choosing a 'track' where they will focus the depth of their work. During their final year, students complete a capstone project (i.e., senior thesis) working closely with a faculty member. Faculty mentoring has been shown to be productive for both the student and the faculty member with numerous student first-authored publications in recent years.
Teaching
We expect that the visiting assistant professor will demonstrate potential for excellence in teaching, which includes fostering inclusive learning environments where all students can succeed. The annual teaching load for full-time faculty members at Davidson is five courses over two semesters (no summer courses are offered). For most science faculty members, a five-course load translates into two lab courses (with two lab sections each) plus a third course each year. However, it is also possible that a single lab course and three seminar style courses are required instead.
Facilities and Instrumentation
In 2017, the natural scientists within Environmental Studies moved into a new science facility housing biology, chemistry, environmental science, and psychology. Each science faculty member with an active research program has dedicated research space that is further supported by shared facilities and instrumentation (freezers, centrifuges, autoclaves, dishwashers, ice machines, balances, water systems, etc.). All teaching labs are well-equipped with computers, projection systems, and specialized instrumentation. The building also features classrooms designed for active learning and informal spaces that promote interdisciplinary collaboration and community building. In addition to this new sciences building the college also operates a well field, a greenhouse, a lake campus, a farm, and a 200-acre ecological preserve that support science education in various ways. Additional support services within the sciences include animal care staff members, a scientific instrumentation specialist, academic technologists, a department coordinator, and laboratory preparation staff members who support environmental science lab courses.
 Professional Development and Support
The college provides financial support ($2,000 per year) for visiting faculty members to attend professional conferences, up to $400 per semester (approx. 40 hours) for a student research assistant, and moving expenses up to $2,500. In addition, two-year visitors can apply for internal funding (Faculty Study & Research Grant) the summer between the two years of employment. The Environmental Studies Department budget provides support equipment and consumables related to teaching. The college provides faculty members with professional development opportunities, a Center for Teaching and Learning, a pre-tenure faculty group, a faculty of color group, a LGBT caucus, and some internal research grants. It also sponsors workshops on teaching and participates in organizations dedicated to outstanding undergraduate education.
Committments to Diversity, Equity & Inclusion
Davidson shares aspirations to reimagine the liberal arts, a singular commitment to educational excellence and access, and educating students for disproportionate impact. The successful candidate will demonstrate a commitment to fostering diversity and inclusivity and have experience interacting with students of diverse backgrounds. The search includes possible interactions with representatives from Davidson's Student Initiative for Academic Diversity (SIAD) to discuss diversity and inclusivity.
Davidson's active pursuit of inclusive excellence in STEM was recently recognized by a five-year $1 million grant from HHMI's (Howard Hughes Medical Institute) Inclusive Excellence initiative in undergraduate science education. Fostering Inclusivity and Respect in Science Together (FIRST) aims for Davidson to build our inclusive capacity to engage all students in science, especially those who are new majority students or come to college via non-traditional pathways.
Davidson also participates in QuestBridge, Posse, and other initiatives including The Davidson Trust, a no-loan financial aid program for all students.
Davidson has a non-discrimination policy and strong, ongoing commitments to social justice, quality, and access. As an example, in the wake of North Carolina's controversial HB2 "bathroom bill" Davidson rapidly released a statement in support of LGBTQA community members. At Davidson College, we believe the college grows stronger by recruiting and retaining a diverse faculty and staff committed to building an inclusive community. To achieve and sustain educational excellence, we seek to hire talented faculty and staff across the intersections of diverse races, ethnicities, religions, sexual orientations, gender identities, ages, socioeconomic backgrounds, political perspectives, abilities, cultures, and national origins.
The Charlotte Area
Just 20 miles north of the thriving city of Charlotte, Davidson is a lakeside college town that is an important and well-regarded member of the Charlotte metropolitan area. As North Carolina's largest city, Charlotte is a financial center featuring professional sports teams and a busy hub airport with frequent nonstop flights to many domestic and international destinations. Thus, Davidson students, staff, and faculty members enjoy the diverse advantages and opportunities provided by remarkable proximity to a lively major city, suburbs, and charming small towns, and lakefront communities on Lake Norman (North Carolina's largest lake). Moreover, with the mountains of Western N.C. and the beaches of the Atlantic only a few hours drive in either direction, rural and recreational areas are also readily accessible and available.
Apply for Visiting Assistant Professor in Environmental Science