Davidson Biology Hiring Tenure-Track Assistant Professor of Biology: Integrative Behavioral Biologist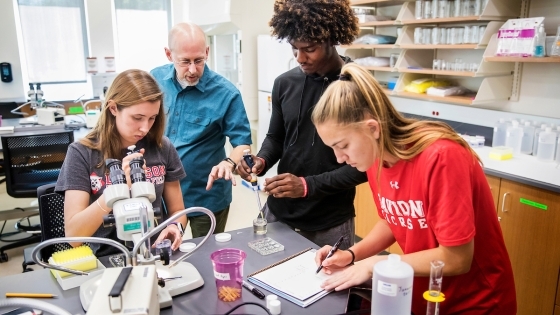 Position Summary
The Davidson College Biology Department invites applications for a tenure-track position in integrative behavioral biology at the assistant professor level.  We seek a biologist with demonstrated potential for excellence in undergraduate education and mentorship who addresses behavioral questions from evolutionary, ecological, integrative, and/or physiological perspectives using modern and interdisciplinary approaches.  Candidates using population genetics, genomics, comparative phylogenetics, modelling, computational, and/or field-based methods are particularly encouraged to apply.  Priority will be given to candidates with the potential to advance institutional goals in diversity, equity, justice, and inclusion.  The posted job ad can be found on Davidson's employment website.
Appointment Term
The position will begin on July 1, 2022.
Teaching Expectations
We expect that the new integrative behavioral biologist will demonstrate potential for excellence in teaching, which includes fostering inclusive learning environments where all students can thrive.  Teaching responsibilities include a rotation of introductory biology (with lab), an advanced organismal-level course (with lab), biostatistics, and an additional course in the candidate's area of expertise, for an annual five course teaching load (where courses with class and two lab sections count as two courses).  For instance, one year, the successful candidate may teach introductory biology (with lab), the advanced organismal-level course (with lab), and biostatistics, and the following year may teach introductory biology (with lab), two sections of biostatistics, and an advanced seminar.  Courses with labs are typically capped at 32 students, biostatistics is capped at 20 students, and seminars are capped at 12 students.  In their first year, new tenure-track appointments teach a four-course load.
Research Expectations
The successful candidate will be expected to develop an active research program capable of attracting external funding and producing peer-reviewed publications with undergraduate co-authors.  Start-up funds, laboratory teaching support, and a dedicated research lab space in a new science building designed to promote innovative teaching and collaboration will be provided.  Candidates will be expected to mentor students through independent research projects during the academic year and over the summer.
Candidate Qualifications
A Ph.D. in biology or related field is required with postdoctoral research and teaching experience (or equivalent) preferred.  Davidson College is strongly committed to achieving excellence and cultural diversity.  We welcome applications from individuals of all identities and backgrounds.
Who We Are
Davidson College is a residential, four-year liberal arts college, located 20 miles from Charlotte, NC.  Davidson faculty members enjoy a low faculty-student ratio, emphasis on and appreciation of pedagogical excellence, and outstanding facilities.  We uphold a collegial, respectful atmosphere that honors academic achievement and integrity, upholds educational excellence, encourages student-faculty collaborative research, and prioritizes inclusive pedagogy.  Davidson College is an ideal workplace for those interested in interdisciplinary collaboration, building community, and developing pedagogical practices.
Teaching and Research Climate
The Biology Department emphasizes student learning through original research experiences. Biology is regularly one of Davidson's most popular majors with about 75% of biology majors performing research during a summer or semester experience.  With state-of-the-art facilities for both teaching and research, Davidson biologists have been very successful in integrating teaching and research.  Many biology courses include original research experiences as part of the laboratory; in some cases these class projects (as well as many independent research projects) result in peer-reviewed publications and/or presentations at scientific meetings. 
Commitments to Diversity, Equity, and Inclusivity
Davidson shares aspirations to reimagine the liberal arts, a singular commitment to educational excellence and access, and educating students toward achieving disproportionate impact for good.  The successful candidate will demonstrate a commitment to fostering diversity and inclusivity and have experience interacting with students of diverse backgrounds.  The search includes a faculty equity advisor throughout the process and during campus interviews candidates will meet with representatives from Davidson's Student Initiative for Academic Diversity (SIAD) to discuss student experiences with diversity and inclusivity in the classroom.  Davidson's current accreditation quality enhancement plan (QEP) focuses on inclusive pedagogy with an emphasis on gateway quantitative courses (STEM and Economics).
Davidson is actively pursuing inclusive excellence and is a current recipient of a major grant from HHMI's Inclusive Excellence initiative in undergraduate science education.  Davidson also participates in QuestBridge, Posse, and other initiatives including The Davidson Trust, a no-loan financial aid program for all students.  Davidson has a non-discrimination policy and strong, ongoing commitments to social justice, quality, and access. As an example, Davidson appointed a Commission on Race and Slavery to build a comprehensive understanding of the college's history involving slavery and the lives of enslaved people.  This work inspired beginning steps towards acknowledging the college's past and achieving racial equity and justice. 
How We Support You
To support your growth, security, and well-being at Davidson College, we will provide you with two mentors: one internal to the Biology Department and one external to the department.  In addition, all untenured faculty members can gain peer support, guidance, and networking opportunities from our Junior Faculty Network and, if applicable, the Faculty of Color Caucus, the LGBTQIA+ Faculty/Staff Caucus, and other affinity groups.  We in the Biology Department are happy to share syllabi and course materials when possible.  When available, the college can also provide rental housing adjacent to campus for new faculty members, which can alleviate the burden of searching for accommodations in a new or unfamiliar location; a property manager in the Physical Plant can assist with locating housing.
Davidson College will provide start-up funds as well as a dedicated research laboratory to support the successful candidate's scholarly research pursuits.  $2,000 in annual travel funds are available for faculty members to attend professional conferences.  The college also provides opportunities to apply for research support, particularly for summer research collaborations between faculty members and students, support for student travel to present research results at scientific conferences, and funds to cover publication costs.  Moreover, the Biology Department budget provides support for some instrumentation, travel, and/or consumables related to teaching and faculty-student research.
The Grants and Contracts Office supports faculty members in both seeking and managing external funds. Additional support services within the sciences include animal care staff members, a scientific instrumentation specialist, academic technologists, a Biology Department program coordinator, and three laboratory managers who support biology lab courses.  Biology department faculty members have a consistent record of receiving external funding from agencies such as NIH, NSF, and HHMI.
Facilities and Instrumentation
In 2017 Biology moved into a new science facility housing biology, chemistry, environmental science, and psychology.  Each science faculty member with an active research program has use of a dedicated research space that is further supported by shared facilities and instrumentation (freezers, centrifuges, autoclaves, dishwashers, ice machines, balances, water systems, etc.).  All teaching labs are well equipped with computers, projection systems, and specialized instrumentation.  Major scientific instrumentation includes: a microscopy suite (including confocal), a tissue culture facility, environmental chambers, animal facility, spectrophotometers, PCR machines, a new rooftop greenhouse, and more.  The building also features classrooms designed for active learning and informal spaces that promote interdisciplinary collaboration and community building.  In addition to this new science building the college also operates a lake campus, a farm, and a 100-acre ecological preserve that supports science education in various ways.  Biology faculty members also have access to preserves and parks through relationships with local lands conservancies, municipal parks departments, and land owners. 
Sabbaticals and Course Releases
New tenure-track appointments teach a four-course load in their first year and five courses per year thereafter.  Pre-tenure faculty members may request a sabbatical in their fifth year.  Full-time, tenured faculty members normally earn a sabbatical leave of up to two semesters every seventh year.  The college typically funds sabbatical salaries of one semester at full pay or two semesters at half pay.  As well, a faculty member's external research funds and/or competitive internal funds may become available to supplement salary for leaves.  Davidson faculty members also have a variety of opportunities to earn reduced teaching loads to support externally funded research projects, to advance curricular innovations, and/or as acknowledgements of service (often through mentoring student researchers).
Professional Development
The college provides faculty members with professional development opportunities through a mentoring program, a Center for Teaching and Learning, a pre-tenure faculty group (JFN), a faculty of color group, a LGBTQA caucus, and grants for teaching innovations.  It also sponsors workshops on teaching and participates in local, regional, and national organizations dedicated to outstanding undergraduate education. 
The Charlotte Area
 Davidson is a lakeside college town just 20 miles north of the thriving city of Charlotte. As North Carolina's largest city, Charlotte is a financial center featuring professional sports teams and a busy hub airport with frequent nonstop flights to many domestic and international destinations.  Thus, Davidson students, staff, and faculty members enjoy the diverse advantages and opportunities provided by remarkable proximity to a lively major city, suburbs, and charming small towns, and lakefront communities on Lake Norman (North Carolina's largest lake). Moreover, with the mountains of Western N.C. and the beaches of the Atlantic only a few hours drive in either direction, rural and recreational areas are also readily accessible and available.
Apply
Application materials must be submitted through Davidson's employment portal by clicking the button that reads "Apply now." Preference will be given to candidates who have submitted their materials by October 1, 2021.  Application materials will include: 
Cover letter:  Summarize your eligibility for this position, interest in working at a liberal arts college, your interest in working at Davidson College, any accomplishments that you want to feature, your ability 

to teach the desired courses, and any considerations you would like us to be aware of that may not be obvious from your other submitted materials. (two page maximum length*)

CV: Summarize your education and professional accomplishments.  Include names and contact information of three references (no page limit).

Teaching statement:  Describe your approach to and experience teaching, including descriptions of pedagogical training, practices, assignments, or activities that align with your approach to teaching. Although teaching experience is helpful, we prioritize potential for excellence in undergraduate instruction. (two page maximum length*)

Research statement:  Provide an overview of your proposed research program, including a clear description of how it will operate with undergraduate researchers and with your teaching obligations. (three page maximum length*)

Diversity, equity, justice, and inclusivity statement: Here we would like you to describe your past experience with and/or training in educational diversity, inclusion, equity, and/or justice initiatives or practices. This could include, but is not limited to, any formal teaching and mentoring experiences, education, outreach, and/or lived experiences that have prepared you to teach, mentor, and advise diverse students. In addition, we would like to know of your plans for advancing inclusive pedagogy at Davidson College. We are NOT asking you to reveal aspects of your identity or to disclose personal hardships or trauma. (two page maximum length*)
*In the interest of conducting a fair hiring process, we will not review any additional materials that are submitted and we will not read beyond the page maximums listed for each document.
Candidate Selection
The initial screening of candidates will be based on an evaluation of the candidates' statement of potential contributions to Davidson's commitment to diversity and inclusive pedagogy.  Specifically, DEIJ statements will be scored using a rubric with the following categories: 1) knowledge and familiarity with DEIJ issues, 2) demonstrated commitment to DEIJ issues, and 3) plans for advancing inclusive pedagogy at Davidson College. 
Candidates who pass through to the next round will be assessed on their research and teaching statement, cover letter, and CV. Teaching experience and ability/potential to teach an advanced organismal-level course, biostatistics, and the organismal/ecological half of introductory biology, research experience, potential for engaging undergraduates and attracting external funding in the proposed research program, mentoring experience and potential, and demonstrated commitment to service and/or community engagement are components of the rubric.
Inquiries may be sent to Dr. Chris Paradise at chparadise@davidson.edu. 
Search Timeline and Process
The search committee (most tenured or tenure-track members of the Biology Department, one external voting member, and an equity advisor) expects to begin application review in late September, conduct preliminary interviews by phone/Zoom with top candidates in late October, and then invite up to three candidates for campus interviews in November (this schedule is subject to change without notice).  Campus interviews will include meetings with the president, vice president for academic affairs and dean of faculty, human resources, as well as faculty members, staff members, and students in biology including representatives of Davidson's Student Initiative for Academic Diversity (SIAD).  Each candidate will be expected to give a research seminar as well as teach a sample class during the two-day interview process.
At Davidson College, we believe the college grows stronger by recruiting and retaining a diverse faculty and staff committed to building an inclusive community.  To achieve and sustain educational excellence, we seek to hire talented faculty and staff members across the intersections of diverse races, ethnicities, religions and worldviews, sexual orientations, gender identities, ages, socio-economic backgrounds, political perspectives, abilities, cultures, and national origins.