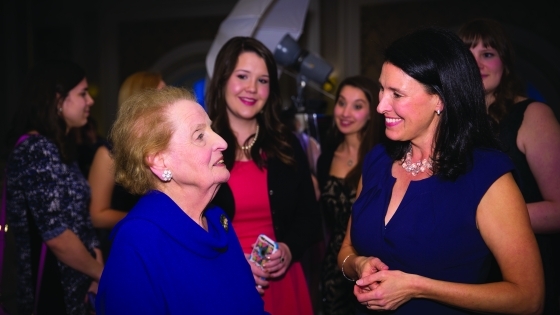 Susannah Wellford '90 helps women get 'Running Start' in politics.
When it comes to women's political representation in the United States, the statistics leave a lot to be desired. Based on a June 2016 ranking from the Inter-Parliamentary Union, the United States ranks 96th out of 193 countries for the number of women represented in national legislatures. In elections ranging from student government to state government, far fewer women than men opt to become candidates.
But if Susannah Wellford '90 has anything to do with it, expect this long-standing fact to change.
As president and founder of Running Start, a Washington, D.C.-based nonpartisan organization that empowers young women of all political stripes to run for office, Wellford and her team aim to flood the political pipeline with confident young women prepped to run for and hold public office.
After joining a former colleague to lead the nonpartisan Women Under Forty Political Action Committee (WUFPAC) to fundraise for female federal candidates, Wellford recognized that there were too few women running for office. She saw the need to provide training and encouragement to young women on how and why to run, which led to the creation of Running Start.
Running Start trains high school, college and young professional women in key political leadership skills. Each summer, the organization holds an intensive week-long program for high school students form all over the country, and each semester, they offer a congressional fellowship for college women. A yearly summit brings together young women of all ages to network and polish their skills, and their Young Women to Watch Awards showcase their alumnae to Washington, D.C., movers and shakers. Running Start also partners with AAUW to offer workshops throughout the year on college campuses around the country on how to run for student government. In all, Running Start has trained more than 10,000 young women in 10 years.
Members of congress from both sides of the aisle support Running Start, serving as mentors and employers for young women interning on Capitol Hill and sitting on Running Start's Congressional Advisory Board.
The Davidson Journal spoke with Wellford to learn about her efforts to improve the state of women in politics.
Why don't more women run for office? What barriers do they face?
There is a real combination of barriers that keep women away from running for office. There are external factors, like the way the media covers women in politics, friends not being supportive or understanding of a desire to run for public office, and critiques from constituents about the candidate's personal life and family decisions, among others.
Any time you put your name and your life out there in public, it can get uncomfortable. Often, these realities are so unpleasant that women feel dissuaded from running.
On the other hand, women are also more likely than men to sell themselves short, putting up self-imposed barriers to running for office. There's a lot of "I can'ts"—for instance, "I can't fundraise," or "I can't speak in public well enough," or even, "I just really don't think I'm what people are looking for."
That ties in with Running Start's recent social media campaign, where women take photos with a sign that reads "#ILookLikeAPolitician." Can you explain a little about the meaning behind the project?
My team was inspired to create our campaign by #ILookLikeAnEngineer. It really strikes at the heart of what the issue is: women not seeing role models in politics. This project helps them have that affirmation, that I look like a politician. It's so empowering and important to see political role models. We even sent our fellows and interns to Capitol Hill to get female lawmakers to take pictures for the campaign as well.
This election cycle featured women in both of the major parties running for the presidency, one of whom went on to win the Democratic nomination. Has that generated excitement among women who might want to enter politics?
People were more excited in 2008 about a woman running for president because a woman had never made it as far before. Back in 2008, Running Start couldn't keep up with all of the mail and the more than 30,000 applications we received for our programs; there was such a tidal wave of interest. This time, a woman running for president is not as much of a novelty, and the novelty was what I think made people so incredibly excited in 2008. I think if we were to elect a female president, though, that would change and women would be reenergized to run for public office.
How do you convince people to support this cause?
It is important to keep in mind that we're starting with 14-year-olds and preparing young women to run for student government and city councils, which will be the foundation for pursuing higher office later in life. Sometimes, donors will ask about who we've had run for congress and we're not there yet! Still, we've already had Running Start alumnae enter public service in many ways, including one who is now the youngest-ever state representative in Illinois and three who have been elected to Advisory Neighborhood Commissions (ANCs) in Washington, D.C., one of whom was the youngest person ever elected to the district's government. Many of our alumnae work on campaigns, work on Capitol Hill, or gain experience in the business or nonprofit worlds that they plan to use for their political careers.
Now we have this army of young alumnae across the country spreading the word that you are never too young to lead and bringing people to our cause. The young women we work with are so amazing. If I can get people in the room with them, I know they are going to support them. The energy of these young women is so infectious and powerful. It's incredibly gratifying to know that Running Start had a hand in empowering them to grow into leaders.
What advice do you have for women interested in running for office?
Life is all about connections. Make as many strong connections as you possibly can from an early age. Get yourself out there to meet as many people as you possibly can, and work on being warm and authentic. Keep those connections up. Those people are going to be your support team when you decide to run.
Would you ever consider running for office yourself?
I am really enjoying what I'm doing right now. If I ever found an opportunity where my skills might be better used in political office, I would say yes. For now, I feel that I can make the most positive difference in the world by bringing more young women to politics through Running Start.