Helping Hand and a Warm Smile: New Campus Resource for Students to Bear Name of 60-Year Employee Lula Bell Houston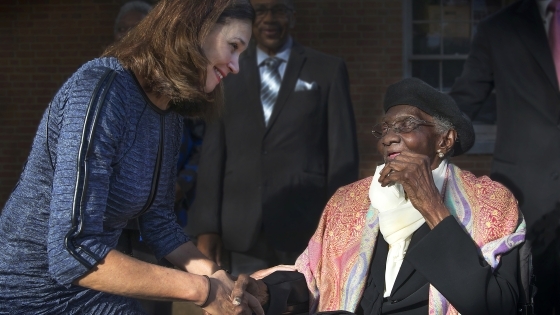 Lula Bell Houston, a name associated with making others feel valued and loved, will once again be attached to a space that makes a lasting difference in the lives of students.
For 60 years, Houston woke up at 4:15 a.m., so as not to be late for her 6:30 a.m. start time at the Davidson College Laundry. And every day, she washed clothes, flat-ironed sheets, welcomed students with a friendly smile and helped turn a college into a home. The laundry was named for Houston when she retired in 2004–she then returned to the laundry to work for three more years.
Her legacy will live on in an on-campus resource center that aims to prepare students for success at and after Davidson. "Lula Bell's" will provide students with professional and winter clothing, textbooks, food and kitchen supplies.
Along with resources for all students, the space will host innovative and informative programming around life skills, such as financial literacy, and systemic social issues, and will be a centralized hub for all students to study, hang out, grab a suit for an interview or borrow a pot for cooking.
"Lula Bell's is a tangible example of the college's commitment to providing the full Davidson experience for all students," said Tom Shandley, vice president for student life and dean of students. "We are thrilled this center will remove identified barriers and also provide leadership and educational opportunities for our students."
Planning for the resource center is underway, with the goal of a fall opening. A campus-wide celebration to honor the individuals who brought this important resource to fruition will be held at that time.
A Focus on People
Born in 1923, Houston took the job at Davidson after her first husband left her, a 25-year-old single mother of two. She earned $12 per week. Many days, when her children were still small, they came to work with her. She would later remarry and add two more children to her family, and she continued to work at the laundry.
Houston recalls the relationships that made her time at Davidson special. Students sought her out for advice or to discuss events from the day. Many told her that her smile could turn around any bad day.
Joe Harris '02 met Houston as a high school student during the July Experience program. That summer, she was working in the laundry and in E.H. Little Library, dusting books.
"The first thing I remember is how ready she was with that wonderful smile and the genuine interest she took in learning more about me," he said. "I could not have known then how much of an impact she would have on my Davidson experience."
Harris' relationship with Houston grew during his four years as a Davidson student and has continued into his years as an alumnus.
"With each hug or high-pitched laugh, you could see she sincerely enjoyed and cared about the student who visited her at the laundry, and how those brief visits renewed her spirits as well as ours," he said. "After I graduated, she would call to check on my classmates and me and to make sure I was still going to church."
Endless Impact
Houston speaks of Davidson with a soft smile and tender words. The place that helped her support her family quickly became an extension of that family.
When asked what kept her at Davidson all those years, her answer was quite simply, "love."
At the time of her retirement, South Carolina Congressman John M. Spratt Jr. prepared a congratulatory statement for the Congressional Record, honoring her years of service to the college and the town. Spratt was Harris' former boss, so the two worked on the initiative together.
The statement read in part, "the biggest legacy that Ms. Houston leaves the college and the town of Davidson is her warm personality and loving nature."
"That statement sums her up the best," said Harris. "I will never forget the look on her face when I presented the framed statement to her and shared that Congressman Spratt would be reading it on the floor of the U.S. House of Representatives. She embodies the spirit of Davidson College, and her genuine love for this place and its people will live on in the new resource center for generations to come."
Danielle Strickland
dastrickland@davidson.edu
704-894-3101