Ridding the World of Rhetorical Zombies and Dishonest Discourse, One Writer at a Time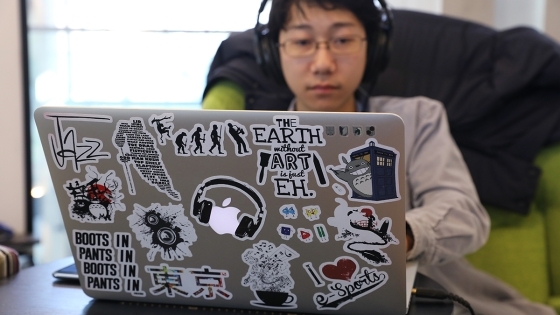 Van Hillard teaches writing because democracy depends on it.
In an era of eroded public discourse, where falsehoods live on like rhetorical zombies and social media strips complex issues of nuance, Hillard said writing programs have important jobs to do.
"Learning to manage disagreements, and to negotiate differences of position and opinion, have always been features of liberal arts education," said Hillard, who directs Davidson College's writing program for first-year students. "Liberal arts colleges have an historical relationship to good argument and civic education."
And that relationship rests with graduates who are prepared to lead in situations where people disagree with one another.
"Our writing courses teach the art of deliberation, which is quite different from what students are receiving as writers in high school," Hillard said. "We want students to think of themselves as persons who can account for diverse perspectives on any issue, and what that diversity demands of them as responsive writers who choose to acknowledge, concede, or refute counter-positions."
Lifting the Veil
All colleges and universities in the United States face the question: How can we best prepare students to transcend the limits of high school writing and meet the demands of intelligent writing valued in college and in public life?
Educators from 40 liberal arts colleges recently traveled to Davidson College for the Small Liberal Arts Colleges Writing Program Administrators Conference (SLAC-WPA) to collaborate and share ideas, and to hear from colleague Jill Gladstein, the Swarthmore professor responsible for leading the National Census of Writing.
When the census debuted in 2015, educators finally got insight into how writing is taught in colleges and universities, what's working and what isn't. The first-of-its-kind census gives administrators, faculty and researchers an "open-access view of the national landscape," according to Inside Higher Ed.
Gladstein's keynote address highlighted the findings of the census, a three-year effort that surveyed more than 900 colleges and universities about the state of their writing programs, how they marshal professional resources to deliver the best instruction and how programs are administered.
Hillard hosted the conference, which focused on how schools are making data-driven decisions to assess and support student writing.
"We always knew that our students' writing deserved to be studied as vast corpora so that we could discover patterns of struggle and success across great numbers of papers," Hillard said. "At Davidson, just in the first-year writing course alone, we now have the power to survey the thousands of discourses produced by our students. By harnessing the powers of big data analysis, we can describe the writing of the entire first-year class and adjust our teaching accordingly, something never before as possible." 
Since 2011, Davidson's writing program has carried out three programmatic assessments, the latest in 2017. Each of those assessments focused on how well Davidson writers make use of various forms of reasoning to support their positions. In each iteration of the evaluation, writing program faculty found that students' ability to argue effectively improved significantly over the course of a semester's work in Davidson's universally required writing course.
Writing's Place
Hillard, a professor of rhetoric and writing studies and past-president of the SLAC-WPA, cut his intellectual teeth as writing studies was coming into its own -- when academia recognized the ties between the act of writing and students' development as independent thinkers and rhetorically savvy persons, able to think carefully about the dynamics of disagreements.
"It was the power of intellectual writing -- to say something that mattered, to discover a sense of agency, to involve others in new thinking -- that attracted me more than anything to this work," Hillard said. "Who can resist helping students make effective choices and sound judgments as writers?"
Hillard said liberal arts colleges hold a unique place in writing studies in the United States. Liberal arts colleges have long valued the skills necessary for ethical and productive debate.
"In one form or another, writing instruction at small colleges tends to be woven into the curriculum itself," Hillard said.
Many colleges provide first-year seminars that include writing, but writing is the primary focus of Davidson's program.
First-year students choose from courses taught by professors from nearly every discipline represented on campus -- from philosophy to biology. The course may be about a particular issue or topic, but the focus is on argument -- how has the issue been written about in forms ranging from essays to academic articles to op-ed pieces?
For example, a new course taught by Malcom Campbell, professor of biology and director of the James G. Martin Genomics Program, tackles the disconnect between science and the communication and understanding of scientific phenomena. In "Fake News, Real Science," students look at how issues, including climate change and vaccination, have been communicated to the public, and appropriated by politicians and industry.
"Small liberal arts colleges have a long tradition of attending to writing as one of the key practices of civic and scholarly work, a tradition extending from the 19th century to the present moment," Hillard said. "We have a treasured place at the table and cherish our mandate to support students' rhetorical lives."