Photo Album: Memory, Memorial and Recognition of a Painful Past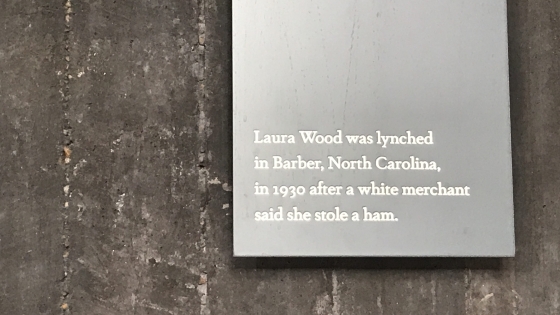 Montgomery, Alabama, is a city of contradictions -- the birthplace of the modern civil rights movement and the most active slave trading market in the South; home to Martin Luther King Jr.'s first parish, the Dexter Avenue King Memorial Baptist Church, and temporary home to Jefferson Davis, the sole inhabitant of the First White House of the Confederacy.
Davidson College students, faculty and staff boarded buses bound for Montgomery to engage with history in two of the city's most talked about new spaces -- the Legacy Museum and the National Memorial for Justice and Peace. The 70 students and educators made the trip as part of the "Memory Studies" course, which brings together five courses taught by faculty in different disciplines around the various phenomena of collective memory.
There, they connected with Davidson alumni who work for the Equal Justice Initiative (EJI), the organization behind the museum and memorial. The museum guides visitors through the history of enslavement in the United States, from the transatlantic slave trade and slave market holding pens to modern-day prison cells and the scourge of mass incarceration. The memorial, whose steel coffin-like columns bear the names of more than 4,400 victims of racial terror lynchings, reminds visitors of unacknowledged atrocities that were often public spectacles.
Kiara Boone '11, EJI deputy director of community education, and Mickey Hubbard '08, a staff attorney with the organization, provided insight into the making of the museum and memorial, and facilitated discussion after the group visited the museum.
The study trip, led by Professors Kristi Multhaup (psychology), Hilton Kelly (educational studies and Africana studies), Scott Denham (German studies), Alan-Michael Parker (English) and Dasa Mortensen (history), was fully funded by the college's Mellon Foundation Justice, Equality and Community grant.
Look for an article featuring the "Memory Studies" course, Kiara Boone '11 and Mickey Hubbard '08 in the spring issue of the Davidson Journal, available online in May.