Students and Alumni Vie for $25K in Davidson Venture Fund Pitch Competition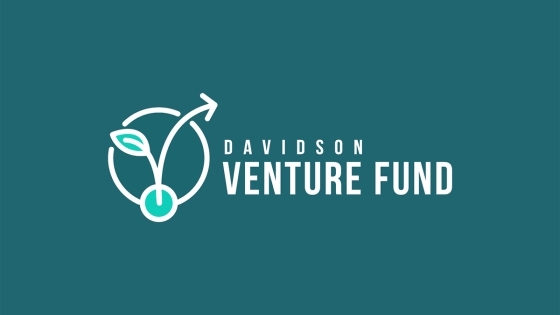 Teams of Davidson College alumni and students tonight will make the case for their entrepreneurial brain children in front of judges at the sixth annual Davidson Venture Fund Pitch Competition, hosted by the Jay Hurt Hub for Innovation and Entrepreneurship.
For six weeks the three alumni teams and three student teams have been working with mentors to refine their ideas in preparation to compete for a seed investment of $25,000. Each team will pitch ideas for for-profit ventures in front of a crowd of students, faculty and investors. The cash prize will bring the winning team one step closer to realizing their entrepreneurial dreams.
Look for news of the competition results tomorrow; but first, meet the finalists:
Student Teams
Meet the three student teams competing in the 2019 Davidson Venture Fund Pitch Competition on this week's episode of Hub Happenings, hosted by resident vlogger Jesse Epstein '21.
LEAPS Academy- Mariem Bchir '20 and Walid Hedidar 
Mobile Movement - Mikayla Smalls '20
SowChange - Zane Libke '21, Nathan Engstrom '21 and Altan Tutar '20
Alumni Teams
Food2Fight
Lauren Lu and Jacqueline Shiu
Lauren Lu '16 and Jacqueline Shiu '16 continue a friendship that began during their freshman year at Davidson. The college roommates shared interests and time together as members of Rusk Eating House and activities including Dance Ensemble.
After Davidson, Lauren went on to design and manage cancer research databases at the Levine Cancer Institute. Meanwhile, Jacqueline worked at the Alvarez College Union before moving on to do event design and marketing for an event company based in Charlotte.
Later, the pair teamed up to form their idea for a business, Food2Fight. They explain their venture as a personalized mobile health app that allows cancer patients to take control of their diet and nutrition during and after treatments.
"We are committed to giving back what matters the most to the patient: time, energy, and health," Lu and Shiu said. "Foods2Fight follows each individual's food journey and helps patients maintain their nutrition during their battle."
It is an idea rooted in personal experience.
"Foods2Fight was inspired by my father who was diagnosed with cancer in 2016," Lu said. "My family has always bonded during meals and around my mother's cooking. When we noticed that he had taste changes, it was hard for us to see him struggle and unable to enjoy our favorite foods together."
Lu and Shiu hope Foods2Fight will improve the lives of cancer patients and will families like Lu's.
Jam
Shea Parikh
Shea Parikh '16 will present his pitch on Jam, a platform that integrates a company or group's calendar system and helps to schedule connections between employees. He hopes to use Jam to help employees feel welcomed, better assimilated to their work environments and able to develop new skills through connections with employees from different departments.
Parikh said the inspiration for Jam struck him his senior year at Davidson.
"I remember thinking, 'Why don't more collision points happen between students on campus?,'" he said. "Students know one another on a first-name basis, but I wondered why I didn't know more about this or that person's interests, or their fears, or something exciting they're working on. I thought, 'Could we use technology to increase the collision points between individuals in a community, and, if so, would it strengthen that overall community?'"
After graduation, Parikh joined Venture For America, a two-year fellowship program for recent graduates who work to create jobs in American cities. He then decided to stay in Charlotte and took a position with VersaMe, a startup company that created a wearable device designed to facilitate language development in babies, with the goal of reinventing early childhood education.
The idea for Jam really took shape after he left Davidson and stepped out of what many Davidson students refer to as the "Davidson bubble" and onto different career paths.
"I became obsessed with trying to figure out how to leverage the same technology many were arguing was making us less human and use it to facilitate more human connection," Parikh said. "The companies we wake up everyday and go to work for are in a way communities in themselves, and so it made the most sense to start trying to facilitate more human connection in the workplace."
Strumline
Ricardo "Ricky" Saad and Amit Lift
After playing tennis at Davidson, Ricky Saad '17 taught tennis to inner-city kids in Philadelphia while using his spare time to learn classical piano. He later took on many different roles with the Vanguard Group, an investment company.
Saad then paired up with Amit Lift, a Georgia Institute of Technology graduate, to develop their idea, Strumline.
"Strumline is our effort to fix the issues we're seeing in the music industry," Saad said. "We want to make music easier to enjoy, but right now there's a lot of red-tape when it comes to booking artists. Musicians also don't get a fair shake; often, they get mistreated by venues (venues have all the power) and they don't have consistent access to gigs. It's tough for a starving artist."
Stumline was inspired by Saad's long love of music and, tangentially, by geographic coincidence -- Saad grew up only a few blocks from pop star Taylor Swift.
"I think the inspiration for Strumline was always there. When I was 13 or 14, I remember spending hours on underground music websites like the Kollection trying to 'discover' the next big thing, especially in dance music," he said. "Amit and I -- more than once -- would go on crazy road trips; we printed out the directions (iPhones didn't exist at this point, I don't think), and we'd be off to some town or the other listening to the next big thing," Saad said.
Saad and Lift have drawn inspiration from a few unexpected and exciting experiences, including a trip to a concert that ended with the two lost in a snowstorm.
"I just think those experiences, compounded with the experience of my musician friends, and hearing from them how hard it is, inspired us to take this step," Saad said. "We're really trying to put a dent in this industry and help artists build careers and allow people to enjoy the art they bring into the world."
Winning the Venture Fund Competition would put Foods2Fight, Jam and Strumline one step closer to turning their ideas into fully realized businesses. The teams will officially pitch their ideas during the competition on Wednesday -- one winner will be chosen.
All are welcome to attend the Venture Fund Competition at 5:30 p.m., Wednesday, April 24, in the E. Craig Wall Jr. Academic Center, Davidson College.
Published
Authors
Lucy Fasano '21

Jessie Epstein '21