Truman Scholar Catherine Cartier '20 Pushes Beyond Comfort Zone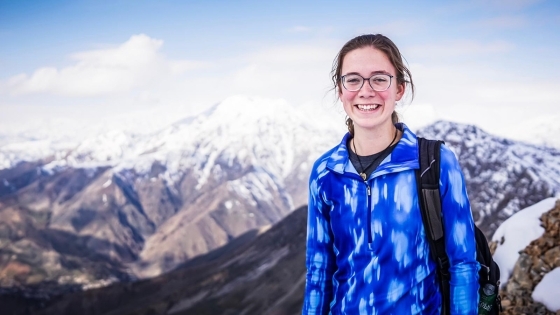 In seventh grade, Catherine Cartier decided to learn French.
She took online courses to bolster her middle school French classes and practiced with anyone who spoke the language.
In her quest to become fluent, she spent her junior year in high school as an exchange student in Morocco, where she also started to learn Arabic. In the years since, she's lived and studied in Beirut and Tripoli in Lebanon; Amman, Jordan; and currently, the Central Asian country of Tajikistan.
Her international research and volunteer work with refugees at Davidson College helped propel Cartier '20 to win a prestigious 2019 Harry S. Truman Scholarship. She plans to pursue a doctoral degree at Columbia University's Department of Middle Eastern, South Asian and African Studies.
Cartier traveled an exhausting 30-hours by plane for a 20-minute scholarship interview -- (she hates flying) -- and left worried that she hadn't made her best impression.
"I was so nervous, I decided to turn off my phone the night before they were being announced, then finally went to bed," Cartier said. "I got up at 6 a.m., peeked at my phone and saw I'd won. I was very surprised, and very excited."
Rebecca Joubin, an associate professor in Arabic studies at Davidson, considers Cartier an ideal candidate for the scholarship. Joubin said that Cartier has embraced each new culture she's experienced, living with families and learning their traditions.
"Catherine is a very gifted writer and researcher. She pushes herself out of her comfort zone because she loves knowledge," Joubin said. "She's also a very humble, genuine, good person."
Life-Long Passion
Experiencing different cultures has been a near life-long passion for Cartier, a history and Arab Studies major from Portage, Michigan. Her American-born grandparents, whose families came from Quebec, speak both English and French.
"I always thought that was so interesting, and I wanted to talk to them in French," she said.
Every new experience inspired new challenges.
Living with an Arabic-speaking family in Morocco made her want to learn more about the culture and steered her toward Arab Studies at Davidson. As part of the student organization Davidson Refugee Support, she helped coordinate an initiative selling hats made by local resettled refugee women from Nepal, Bhutan, Sri Lanka and Syria. She was also an Arabic tutor on campus.
Cartier, a Belk Scholar, spent the summer after her first year of college in an intensive Arabic program at the Qasid Institute in Jordan. As a second-year student she studied at the Middlebury School in Jordan, where she developed a research project about storytelling by Syrian women.
It was a moving and memorable time.
She spent hours listening and documenting stories that had been passed down through generations but were in danger of dying because of war casualties and the surviving refugees' displacement. She met one woman who experienced extraordinary loss and hardship, but volunteered to tell the traditional stories to refugee preschoolers in Jordan.
"These stories are meant to be told, why would I keep them to myself?," the woman explained.
"I'm so interested in their stories, and how they're told," Cartier said. "That's something that is universal."
Cartier spent the summer of 2018 in Tripoli, where she researched how art helped people heal from the trauma of war. She studied graffiti and calligraphy and talked with artists who described the outlet they found in art.
Cartier has published her research on Syrian storytelling and Tripoli art in several journals and magazines, including The New Arab, Syria Untold and Al Noor.
"Her research has always been very connected to service. There's such a vulnerability to the people she's been working with, and to sit with her for hours like they did showed that they trust her," Joubin said.
Because of its war-torn history, Tripoli is not a common student destination, Joubin said. Nor is Tajikistan, where Cartier lives with an elderly couple and studies in a small intense Persian program.
She often spends afternoons in the garden with her host mother, and evenings drinking tea and hearing stories about grandchildren and life before and after the country gained its independence from the Soviet Union.
Cartier speaks Arabic and French proficiently and is now working to improve her proficiency in Persian through an immersion program in Dushanbe, Tajikistan.
"Catherine's a pioneer. She has a real talent for languages and cultures, and she continues to flourish and serve the community and world around her," Joubin said. "She doesn't go where she'll be the most comfortable, but where she'll be the most challenged."