Two Nations Grapple With Sins of the Past and Present-Day Consequences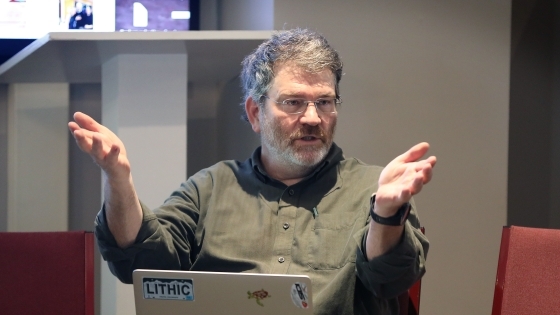 The sins of history run deep.
Under Nazi rule, Germany sanctioned the murders of millions of Jews and other victims. The United States built its early economy on the backs of enslaved Africans.
Each country owns an ugly history that continues to haunt the present, with 21st century bigotry spawning mass shootings at synagogues in Pennsylvania and California, and at an African American church in South Carolina.
So how do you tell the truth about your shameful past? And how do you teach the past honestly and thoughtfully in a present dominated by technology and social media?
Those questions brought a contingent of educators and anti-Semitism experts from Germany to the southern United States, a former bedrock of American slavery. They visited colleges, Jewish centers and businesses in North Carolina and South Carolina to talk to their American counterparts about how the past affects the present.
They saw a pre-Civil War slave market in Charleston, South Carolina, and paid their respects at nearby Emmanuel AME Church, where a young white supremacist shot and killed nine African American church members in 2015.
They met for discussions at Jewish centers in Columbia, South Carolina, and Charlotte, North Carolina. And they joined Davidson College students and their professor for a discussion about anti-Semitism and racism.
"Our work overlaps in uncannily parallel ways," said Scott Denham, Charles A. Dana Professor of German Studies. "We should compare, and we should be aware that we face similar challenges. How do you responsibly memorialize and teach in a way that's ethically responsible and has context?"
Confronting Hate
The Hanns Seidel Foundation organized the study trip, which was funded by The German Foreign Office to support cooperation between Germany and the United States.
German visitors talked about how lives lost during the Holocaust left their country with a tiny Jewish minority nearly a century later. The two groups drew comparisons between the Nazi laws meant to dehumanize Jews and America's earlier Jim Crow policies designed to keep African Americans from rising socially, economically and politically after slavery ended.
Levi Ufferfilge, headmaster of The Jewish School in Munich, Germany, said he was struck by the racial segregation he saw in several South Carolina neighborhoods. He talked about how he and an African American Uber driver ended up in a "terrifying" white neighborhood peppered with Confederate flags.
She told him that a black woman and a Jewish man wouldn't be safe there, so she detoured through an African American neighborhood where she seemed to know everyone, but his was the only white face, he said.
He said segregation and racism pervaded her family's history.
"She told me about some of the troubles they have had," Ufferfilge said. "It seemed so utterly sad and unfair."
Davidson students talked about their fears that racism and anti-Semitism are on the rise, and how they've worked to combat bigotry.
In fall of 2018, anti-Semitic graffiti "Hitler did nothing wrong," appeared on a whiteboard in a college classroom. Weeks later a group that exposes social media hate speech purveyors revealed that two Davidson students' Twitter feeds included racist and anti-Semitic hate speech and threats. They have since left the college. 
Students said they were scared, dismayed and disgusted by the revelations. They staged a protest denouncing hate speech. And they petitioned the college to establish a Jewish studies program, which will begin in fall of 2019 with three visiting professor appointments.
After the incident, Denham decided to teach his history and German studies seminar, "The Holocaust and Representation," in spring. Final individual projects will include a variety of poetry, literature, algorithms and drama.
"This undertaking has been so multi-faceted, talking with the German visitors, and the seminar -- there are commonalities," said Severine Stier '19, who is Jewish and led the petition for a Jewish studies program. She's also working with Denham on an independent study about the history of Jews and Jewishness at Davidson.
"Our conversation made me think more deeply about the importance of studying how memory can illuminate how we remember not just traumatic events," Stier said, "but also everyday life stories or life-affirming events."