Personal Experience Motivates Goldwater Scholars' Cancer, Alzheimer's Research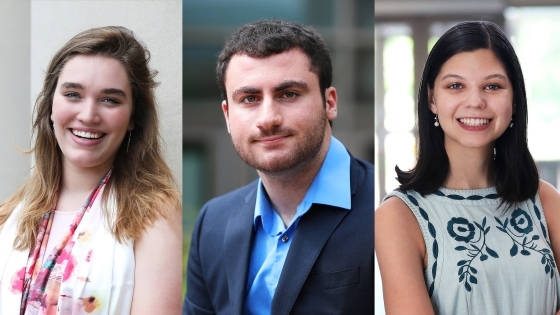 Ellie Mackintosh and Hossein Bakhshandeh are seeking better, more targeted cancer treatments. Katie Barlis is searching for clues to understand and treat neurological disorders like Alzheimer's Disease.
The three Davidson College students have won 2019 Goldwater Scholarships, which are awarded to undergraduates for outstanding achievement in mathematics, natural science and engineering.
The U.S. Congress founded the award in 1986 to encourage scientific research. Davidson's newest Goldwater Scholars spend plenty of time doing just that. Here's what motivates them:
Ellie Mackintosh '21
In eighth grade, Ellie Mackintosh created a special mouthwash for cancer patients who had dry, sore mouths after chemotherapy and radiation.
Her dad, who beat cancer when Mackintosh was a baby but still experiences side effects, inspired and tested the mouthwash. It didn't work as well as she planned, but she's tinkered with the ingredients over the years and still hopes to find the right formula.
She won first place at the Colorado State Science Fair in the medicine and health category for that eighth-grade mouthwash project. Two years earlier, she won second place overall for a project that explored her mother's contention that kids are safer riding in the back seat of a vehicle than in the passenger seat.
She boiled eggs to varying degrees of doneness to represent the growth structure from infancy to adulthood, and looked at the cracking patterns. She used a pillow as an airbag. In the end, her research validated her mother's belief that kids are safer in the backseat.
Mackintosh says a great middle school teacher sparked her interest in science. Back then, she wanted to be a doctor and at one point shadowed the oncologist who treated her dad.
Since studying at Davidson, her plans have changed.
"I respect what doctors do, but I discovered I'm really into the research. When I got to Davidson I met all these professors who have been so influential in my life," Mackintosh said. "My professors make me feel valued as a scientist. That's such a gift -- especially for women in science -- to say, not only are you valued, but you belong here."
Mackintosh, a Belk Scholar, plans to pursue a doctorate degree and become a college professor and researcher. She hopes to one day develop an anti-cancer agent specifically geared toward treating head and neck cancer.
She got an early start in teaching by holding tutoring sessions at her high school.
"I'd lecture and use a white board and colored markers -- I'd have 30 people there and I absolutely loved it," she said.
Malcolm Campbell, Herman Brown Professor of Biology, says Mackintosh is a natural teacher. In one instance, she explained an aspect of DNA cloning to fellow students who didn't fully understand it.
"Ellie would make a great professor because she loves to learn as much as she enjoys helping others understand," Campbell said.
Mackintosh hopes that she'll one day inspire students as she was inspired.
"Success in science comes down to the teachers," she said. "It's complicated, but when you have the right teacher it becomes something exciting. To see professors and teachers who love what they're doing really makes me want to do that."
Hossein Bakhshandeh '20
One of the most exciting areas of cancer research involves immunotherapy, where the body uses its own immune system to fight the disease.
When Hossein Bakhshandeh spent the summer of 2018 working in the laboratory of Nobel Prize-winning immunologist James Allison, he felt like he'd found his purpose.
"I don't think I knew until then," Bakhshandeh said. "Once I realized I could overcome challenges and do good work in the area of immunotherapy, I discovered that was my real passion."
Born in Columbia, Missouri, Bakhshandeh and his family moved to the San Francisco Bay area when he was a baby. In California, he attended schools with rigorous math and science programs and developed an early interest in biology.
At Davidson, Bakhshandeh majors in biology and is a Bonner Scholar. After college he plans to enter a dual MD/PhD program to become a physician and researcher.
Bakhshandeh won the college's 2019 Daniel Blain Woods Memorial Award, which goes to two students who exhibit compassion, integrity and academic excellence. In 2018, he won a John M. Douglas Scholarship and was cited as "one of the best pre-med candidates in Davidson's Class of 2020."
He will spend the summer as he has for the past two years -- conducting research at The University of Texas's MD Anderson Cancer Center under Allison, who won the 2018 Nobel in the physiology or medicine category.
At Davidson, Hossein's conducting an independent study to develop a deeper understanding about the research he's done. Sophia Sarafova, an associate professor of biology and his advisor on the project, says it's exciting that he's been able to participate in ground-breaking cancer research.
"With his independent study he will be able to have even more of an intellectual contribution," Sarafova said. "I feel confident he'll be able to make significant progress this summer. He has the curiosity you need to keep engaged in science research, and a don't give up when things don't go your way attitude. He's not going to wait for someone to hand him an opportunity -- he'll make his own."
Bakhshandeh's family has had some experience with cancer; his grandmother died from leukemia when his father was a child.
"Many Americans have unfortunately been touched by cancer in some way," he said. "I'd love to do whatever I can to work to help reduce that through science and clinical research."
Katie Barlis '20
Katie Barlis has some puzzles to solve.
She's researching how brain deterioration, trauma or injuries affect memory and behavior. In her quest for answers, she performs brain surgery on rats to find clues to the causes of Alzheimer's and other neurological diseases.
"I've always been interested in the relationship between the brain and behavior," she said. "Neuroscience fascinates me because it examines how the brain underlies everything we think, feel and experience."
Her interest started as a young child who looked up to her neurologist grandfather. He would sometimes describe the challenges of diagnosing difficult cases.
"I remember him saying that it can often seem like a puzzle," she said.
A psychology major from Millstone Township, New Jersey, Barlis was touring Davidson as a prospective student when she visited R. Stuart Dickson Professor of Psychology Julio Ramirez's neuroscience laboratory.
"Seeing the compelling projects of his students sparked my desire to pursue neuroscience at Davidson," she said.
In her research she uses a behavioral test known as the Radial Arm Maze to assess spatial working memory in rats. She's researching the role that the brain area known as the hippocampus and its connecting pathways play in memory function.
That's where the brain surgery comes in. She connects the pathways of the rats' brains and compares their behavior to rats who haven't had the surgery. In people, the research can be applied to Alzheimer's Disease, which has been linked to hippocampus damage.
"I like that my research at Davidson stands at the intersection of psychology and neuroscience," she said.
That research is not without frustration. The Radial Arm Maze can be finicky and sometimes requires troubleshooting to stay running. Ramirez says Barlis has become an expert on handling the machine and always remains calm.
"During our work together I have been very impressed with Katie's intensely curious mind, her superlative work ethic and her serene attitude," Ramirez said. "She has become an accomplished group leader as she manages the research team helping with her behavioral research.
"I'm so delighted to see her abilities as a budding psychologist and neuroscientist recognized with the Goldwater Scholarship."
After college, Barlis plans to pursue a doctoral degree in human neuropsychology. She hopes to work with people who have neurodegenerative disorders like Alzheimer's, traumatic brain injuries and Parkinson's Disease.
Parkinson's research is especially important now -- her grandfather has recently been diagnosed.
"That has provided me with a personal connection to the work I'm doing and further motivates me," she said. "Research is absolutely vital to understanding the pathology of brain-related diseases, finding effective treatments and working towards a cure."