Davidson Staff Honored for Making Campus a Kinder, More Beautiful Place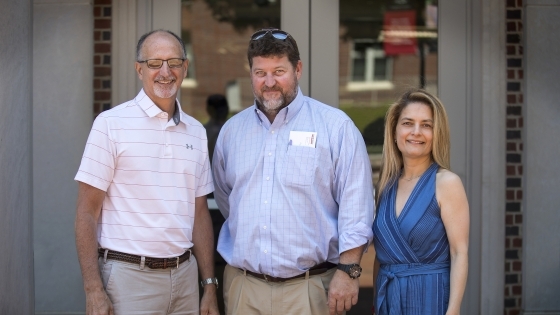 When students go to the Davis Café, they always get a warm welcome from Irsa Vargas. Bad days turn better and problems don't seem so unsolvable. 
"She is an incredible person who is always so quick to say hello and ask me how I'm doing," one student wrote. "She is easy to talk to and really brightens my day."
On May 24, Vargas received the 2019 Spirit of Davidson award for the care and excellence she brings to serving the college community. President Carol Quillen presented the award before a cheering audience at the college's Employee Appreciation Day.
The award is given annually to an hourly employee who has been at the college for at least three years, follows the Honor Code and excels in service and support to Davidson and its students.
Kathy and Gary Parsons established the $850 annual award in 2008 in appreciation for the caring way that Davidson employees treated their son Mike '08 during his time at the college. Mathematics Professor Donna Molinek and Davidson friend Frank Molinek contributed to the endowment to increase the award to $1,000.
Vargas is enormously popular with students, who repeatedly praised her in their nominations for the award. At Spring Convocation, she received the Omicron Delta Kappa (ODK) staff award in front of another cheering crowd.
"Irsa greatly impacts Davidson through her tangible joy, humble servant heart and genuine passion for students, co-workers and all who pass through the Union," the ODK award said. "She's an integral component of the Davidson family, intentionally encouraging and uplifting others."
Students concur. As one wrote in the Spirit of Davidson nomination:
"She is like family to me and encourages me to keep pushing on hard days, and generally increases my happiness on all days. Her genuine care towards me and life advice has helped me out since my first few days here."
Hackenson Family Fellowship Award
When a student complains, David Holthouser listens.
"What makes him stand out is his ability to see these moments as opportunities to really engage with our students and find ways to help them realize, or in many cases, exceed their goals," a colleague wrote. "He involves students in the process of developing their ideas and makes sure that regardless of the outcome, the students feel heard."
Holthouser, director of facilities and engineering, received the first annual Hackenson Family Fellowship award. The fellowship provides $5,500 toward travel and expenses for continuing education and professional development.
Elizabeth and Bill Hackenson established the award in honor of their son Billy's 2013 graduation. The award recognizes a staff member for outstanding service to the college and its students, "going above and beyond his or her job responsibilities to mentor students and enrich the campus community."
"You cannot walk more than a few feet on this campus without feeling the impact of his daily work and his more than 25 years of commitment to this place," the nomination letter said. "Many people comment on how welcoming and friendly this campus is. Our beautiful campus provides the foundation for that magic to happen.
"Because he inherently understands that physical space really matters, in ways that shape this community and our future, we recognize the many contributions of David Holthouser."
Matthews Travel Endowment Award
Scott Applegate is a behind-the-scenes guy who's everywhere.
If you go to a soccer, field hockey or basketball game, he's there. During his 30 years at Davidson he's built a reputation as someone "embodying that very rare and precious combination of high competence and low drama," one colleague wrote.
And though he's known for not taking time off, perhaps this year will be different.
Applegate received the 2019 Matthews Travel Endowment Award, an annual grant given to recognize "the outstanding and unselfish service rendered Davidson by members of the College family."
Frank Matthews '49, established the award in memory of his brothers, Eugene Robinson Matthews '36 and James Houston Matthews '50. The award gives $20,000 toward travel expenses for recipients and their families. Faculty and staff who've worked at the college for at least six years are eligible for the award.
Applegate came to Davidson in 1989 as an assistant athletic trainer. He now oversees the athletic facilities and is associate athletics director.
"He has served Davidson for many years, but is not wed to the way things are now," the nomination letter said. "Instead, he thinks about how things could be better. His willingness to innovate and take risks has brought about much positive change to our campus."