Startup Among the Startups: Davidson Launches Liberal Arts Venture Into Silicon Valley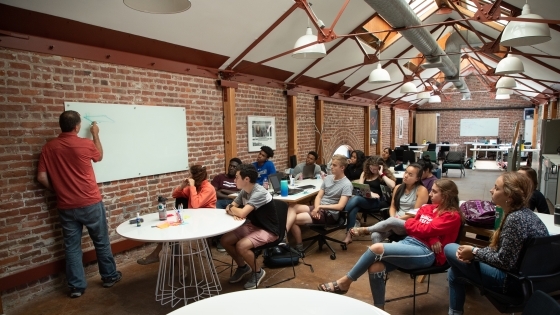 Less than two blocks from the headquarters of Twitter and neighboring Uber, eight Davidson College students operate out of meeting space with puffy chairs and white boards in a renovated 19th century building with exposed brick and beams.
SAN FRANCISCO – On this particular day, they are untangling computer code with tutoring from Jesse Farmer, a computer programmer and entrepreneur who co-founded online clothier Everlane and the coding program Dev Bootcamp.
He coaxes them to resist burning time on a distracting challenge: "Every programmer has spent 10 hours trying to automate something they could have done manually in two."
A couple hours later, the students were introducing themselves during a networking event to a small crowd of tech success stories, including: a user experience expert from facebook, a venture capitalist and a Davidson alum software engineer at Amazon -- the sort of offices packed with twentysomethings in work uniforms of a t-shirt and blue jeans.
This was one afternoon out of a six-week plunge into the epicenter of tech startups and stalwarts alike. The previous day students got an insider tour of operations at Instacart, the grocery delivery app, and, the day after, tossed questions to a teaching engineer from Lyft, Uber's chief competitor in the rideshare business.
The Davidson students, plus a half-dozen peers from three other liberal arts colleges, are crewing the maiden voyage of "Liberal Arts in Silicon Valley." They have immersed themselves in the world of java, both the computer language and the barista-served, for much of the summer, yet fewer than half are contemplating a tech career.
The core of the program is learning coding, picking apart and building the funny typed words and symbols on the black computer screen that undergirds every function on the machine. Most users find it only by accident and, then, desperately try to make it go away.
"It comes down to wanting to answer questions and…learn things faster," said Chris Amoroso, a junior from Charlotte and hiker who previously dabbled in pulling down and analyzing data in economics, his major. "It's more power to figure out what I want to figure out, feed my curiosity."
Silicon Valley Connections
When he arrived for the program, however, Amoroso said he wasn't completely convinced. Did he really need to relocate to the west coast to learn coding? He recalled thinking: "We could do this anywhere."
Beatrice Levy, a sophomore from nearby Alameda, California, didn't immediately find the direct link to her interests in public health and reproductive rights, saying she is "still figuring that out."
Like Amoroso, she is not among those eyeing a tech career, but the first week's networking night convinced both of them of the value of their summer by the bay.
"Physically being here," Amoroso said, "is much more important than I thought."
They were enjoying access to a stream of players from the digital economy, each of whom credits their job to someone they knew in tech.
"We were talking with them about how their major connected to what they do now," said Levy, who runs cross country and the mile. "A similar thread they all mentioned was that it doesn't necessarily matter what you studied but how you communicate, and having grit when it gets tough."
Davidson and other liberal arts colleges, rather than building a narrow expertise, cultivate deep skills, such as: seeing the links between disparate problems, communicating across an audience with different life experiences, and tackling a large project or mission. The college helps students find the connections between what they do in the classroom and where they see themselves in the world by providing opportunities to explore, through internships, overseas experiences, job shadowing or work in the community.
This summer Davidson added Silicon Valley to that list.
Learning How to Learn
Jeriel Adarquah-Yiadom, a sophomore defensive end for Davidson's football team who plays five musical instruments, was born in Ghana, moved to New York at age three and, later, Columbus, Ohio. As a child he declared he would be a scientist and disassembled a remote control motorcycle to see how it works. He is intrigued by software engineering and credits the Silicon Valley program with empowering him to explore the JavaScript world.
By the end of the second week, he and fellow students had created a personality test of the sort that pops up on facebook promising to match the player to a "Game of Thrones" character. Adarquah-Yiadom's game was tastier: What kind of fruit are you?
"It's teaching us how to learn," Adarquah-Yiadom said.
The primary teacher is Sherif Abushadi, the Egyptian-born son of a journalist and a diplomat, who grew up in Washington and studied mechanical engineering. He learned how to code on a losing bet. In 1997 he dismissed a friend's forecasts and wagered that email and the internet craze were a doomed fad. His promised payment several years later was to give it a try. Eventually he switched from programming to educating, including at Johns Hopkins University.
"We're teaching them a language with which to engage the future," Abushadi said during a break at one of the ubiquitous coffee shops in the neighborhood. "You don't have to be a world class engineer to understand engineering. You don't have to be an artist to appreciate art."
Davidson's Silicon Valley venture wires perfectly into the liberal arts mission, he said. Students get comfortable with that inevitable point of confusion in tackling computer code, can communicate as technologists and can navigate a world that he said increasingly is becoming an exclusive citadel for engineers and venture capitalists.
"I'm hurrying the humanities students over the moat," he said.
The program was developed through a partnership with Entangled Studios, Adjacent Academies, and Davidson faculty. The Adjacent team drew on their own networks plus plentiful Davidson alumni to build out and around the coding sessions. Guest speakers, site visits and networking help the students explore the tech economy and strengthen skills they need to travel any career path. The networking night, for example, was preceded by a session to help students introduce themselves -- a how-to for their elevator pitch.
Nile Rowan, a marketer with past stints at Levi Strauss and Gillette, coached one group: take your hands off your hips, don't trail off at the end of your sentence, tell them something interesting about yourself.  It helped Davidson sophomore Chase Coley gesture less with his hands and refine his icebreaking by the second try.
The students spend a lot of time on coding but learn that tech extends far beyond it. The guests in the program spanned a host of jobs, including 2010 Davidson graduate and football player Mark Iafrate, whose marketing work has helped launch software and e-commerce companies, including The Beer Exchange, in Charlotte.
"There are a lot of jobs," Iafrate said, "that have nothing to do with engineering."
That was one of Levy's biggest takeaways.
"I don't know that there was a lightning bolt of, 'There's a job that sounds interesting to me,'" she said, "but I know there are jobs out there that I could create."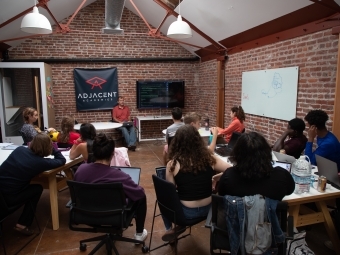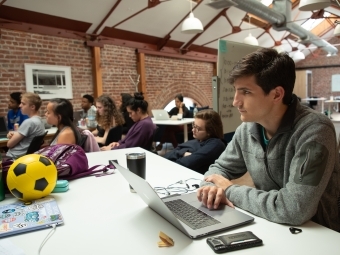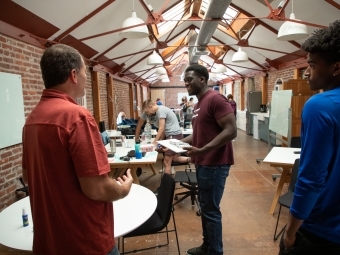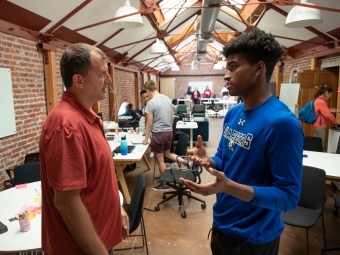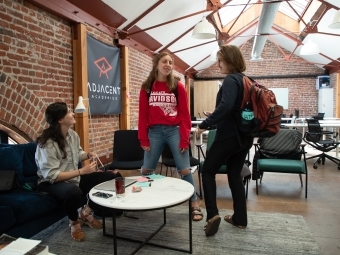 The program was developed in partnership with Entangled Studios, Adjacent Academies and Davidson faculty, and draws from the connections and tech expertise of Davidson alumni. Guest speakers, site visits and networking help the students explore the tech economy and strengthen skills they need to travel any career path.