From Harambee to Debating: Summer Freedom Holds Different Meaning for Six Davidson Students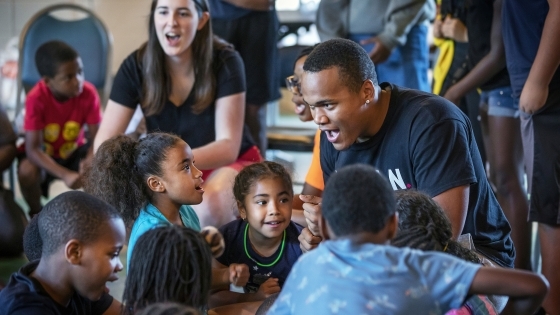 TJ Elliott, linebacker and sociology major, has developed a new appreciation for teachers.
He'd worked with kids as a summer camp counselor, a tutor, and football coach for his little brother's Pop Warner team. Teaching as a Freedom Schools servant leader intern this summer opened a new view.
Leading a classroom of energetic six to eight-year-olds every day – with a mission to improve their literacy skills – kept the Davidson College class of '21 football player and Bonner Scholar from Charlotte playing a nimble mix of defense and offense.
"I always thought it was about managing the class and helping kids redirect their behavior when they need that," said Elliott, of Charlotte. "I wasn't thinking about making lesson plans and all the preparation involved. It made me realize that we don't pay teachers nearly enough."
Freedom Schools started in 1995 as an arm of the Children's Defense Fund and are based on civil rights movement programs of the 1960's. The goal now, as then, is to combat inequities in the American education system. Davidson began sponsoring a site in 2005 and students have staffed it since.
The college's Center for Civic Engagement runs the six-week Freedom Schools program each summer at The Ada Jenkins Center in the town of Davidson. Six students spent the early weeks of summer break in training before heading to their classrooms.
Each day begins with the Harambee, a lively informal reading, song and dance ceremony. Harambee means "Let's pull together" in Swahili. It's a time for students and the staff to celebrate each other and themselves with a shout out for a good deed, positive attitude, or a challenge overcome. 
Mornings focus on literacy; afternoons offer enrichment activities: African drumming, cooking, debate, photography, cardio dancing and strength training. The children receive two meals and a snack each day.
The final week at the end of July included a Freedom Schools market and scavenger hunt on the college campus, which gave the younger scholars a chance to see where their teachers go to school. They posed for pictures in front of buildings, statues and dorms, asking questions about college:
Is it hard? Do you like the food? Do you get to play games at recess?
"I was excited to have this experience and to be able to support black and brown kids when they may not have otherwise had this enrichment," said DaShanae Hughes, a Bonner scholar from New Orleans and the class of '21. "They're excited to read and they're excited to become better readers."
She said it was fun to see kids who were reluctant to join in for the Harambee in the early days dance without inhibition by the end of the summer session:
"Even the ones who were way too cool ended up getting really into it."
Hughes came to Davidson with plans for a medical career. Working with the children has made her also consider the possibilities of social work, education, or some combination.
"I've tutored before at Ada Jenkins, but leading my own classroom is very different," she said. "My mom is a teacher, and before this, I never really thought about it."
Jamari Clark, a rising third-grader at Davidson Elementary School, said he especially likes the Freedom Schools' food and afternoon enrichment sessions. African drumming was his favorite and he demonstrated an impressive knee-slapping, toe-tapping, hand-clapping combination.
Jamari also read some good books over the summer. The one that stands out the most is "The Secret Olivia Told Me," by N. Joy. In the book, Olivia shares a secret with her best friend, who tells another friend until the secret spreads into full-blown gossip.
Moral of the story? Don't gossip, and "Don't promise to keep a secret if you can't," Jamari said solemnly.
One of the tenets of Freedom Schools is that every one of every age can learn from each other.
"For student leaders, it's an opportunity to be mentors, and come down to the scholar's level," said Kaneisha Gaston Arhin a class of '13, Davidson alumna who was a Freedom Schools intern in college and is now a site co-coordinator. "We want our scholars to build confidence and develop a real love of learning. We want them to see how they can make a difference not only within themselves, but in the world."
The takeaway varies among the Davidson students.
"We've had students who've become teachers," Gaston Ahrin said, "and then others who go into business or public policy and focus on what they can do to best effect change." 
Elliott said he can see himself working with kids in the future, possibly as a football coach and high school teacher.
"When you ask a kid, 'What were you thinking?' – sometimes the answer is, 'I wasn't,' " he said. "Just learning to be patient, and be willing to listen to them, to put your foot down when you need to – it looks easy to be a teacher – until you're actually doing it."