Game Changer Prof. Verna Case: A 45-Year Career and Indelible Impact on the College She Loves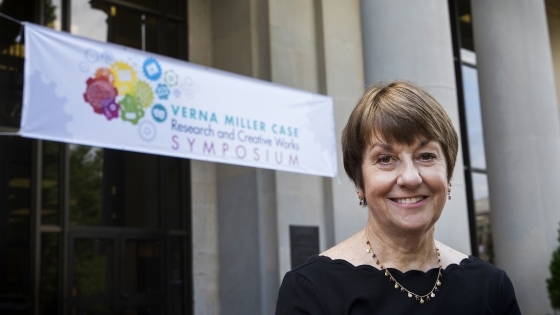 When Verna Case first arrived at Davidson in 1974, she thought she'd stay about two years. Here we are, 45 years later, and the biology professor and leader in research and teaching will retire having left a lasting mark on the lives of countless students.
This spring, the college celebrated the Verna Miller Case Research and Creative Works Symposium, known to students as "The Verna." Case's children honored her years of helping students pursue their own original work by giving a naming gift to the college. Half of the student body participated in this day-long showcase, which included posters in the sciences and social sciences and performances and exhibitions of work in the arts and humanities.
"Many programs at Davidson are now giving students the opportunity to pursue independent intellectual, creative projects," she said. "It's not just about helping a professor with his or her research, but having their own investment in the enterprise of creating new knowledge or artistic creations. Students are very proud of their work, and I think the symposium shows who we are as an institution."
Case's influence extends far beyond campus. In 2000, she began taking students to Mwandi, Zambia, where they work and observe in a rural hospital and study issues in global health. Mwandi Hospital serves a resource-limited catchment area of about 28,000 people.
"My first trip was a little harrowing, I must say," said Case. "But I realized what an extraordinary experience it was for students – seeing medicine practiced in that part of the world and embedding themselves in a culture so different from their own. The growth of students in a short period of time is remarkable."
Initially thinking it would be an every-other-year trip, Case quickly realized that for the program to work well, Davidson needed to have a regular presence.
"It is a lot of fun, but it is an emotional roller coaster, too," she said. "There are difficult situations. For example, one year, a baby was born prematurely and, while the baby easily would have survived in the United States, it lived less than 24 hours in Mwandi. When students experience cultures different from their own, they begin to understand how traditional practices, religion, and environmental and socioeconomic factors play a role in people's health and well-being. Students may have the urge to "fix problems" they observe, but soon learn that their "fixes" usually involve imposing their own cultural biases on a situation they have only begun to understand. Recognition that they have a lot more to learn before they can make useful recommendations is a major step in their educational experience. It's a teaching challenge, and that's why I like it so much. It helps me grapple with who I am as a teacher and who I am as a person."
"I felt like my heart really belonged to this place, and I couldn't imagine myself in another setting."
Another highlight of Case's time at Davidson—and again an example of the way her tenure will be felt by the college for years to come—is a still-new relationship with the POSSE Foundation. Students apply to the POSSE Foundation for the opportunity to become POSSE scholars. Institutions that partner with the foundation then accept approximately 10 students in each cohort to attend their college or university. Davidson became a partner institution in 2015, and the first POSSE group of students to attend Davidson ("POSSE 1") entered as scholars interested in STEM fields. It is quite an honor to be selected as a POSSE Scholar because they are selected based on their extraordinary academic and leadership talent. Each POSSE cohort has an on-campus mentor who guides them through their first two-years at the institution. Case was selected to be the mentor for POSSE 1.
"When I met the group, I think we were all nervous about what POSSE would mean for them and for Davidson," she recalled. "There were high expectations that the first group of POSSE students would pave the way for future POSSE groups and positively impact campus life. We met weekly as a group and individually on a bi-weekly basis. We became like a family. I got to know them very well, and they knew I would hold their confidences. They could tell me as much or as little as they wanted. POSSE 1 embraced Davidson and succeeded. They supported one another when needed and cheered others' success. This past spring, all of the students in POSSE 1 graduated from Davidson, prepared for lives of leadership and service in STEM.
Davidson is indeed grateful that what Case expected to be two years of service turned into a lifelong career.
"You become part of the community," she said. "I looked at other positions over the years, but I love Davidson. I felt like my heart really belonged to this place, and I couldn't imagine myself in another setting. Where else could I have gone to Africa and shared such a special experience with students?"
Verna is celebrated for her love of teaching and has been recognized with myriad awards, including the college's Thomas Jefferson Award in 1998, which acknowledges a faculty member who by "personal influence, teaching, writing and scholarship" promotes the high ideals and accomplishments of Thomas Jefferson. Last spring, she was awarded the Hunter Hamilton Love of Teaching Award, which honors faculty members whose way of life uniquely inspires the full potential of every student, and this spring Case received the ODK Teaching Award for her focus on "teaching her students how to think" and her dedication to global health.