Smart Cookies: Students Find Sweet Relief in Finals Tradition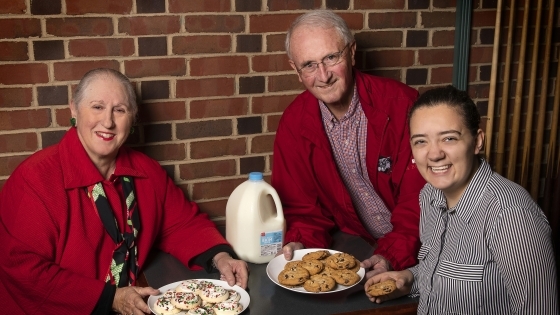 The cookie squad comes out at night.
Just two nights a year, to be precise. They meet at around 9 p.m., load up cars full of delicious homemade favorites, and head to Davidson College.
As Harriet Kessler and others lay the treats out on long tables in the Alvarez College Union, Dennis Appleyard drives to Food Lion, fills his cart with milk and soft drinks, then heads back to join the cookie crew.
By 9:45 p.m., eager students form a line near the cookies, hoping to sweeten the prospect of a potential all-nighter. At 10 p.m. the buffet of sugary comfort opens, and for the next hour or so, a party atmosphere prevails.
It's finals week, and on Monday night Davidson students will take a break from the books to savor some chocolate chip, lemon square and sugar cookies while they cram for exams and finish up papers.
As the holidays approach, students can also expect gingerbread people, cookies covered in red and green sprinkles, and those powdered-sugar doughy balls that came from someone's old family recipe.
A few friendly puppies also plan to show up.
Davidson College Presbyterian Church has hosted the Cookie Study Breaks for more than 35 years. Church members bake for students at a time when many are feeling end-of-semester pressure. The campus ministry committee delivers and serves the cookies.
The Deering family spent Saturday night baking. Right after dinner, Etta Dixon, 10, Hattie, 7, and their parents, Nate and Emily, pulled out the mixer, cookbooks and aprons for what's become a family ritual.
"I always try to encourage a simple recipe; Etta Dixon likes things to be more complicated, so we negotiate," said Nate Deering, who chairs the campus ministry committee. "And the chaos and mess begin."
This year they settled on peanut butter and meringue cookies—gluten-free at Etta Dixon's suggestion. The Deerings have met students through church, college events and in the community, which makes the girls especially excited to bake for them.
"They adore the Davidson students," he said.
They get pretty elaborate around this time of year. We have families who bake with their children; we have alumni, we have young adults, retired adults and everybody in between baking for the students.
Claire George-Drumheller
Kessler has always managed to squeeze baking cookies for students into her busy holiday season. She remembers her young children helping her a time or two (not always successfully) and racing to get the cookies to the church on time. When Kristi Kessler Walters '91 and Mike Kessler '95 later attended Davidson, they, too, got to enjoy the treats they once helped their mother make.
"It's one of the most fun things I do around the holidays," said Harriet Kessler, now retired from a career as the college's assistant director of parent programs. "It's gratifying, because our Davidson students are so remarkable. And they're so appreciative. It's fun to watch them go through and say, 'This is the kind of cookie my grandmom makes every year.' I can't imagine this tradition ever going away."
Grace Cain '20 heard about the cookies in high school while working as a summer camp counselor.
She'd become friends with other counselors from the town of Davidson and wanted to know more about the college. A few told her that their families baked cookies for the students during exam weeks.
Which begs the question: Did the promise of cookies lure her to Davidson?
"Maybe not the cookies alone," she said with a smile, "but I enjoyed knowing that if I went to Davidson there would be this nice, warm community of people who would do sweet things like that."
An English major and religious studies minor from North Carolina, Cain has missed only one cookie study break while studying abroad for a semester in Denmark.
"It's such a fun environment," she said. "Everybody is so supportive, and they want to wish you good luck and tell you to hang in there during finals. It's like a fun family event before you get to go home for the break."
Cookies AND Milk
A few weeks before cookie night, church members get a reminder to bake. While a fair number of offerings show up in spring, the December cookies give those bakers a chance to indulge their festive spirits.
"Everyone really loves the holiday cookies," said Claire George-Drumheller, DCPC's associate pastor for campus ministry. "They get pretty elaborate around this time of year. We have families who bake with their children; we have alumni, we have young adults, retired adults and everybody in between baking for the students.
"You can really feel the excitement build up, especially for first-year students who have a little bit of awe that people do this for them. We hope they know we love them—no strings attached."
Kessler, a long-serving campus ministry committee veteran, says chocolate chip cookies are perennially popular. Students also love Rice Krispies Treats, tiny pecan pies and brownies—and a bunch of others as varied as the recipes from the church members' cookbooks.
Cookie duty does have its important requirements:
"We maybe sample one or two," Kessler said. "There always has to be a taster, and we're happy to do that."
Besides the usual favorites, offerings will include vegan, nut-free and gluten-free cookies. While cookies are the star of this show, milk plays a strong supporting role. There's skim, one-percent and two-percent—and lactose-free for the dairy sensitive.
That's where Appleyard comes in.
At Davidson College, Appleyard's long title is James B. Duke Professor Emeritus of International Studies and Professor Emeritus of Economics. He's also a campus ministry committee member and, on Cookie Study Break nights, the milk man.
It amuses the economist to see what caloric economizing students do when it comes to cookies and milk.
"They really like milk," he said. "What always makes us smile is when we have students with a big stack of cookies on their plate and they'll say, 'May I please have skim milk?'"
Appleyard says it's a fun night, and he enjoys getting out on campus to talk with the students. He laughs about a student who once told him, "This is one of my two favorite days of the school year."
"What's the other?," he asked.
"The other cookie day," she said.
Almond Squares
From the kitchen of Harriet Kessler
Melt a stick of butter.

Mix in a beaten egg.

Mix in:

1 package yellow cake mix

Make dough

Pat in bottom of 9" x 13" pan

Mix and pour over dough:

1 8 oz. package softened cream cheese

2 beaten eggs

1 box XX sugar (reserve ½ cup)

1 tsp. almond extract

Sprinkle on top:

1 package toasted almonds

½ cup sifted XX sugar

Bake at 350 degrees for 35-45 minutes