Prof's "Stay Close" Documentary Short-listed for Academy Awards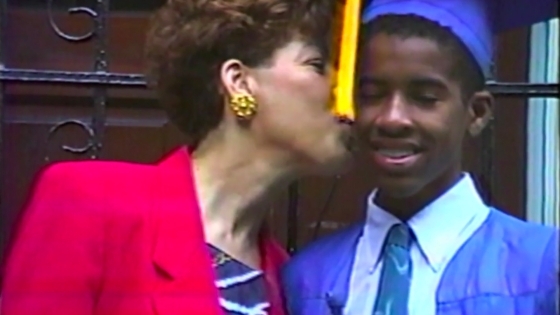 Visiting Assistant Professor Luther Clement-Lam's short documentary, "Stay Close," continues to rack up honors.
The film is one of 10 short documentaries on the short list for nomination in the 92nd Academy Awards. The nominees will be announced on Jan. 13, 2020. It has also been nominated in the Cinema Eye Honors Outstanding Short Nonfiction category and won the Documentary Short Jury Award at DOC NYC, a leading nonfiction film festival.
"Stay Close" is available on the NYT Op-Docs and PBS POV platforms.
Last week, Visiting Assistant Professor Luther Clement-Lam's short documentary, "Stay Close," premiered on the NYT Op-Docs and PBS POV platforms.
Clement-Lam and co-director Shuhan Fan's 18-minute film tells the story of Keeth Smart, an African-American fencer who became the first American male to hold the sport's top ranking and battled through a rare blood disease to win a silver medal in the 2008 Olympic games in Beijing.
Using a combination of home movie footage and animation that Smart himself narrates, "Stay Close" offers a first-hand look at Smart's transformation from afterthought to world champion.
"Stay Close" was the recipient of the 2016 Tribeca Film Institute/ESPN Future Filmmaker Prize and premiered at Sundance this spring. Just this week, the film was shortlisted for the Cinema Eye Honors, the major American nonfiction film awards.
A world-class sabre fencer from Kansas, Clement-Lam is teaching filmmaking and screenwriting this year.
What about Keeth Smart's story caught your eye?
Keeth's family story is remarkable and inspiring, but his voice is so distinctive. Despite being one of the best fencers in recent history, he is self-deprecating about his fencing abilities and somehow jolly about a brush with death. This struck us as far more true and relatable than if someone were to act sad every time they think of something sad.
The film was in production for over five years. How does it feel to know that it's finally reaching a wide audience?
We feel extremely honored and privileged to have the chance to share Keeth and his family and our work with audiences. Responses have been very heartfelt.
You know fencing so well—what do you hope someone who knows nothing about the sport takes away from "Stay Close"?
For us, fencing is really beside the point for this short. We wanted to tell a personal story above all. The sport is just an authentic texture.
Can you elaborate on the title?
The title refers to family bonds and the bonds of second family groups like friends and sport teams. It also refers to a core concept in sabre fencing. Your fight-or-flight response will tell you to run when someone runs at you with a weapon. But in fact, it is safer to be up next to them—to stay close—enabling you to be a threat yourself, not merely prey.
With digital technology making documentaries easier to produce and more likely to find an audience, this seems like a golden age for documentary film. Why do you think documentaries have become so popular?
Digital technology has lowered the cost of entry for filmmaking, and that's certainly true of documentary, but young audiences are also more keen at evaluating authenticity in media now. They are hungry for work that embraces that. I think young creators now are intuitively using documentary forms because they see this authenticity as necessary.
Published
Category
Arts & Creative Engagement