From Ghana with Love: Chef and Alumna Dish on Serendipitous Romance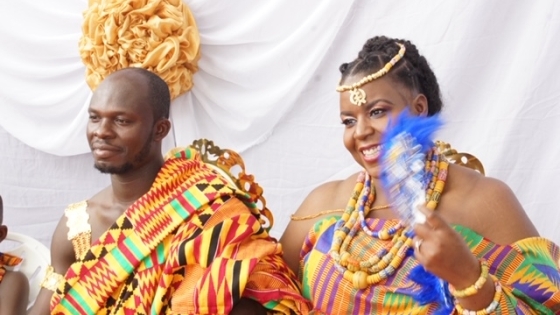 Shivonia Singleton first visited Ghana as a Davidson College student. She'd never flown on an airplane before or been in another country. And she loved it all, from Ghana's customs and beautiful scenery to the kind, friendly people she met.
She returned 22 years later and fell in love. 
Her family and friends were skeptical when she came back after a month abroad and told them  she'd met the man she wanted to marry. Out of character would best describe this: Singleton tended to be reserved, cautious and a little shy about dating. But when they met Isaac "Kojo" Nyame, they loved him, too.
On Wednesday, Jan. 29, Singleton '98 will join her new husband at Davidson while he serves as a visiting chef for the day, creating traditional West African food for the college community. She's pretty sure that people will see what makes the cuisine (and her husband) special.
Nyame, a trained chef and hotel manager, is working with Dining Services to present a "Taste of Ghana" event he hopes will have anyone who's ever traveled or lived  there feeling like they're getting the real deal.
The menu will include a classic Ghanaian chicken stew, a fish and pepper stew, African stewed black-eyed peas, fried plantains and Jollof rice, seasoned with the spices distinctive to the region. There's a theme here: Stews, slow-cooked to blend and capture every flavor, dominate Ghana's culinary scene. The dishes will be available from 11 a.m. to 2 p.m. at Vail Commons.
"It is my passion, I love cooking," Nyame said. "I want the students to experience food from another part of the world and know that Ghana has great food and is a wonderful country."
The event is one in a series coordinated with the Dean Rusk International Studies Program to offer food from countries where students study abroad.
"We work with a lot of different departments to do this. It's good to mix things up," said executive chef Craig Mombert. "It keeps me up on meals from around the world, and it's a great way for students to learn about other cultures."
Professor Emerita Nancy Fairley, who started the Davidson in Ghana Program in 1996 and splits her time between both places, will share slides and stories. Fairley may also beam a bit about introducing Nyame to Singleton. She loves them both like family, and as she sees it:
"These two people have been waiting for each other."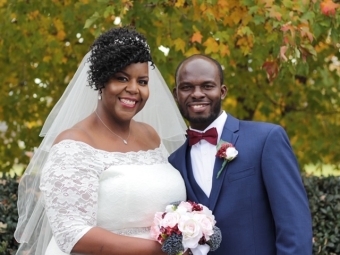 Match Made in Ghana
The summer after her sophomore year at Davidson, Singleton became one of the first students to participate in the Davidson in Ghana program. It's a six-week summer session at the University of Cape Coast.
She stayed with a host family and was initially nervous about eating the food, but then grew to enjoy it. Some of the dishes—like fresh, local seafood and specially seasoned rice—reminded her of those she'd grown up with in coastal Charleston, South Carolina.
Fairley, an anthropology professor, had taught Singleton in class and led the group in Ghana. Fairley's teenage daughter, Malu, also came and explored Ghana with the college students. Singleton became like an older sister to Malu, and a lifelong friendship developed.
As the years passed, Singleton established a career in financial services, bought a house in Charlotte and balanced work, family, friends, church and volunteering. In college, she'd been a mentor for other minority students; she's now active in Davidson's Black Alumni Network.
In 2018 she was between jobs, feeling a little low, and trying to figure out her next move. She talked to Fairley, who invited her to Ghana.
The two usually ate at the Fair Hill Guest House in Cape Coast owned by Fairley's good friend, Anastasia Hooper, who is Nyame's mother. Fairley has known Nyame for most of his life and considers him a nephew. She said Singleton "perked up" whenever they went to the guest house and would stay in the reception area talking to Nyame while Fairley and his mother chatted in the dining room.
"I started noticing their reactions to each other. They can both be a little shy, but it became clear to me within a week that something was really different," Fairley said. "They liked each other."
"I realized that she was my soulmate," he said. "That's why I proposed to her, and was so happy that she accepted."
Long beach walks and endless conversations followed.
Singleton, 43, was struck by Nyame's kindness and thoughtfulness; especially to his mother, to Fairley, and to her. When Singleton didn't want a spring roll because it contained beef, Nyame made her a vegetarian version.
"I realized what a very good person he is," she said. "He was so different from any guy I'd met— he shared himself and his passion to be a chef. He was always taking care of other people, without ever asking for anything in return. I felt like I could really be myself around him."
Nyame, 31, said that the many hours of talking, laughing and confiding in Singleton convinced him that he wanted to spend his life with her. Just before she returned to Charlotte, he asked her to marry him.
"I realized that she was my soulmate," he said. "That's why I proposed to her, and was so happy that she accepted."
"And we haven't not talked a day since," she added.
Life and Work
They maintained a long-distance relationship at first, then Nyame moved to the United States and met Singleton's family.
"My mother adores him, my twin sister adores him—sometimes I think my mom likes him better than she likes me," Singleton joked.
In June of 2019 they celebrated their engagement at a ceremony and lively reception with about 200 guests in Ghana. It started at 10 a.m. and ended at about 5 p.m.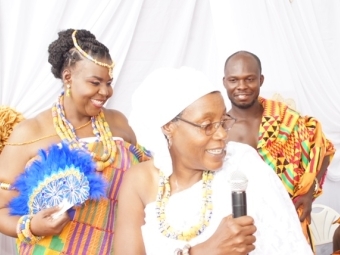 "The entire ceremony was so unlike anything I'd ever experienced," Singleton said. "I was blown away with all the gifts, they were so colorful. There were cloths and jewelry and scarves. I had been so nervous about whether people would accept me—but everyone welcomed me with open arms and kindness. "
In November, the couple had a formal wedding ceremony at her church in Charlotte, followed by a sit-down dinner.
They've settled into their new life together. Singleton is a customer service supervisor at a financial services firm. Nyame keeps busy cooking, doing projects around the house and learning to drive. He's still waiting for permanent resident documents that will allow him to work in the United States.
"I'm adjusting to my life here, but I miss my work," he said. "I like life better when I can work."
He hopes to own a food truck someday, serving his native dishes; then eventually a restaurant. In the meantime, he said he's excited to share his food at Davidson.
"My dream," he said, "is to give this experience so people who come will go away with a very good memory of it."
Davidson Dining Services in Conjunction with Dean Rusk International Studies Present "Flavors of Ghana" with Dr. Nancy Fairley, Faculty Emeritus and Chef Isaac Kojo Nyame, 11 a.m. – 2 p.m., Wednesday, Jan. 29.
Fairley and her nephew, Chef Isaac, have created a menu that replicates the cuisine that Ghanaians enjoy with family and for social occasions.
Here a few of the items that will be offered:
Ghanaian Chicken Stew: Seasoned Bone-In Chicken Cooked in a Tomato-Based Sauce with Carrots, Potatoes and Green Onions
Tilapia with Pepper Stew: Seasoned Tilapia Filet Topped with a Spicy Pepper Stew
Red Red (African Stewed Black-Eyed Peas): Black-Eyed Peas Cooked with Onions, Red and Green Peppers, Tomatoes, Ginger and Garlic, and Habanero Pepper
Jollof Rice: Brown Rice Cooked with Peppers, Onions, Mushroom's, Diced Tomatoes, Carrots and Jalapeno Pepper
Fried Plantains (Kelewele): Popular Street Food Served as a Side Dish or Snack. Fried Sweet Plantain Tossed with Garlic, Ginger, and Spices