'Common Ground' From Collective Effort: Patrick Dougherty Sculpture Enchants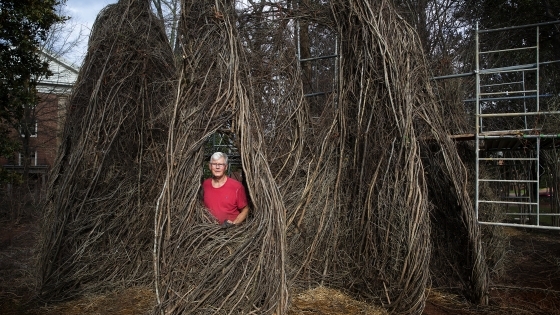 Sculptor Patrick Dougherty creates monumental-scale environmental works using saplings by the truckload. His latest, Common Ground, was unveiled Feb. 21 on the Davidson College campus.
Through rain and snow, student, faculty and staff volunteers collected materials to create the new sculpture, then worked alongside the artist to weave the sticks and saplings into three towers resembling tribal huts.
With his work, Dougherty hopes to redirect attention to the value of sculpture and refocus attention on the experience of art, away from the transactions of buying and selling art.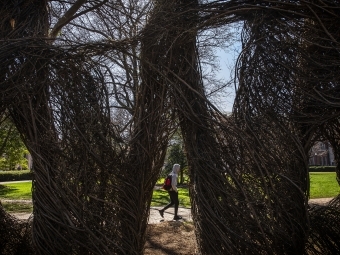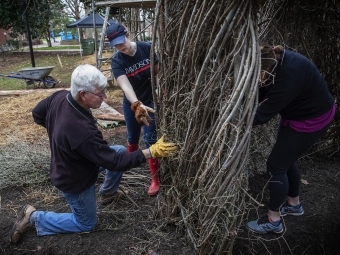 "It stirs your imagination, it embodies ideas, it reminds you of your childhood," he said. "It reminds you of architecture that you've seen here and yon, it contrasts with the architecture here on campus."
Common Ground occupies space between the Alvarez College Union and the E.H. Little Library, near the Vivien Beer sculpture Machined Nature: Anchored Candy no. 9. The sculpture is a gift of Steve '68 and Marcy Sands.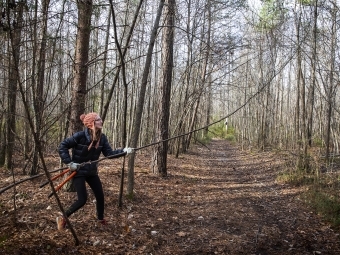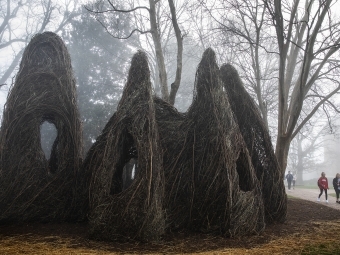 Sculptor Patrick Dougherty became a fixture on campus for three weeks in February. With help from his son and volunteers from the community and college, a new sculpture took shape, emerging from the ground to tower 20-feet high among a stand of trees alongside a brick walkway. The piece is designed for interaction. "This is something you really have to experience by stepping into it," Dougherty said. "That means a lot in terms of how you would evaluate the experience."