Against the Odds: Personal Hurdles, Family Sacrifice Motivate New Watson Fellows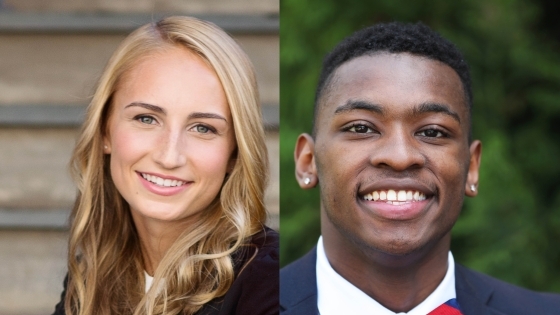 Maddie Hunter had to fight to walk, talk, read and write. 
Doctors told her parents that the damage to the left side of her brain meant their baby wasn't likely to ever function as highly as her peers.
Hunter '20 now runs more than she walks. The biology major and cross-country runner plans to become a pediatric neurologist. She wants to help other kids with Cerebral Palsy defy limits.
Roy Toston '20 watched his mother struggle with Multiple Sclerosis that went undiagnosed for years because doctors found it unlikely that a black woman would get the disease.
Toston, a biology major and former wrestler, plans to be a neurologist intent on eradicating racism in medical research and treatment.
The two Davidson College students have been awarded prestigious Thomas J. Watson fellowships to pursue their interests after graduation.
They'll each get a $36,000 stipend to spend a year abroad seeing how other countries and cultures handle the issues they're researching.
The COVID-19 pandemic could potentially postpone the August starting schedule, but the Watson Foundation says the fellowships will begin when it's deemed safe to travel.
The pandemic hits close to home for Toston and Hunter. Both have mothers with compromised immune systems. They wish their young, healthy peers realized the risk that gathering at parties or on beaches poses of spreading the virus—especially to the immunocompromised.
Toston and Hunter are the 86th and 87th Davidson students awarded the fellowship in its 52-year history. They're friends who have had many classes together. When the news came out, they texted their congratulations to each other at the same time.
"Academically and personally they're two incredibly inspiring people," said Malcolm Campbell '84, Herman Brown Professor of Biology. "Their whole lives have been filled with hurdles, and they just continue to jump over them." 
"The Watson is a challenge, it was one of the greatest challenges of my life," said athletic director and former Watson Fellow Chris Clunie '06. "Roy and Maddie are leaders who are out to have an impact. They're resilient and they're built for the challenge."
Redefining Expectations: Maddie Hunter
From the get-go, Maddie Hunter has battled the odds, and wants to show other kids that they can, too.  
During a high-risk pregnancy, doctors warned her parents about the high possibility of complications.
As a toddler, she displayed symptoms of mild Cerebral Palsy (CP). One doctor said she was destined for a future as a "clumsy and uncoordinated little girl." But her mom, Janet, who lives with physical limitations caused by multiple autoimmune diseases, and dad, Conrad, had other plans.
"My mom is a fighter, and she's been beating expectations her whole life," Hunter said. "They decided they weren't going to let CP define my life. So I didn't either. My parents did a really good job of never making me feel different." 
She started with intensive early physical therapy that transitioned into sports. At four, she played soccer to develop leg strength and coordination. In middle school she added basketball for arm strength and coordination.
Cerebral Palsy made her movements awkward, and a target for elementary school bullying. Her brain processed differently: She was pulled out of regular classes and into special education because she couldn't grasp the alphabet or read on grade level.
"It spurred me to run faster and try harder so I could beat the bullies," she said. "My competitive nature kicked in."
By seventh grade, people couldn't detect that the runner and athlete had ever had physical impairments. She played lacrosse and ran cross country in high school and continued both at Davidson.
She stopped playing lacrosse after a concussion her first year but ran for the women's cross-country team all four years and track team for three. She's also excelled academically.
Campbell, who has taught Hunter since her first biology class at Davidson, said he's always viewed her as a natural for the Watson Fellowship. He has a good sense for this: He spent a year as a Watson Fellow after his graduation from Davidson.
"She has overcome an awful lot in life, and her desire to work with children speaks to the kind of person she is," Campbell  said. "To give of herself, to say, 'I've done this, you can too,' is something that's really needed for children who are often  marginalized."
During her Watson year, Hunter plans to study the effects of exercise intervention for children with disabilities.
She'll volunteer with a company in South Africa that makes adaptive equipment. She'll spend time with children in sports camps throughout Europe. In the United Kingdom she'll help plan for the 2022 CPISRA World Games. She'll help to organize a conference in Sydney, Australia, and volunteer to coach track and field in New Zealand.
"I'm a big believer in the beauty of conversation," Hunter said. "I want to share my story with others so that they continue to push their limits—to reach their potential and never give up hope."
Devotion and Determination: Roy Toston
One day as Roy Toston wrote a school paper on the family computer in his mom's bedroom, she came home from work, hugged him, then locked herself in the bathroom to make a phone call.
He heard her crying and she broke down even more when she opened the door and delivered the news: She had Multiple Sclerosis. 
That's the day Toston, then a seventh-grader, became an adult. As his single mom struggled with her symptoms, he cooked, cleaned, ironed school uniforms and took care of his younger siblings. He gave her the shots she needed, and slept in her room to help on bad nights.
Toston, who'd wanted to be a doctor since early childhood, grew even more determined to treat people like his mom, Victoria Harding, and the kids he grew up with—and their mothers.
He wants to ensure that people in such communities have access to the same quality of health care that more affluent people receive.
Toston thinks doctors didn't listen when his mom described symptoms of blurry vision and muscle spasms. Relying on an old misconception, some didn't believe that black women got MS. (More recent studies indicate that black women may actually get the disease at a higher rate than white women.)
Toston plans to travel to Lima, Peru, to study human rights and health care in the Afro-Peruvian community. If travel restrictions are lifted to Cuba, he'll shadow doctors there. He'll also study the changing health care system in South Africa and work in a program that helps migrant patients in Germany navigate their treatment in their own language.
Biology Professor Mark Barsoum has known Toston since his days as a high school student in Davidson's July Experience. Toston has also worked with Barsoum as a summer research intern and is now excelling in the professor's human physiology class.
"Roy does really great work, he's very diligent and organized," Barsoum said. "He takes on challenges with determination and has worked really hard to overcome obstacles.
"A huge part of what motivates him is his interest in understanding diseases, particularly when it comes to serving underserved communities."
It's always been personal.
Even battling MS, Toston's mother leaves home at 3 a.m. every weekday to commute from Richmond to Washington, D.C., where she works for the federal prison system. She worked a second job on weekends to help get the children into private schools. That included Woodberry Forest, where Toston attended high school.
He came to Davidson as a wrestler, but left the team after his first year. A Bonner Scholar and a Terry Fellow, he is also president of Davidson's Kappa Alpha Psi Inc. fraternity. After the Watson fellowship, he plans to get his medical degree and a master's in public health.
"I'm the first in my family to go to college. I had to set a path for my siblings and cousins," he said. "My mom has made so many sacrifices, every day of her life, so that we could have a good life and go to good schools. She's one of the strongest people I've ever met.
"I want to address community needs and make people feel heard and acknowledged," he said. "I know where I want to go, I just have to get there."