From Family Pastime to Scientific Pursuit: Katie Soden '21 Earns Goldwater Scholarship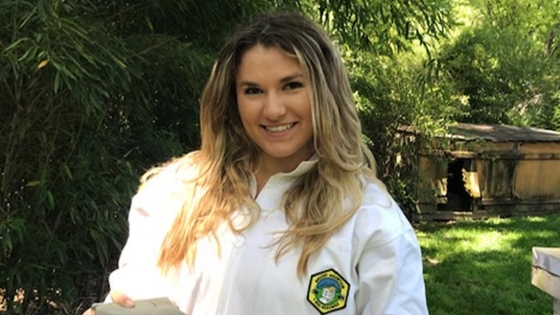 Katie Soden became a beekeeper at 12 because she hated cotillion classes. She dreaded the lessons and having to dance with some random boy, which in middle school she said, "was just about the most mortifying thing in the world."
So Katie '21 and her sister Gaby '20 devised ways to avoid it. They faked foot and knee injuries and once put a thermometer next to a lightbulb to feign temperatures.
Nice try, their parents—both doctors—said about the 110- degree readings. Foiled again, Katie hatched this plan: She and Gaby would become beekeepers if they could quit cotillion. It worked, and the whole family started beekeeping training.
Soden's love for bees inspired her research about their immune systems. Now the Davidson College biology major, accomplished tennis player and traumatic brain injury survivor has received a 2020 Goldwater Scholarship.
The $7,500 award goes to students who show great promise and achievement in natural sciences, mathematics and engineering. The U.S. Congress started the award, named in honor of U.S. senator and presidential nominee Barry M. Goldwater, to encourage scientific research.
Soden's advisor said she always has a plan, and when an experiment doesn't pan out, she bounces back with another approach. Besides bees, she's also researched the interaction between microbiome and immune system in different strains of mice.
"It's great watching her see how difficult science can be, but not letting that stop her,'' Associate Biology Professor Sophia Sarafova said. "She's fearless. She approaches everything with enthusiasm and curiosity. It's been a lot of fun working with her.''
"Dr. Sarafova pushed me enough so that I began to believe in myself again," Soden said. "She did so much for me, and still does."
Soden loves working in Sarafova's lab. She plans to become a medical doctor with a doctorate in immunology, seeing patients and seeking treatments for cancer and auto-immune disorders.
She said her parents, Dr. Kevin Soden and Dr. Meg Humphrey, exemplified the importance of getting to know patients and figuring out how to help them. She wants to do that, too.
"As a doctor, being allowed into people's lives in such an intimate way, would be super magical," she said. "For people to have those trusted relationships with their doctor, to find comfort and feel like you're being listened to by someone who wants to get to the root cause of your illness is a very special experience."
Perseverance
Soden knows the fear, frustration and physical anguish of having your body turn on you.
A whitewater kayak accident her first week of college left her with a severe concussion and traumatic brain injury with bleeding and swelling.
The injuries forced her to withdraw from school for the semester. She couldn't bathe herself or get out of bed. She went through five hard months of physical therapy, on some days just working to move her head without vomiting.
She fainted often, couldn't remember huge stretches of time, couldn't concentrate, and said her emotions were "completely out of whack."
Soden improved enough to return to Davidson for the second semester and felt fairly healthy by the end of the school year. Then she had a relapse and the symptoms intensified again.
She returned to school for her second year and on some days had to lie down during class to fend off dizziness and nausea.
"My confidence was really shot," she said. "I was nervous about talking because I'd trip over words. I had to take a reduced course load."
Soden said she regained her strength and confidence in Sarafova's classroom and lab.
"Dr. Sarafova pushed me enough so that I began to believe in myself again," Soden said. "She did so much for me, and still does."
Natural Path
Soden's parents say she always tries to do her best—and then some. It's not just about the grades.
"She has always had a strong scientific curiosity," Humphrey, her mom, said, "and an incredible work ethic."
She's also a fighter.
"She is open and accepting of others and extremely loyal," Kevin Soden said. "One thing that I love is her constant willingness to stand up for what's right, no matter what people might think about her. She is not afraid to take on bullies and stand up for others."
Her Davidson research focused on how honeybees' immune systems change with pesticide use. It came from a painful experience several years ago when an entire colony of bees died in her family's backyard hives. They suspect a neighbor's yard—sprayed with mosquito killing pesticides—also poisoned the bees.
"It started out as a love for pollinators, and trying to protect those bees," Soden said. "It's given me a greater understanding and appreciation for how interconnected all of our decisions are, and how bees and other insects are impacted by our choices."
At Davidson, Soden has been a student research leader with ambitious goals and timelines, Sarafova said.
"Katie is a focused, self-motivated, and driven problem solver who learns best by experimentation and manipulation of the variable in a problem," Sarafova wrote in the Goldwater recommendation letter.
"She was the natural leader of her lab group, encouraging and helping the other members to develop experimental designs that most directly tested the group's hypothesis."
Time Together
The Soden family still keeps bees and takes turns tending them. They produce about 15 to 20 pounds of honey a year. One lesson came hard: Shortly after starting as a beekeeper, Katie Soden got stung by one, had a severe allergic reaction and went into anaphylactic shock.
Her dad rushed her to their local pharmacy for an Epi-Pen and injected her on the spot. She has carried one ever since, and Sarafova stocks Epi-Pens in her laboratory.
Soden's bee research is currently on hold because of the COVID-19 pandemic. The pandemic also forced her to leave Florence, Italy, where she'd been studying abroad this semester at the Syracuse University Center there. Italy is one of the hardest hit countries, with more than 20,000 deaths.
"I was so sad to leave," she said. "Now I'm so relieved to be home."
She and her family put themselves into quarantine when she returned, and she's now attending her Italy classes online. She said she's lucky to have her parents and best friend, sister Gaby, at home with her.
The two sisters were standout doubles tennis partners at Myers Park High School in Charlotte. They still play for fun and compete in father-daughter tournaments with their dad.
Their extra hours together have turned to domestic experiments. Katie Soden said that after watching a daily CNN briefing, she and her mom turn to the cooking shows of the late Julia Child.  
They're working through one of Child's cookbooks and try to imitate her lilting voice as they prepare meals. And they remind each other of Child's rules to "mis en place" (have all your ingredients ready before cooking) and to avoid heating oil in a non-stick pan. Their favorite collaborations include cream puffs, roasted chicken and potatoes au gratin.
"We watch Julia and all of our worries melt away for a little while," Soden said. "She's so calming."