Students Share What Life Is Like on an Almost Empty Campus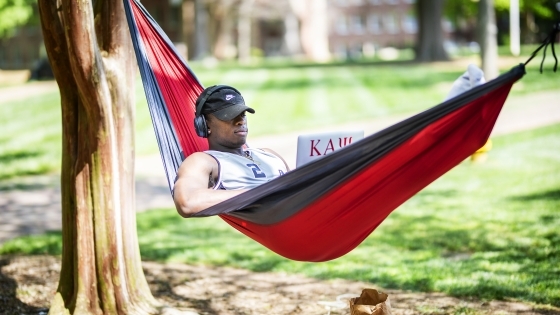 Haleena Phillips can blare her music in the shower at 3 a.m. and no one complains: She's the only resident in her dorm wing.
Sometimes it's nice having so much space, but Phillips '21 misses her friends and the energy of Davidson College's campus at full throttle.
The COVID-19 pandemic sent most students home in March to finish the semester remotely. About 130 remain on campus for reasons that include travel restrictions, hometown outbreaks, financial hardship and family members with medical issues.
Phillips didn't go home to south Florida because her mom's cancer battle has compromised her immune system and she didn't want to pose a risk to her.
"I know we're in a safe environment here, and we're practicing social distancing, so we should feel like we have nothing to worry about," Phillips said. "But it's kind of stressful and anxiety ridden, too.
"Not having all your friends on campus reminds you of what's going on in the world," Phillips said. "They're opening beaches up in Florida and a lot of people are not practicing social distancing there. I'm scared for my family when they need to go to the grocery store because other people are being so selfish."
Julia Bauer '23 also has an immune compromised relative and didn't go home to Connecticut. She lives just outside New York City, the country's pandemic epicenter. Her roommate, who also stayed on campus, is from China.
"I felt like it was much safer for everyone for me to be here," Bauer said.
The quiet can be unnerving.
"The most noticeable thing is the lack of people walking around," Bauer said. "I go to the library to study and there's just me and a couple of other people, all sitting away from each other. It's bizarre."
Vail Commons has reduced hours and students must stand six-feet apart from each other in line, then sit apart at tables.
"They've done a good job of making sure we have access to plenty of different kinds of food," Bauer said. "They regularly include veggie burgers and a variety of curry dishes, which I appreciate as a vegetarian."
Snacks for late night studying include pretzels with cheese dipping sauce and brownies.
Bauer says having her roommate there helps. She also listens to music and takes long walks to keep her spirits up.
Roy Toston '20 stayed at his on-campus apartment because his mom has multiple sclerosis. His roommates went home. so he's alone. He has a few friends on campus he sees—from a safe distance—at dinner. He exercises and occasionally does school work outside to get him out of the apartment.
"It's kind of lonely, there's not a lot of interaction, but I have friends in much harder situations," says Toston, a Bonner Scholar and Terry Fellow.
"I'm really thankful to be at Davidson, the school has been really supportive," he said. "It really is like a ghost town, though. I only see townspeople out, not students."
Like their classmates now at home, students attend class, talk to professors and socialize with friends through Zoom. As the semester's end nears, they're finishing papers and projects and gearing up for finals.  

Phillips, a biology major and Posse Scholar, says she's having a harder time focusing on her school work since the campus emptied. She can't go to the lab to work on her research.
"It's really hard for me to maintain my routine when no one is around holding me accountable," she said. "I'm a hands-on learner—Zoom is my worst nightmare, I feel like everything takes me longer now."
She says she keeps reminding herself to be thankful that she's safe, eating good food and able to get outside for walks and exercise breaks.
"I'm trying to stay positive and not think of things that are out of my control," she said. "It's not great, but it's not terrible."
Phillips says she's become more creative about finding bright spots. She's hosted Zoom mini-concerts, singing along with far away friends. On the weekend of the cancelled Spring Frolics, she set up a DJ table in her room and hosted a remote dance party.
"I'm an extrovert and it's really hard for me not to be around other people," Phillips says. "I don't want to slip into a depressive vibe, so I try to do what I can to avoid that."
Campus Slideshow
Once familiar routines look very different right now for the students who remain on campus. Like everyone else, they must maintain social distance and rely on virtual connections for friendship and contact with the world outside of Davidson.