Davidson College Celebrates the Class of 2020, Welcomes Graduates Into Alumni Family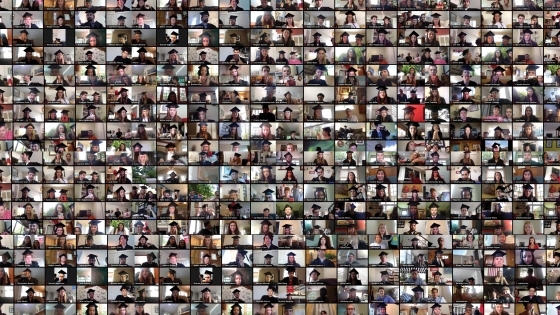 They started college during the final days of America's most polarizing presidential election in recent history. They ended in the midst of a world-wide pandemic.
But they won't allow these things to define their entire Davidson experience. In between, they made best friends, traveled the world and conducted important research. They wrote powerful essays, music and plays. They helped the less fortunate on campus and in their communities.
View the full recording of the May 17 virtual celebration on YouTube
Davidson College's Class of 2020 has completed its final exams, papers and projects and earned its bachelors' degrees. The COVID-19 pandemic postponed their May 17 commencement ceremony, but they will celebrate together in person when it's safe, President Carol Quillen said Sunday during an online celebration.
They have stepped up to their challenges, she said.
"At a very stressful time, some of you learned how to live with your families again, and others learned to live far away from them," Quillen said in a livestreamed event. "You worked to help the most vulnerable, and even in your profound disappointment you modeled integrity, discipline, creativity and humane instincts.
"The spring semester you let go would have been something. The one you built and lived was truly extraordinary. Thank you."
In a video played during the celebration, notable Wildcats, including Golden State Warriors star Steph Curry '10, and former U.S. Transportation Secretary and Charlotte Mayor Anthony Foxx '93, offered their congratulations.
"Despite the pandemic, despite the challenges the world is facing, you are ready and I want you to go out there and change the world for the better," Foxx said. "That's what Davidson graduates do."
A surprise announcement was met with smiles and applause when Quillen shared that the college's Board of Trustees has raised $200,000 to pay travel expenses for graduates who can't otherwise afford to return for the future commencement ceremony.
Degrees, Honors, Military Commissions
The 491 graduates of the Class of 2020 represent 40 states and 18 different countries.
Some 273 received Latin honors; with 136 graduating cum laude and 132 as magna cum laude.
Five students: Eliza Anne Brodie, Anna Rizk Dolder, Eleanor Margaret Kincaid, Sarah Beeder Mellin and Lydia Soifer shared the First Honor of summa cum laude.
The graduates include nine John M. Belk Scholars, which brings the all-time total to 133. The Belk Scholarship is one of the nation's most prestigious undergraduate scholarships. It covers tuition, fees, room and board and special travel grants.
The Belk Scholarship recognizes students for leadership, outstanding academic achievement, integrity, creativity, compassion and intellectual curiosity.
The class's most popular majors were political science (72), economics (68), biology (66), and psychology (47).
The graduates also include five new United States Army lieutenants who were commissioned in a separate joint ceremony with UNC Charlotte on Friday.
The new lieutenants are: Alexandra Bedell, Stockton McGuire, Connor Richey, Scott Stegall and Eleanor Tan.
Unselfish Service
The college gave out one award Sunday.
The Algernon Sydney Sullivan award normally recognizes a graduating student and a community member "of noble character who have acted as humble servants to others by putting service before self-interest."
Emily Duval received the Sullivan student award. The Sullivan community member and other award recipients will be named at the future on-campus ceremony.
During her time at Davidson, Duval helped homeless women and children at the Crisis Assistance Ministries and the Salvation Army Center of Hope in Charlotte.
She befriended and treated people in financial crisis "with dignity, listening to their struggles with compassion," the nomination letter says.
The Bonner and Quest scholar taught children in the LEARN Works after-school program at the Ada Jenkins Center, and as a summer servant leader intern with Freedom Schools.
She also served on the leadership team of the Davidson ecumenical weekly college worship service, leading prayers and  reflections and using "her amazing voice to lead music and to build a spiritual community of inclusion, kindness and grace."
Early Days
The Class of 2020 has come of age during one of the most divisive chapters of recent American history.
Victor Ouko, a Belk Scholar from Kenya, spent his first days at Davidson in the backdrop of the heated 2016 presidential race where Republican Donald Trump beat Democrat Hillary Clinton.
He remembers a mostly somber mood on campus after Trump's election.
"Coming in from another country, and realizing how divisive the election got was shocking, I didn't expect that here," he said. "In some ways, politics in the United States doesn't make sense to me. But I admire how invested people get in the process, and how much they care about the issues."
He says he respects the passion that his fellow students brought to debates about campus, national and world events.
"It takes a lot of courage not only to take a position on an issue but to also openly and loudly vocalize that position," he said. "It is a courage that the Davidson community has ingrained in me and one that I am excited to bring back home with me."
Unexpected Departure
Their days on campus ended abruptly.
Adde Sharp says she cried for most of the first 800 miles of her three-day drive home from Davidson to Breckenridge, Colorado.
"It felt like such a tragic parting," Sharp said. "There were a lot of people that I didn't get to say goodbye to. There were a few weeks there that felt hopeless. We were grieving for something that was lost."
In-person seminars turned into online Zoom meetings. Students and professors had to find new ways to finish lab work and projects. They shared their artwork, poetry and dramatic performances online.
As the pandemic closed businesses and halted travel, many students had to put job searches, internships and fellowships on hold. 
"But Davidson teaches you to be resilient—you can't just sit around and mope," Sharp said. "I have friends who started making masks and PPE for front line workers, I have friends who've found great jobs and internships, and friends who got into graduate programs.''
Sharpe, a Terry Fellow, served as chair of the Honor Council and ran volunteer programs at the Davidson Farm. She will work through a Davidson Impact Fellowship with the Catawba Lands Conservancy in Charlotte.
"Although we can hardly plan for the future right now," she said, "we are all trying to infuse our days with more and more hope."
For the full recording of the May 17 virtual celebration of the Class of 2020, visit the college's YouTube channel.