Servant Leaders Recognized for Work Toward Stronger Communities, a More Just Society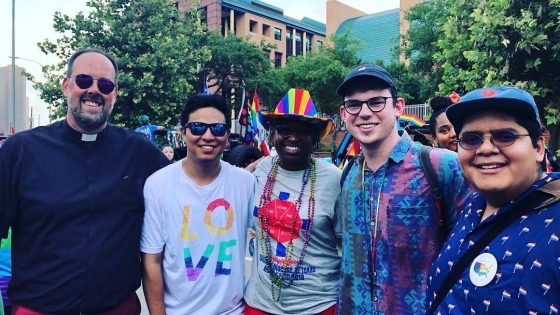 From cultivating brave spaces to supporting individuals experiencing homelessness to writing about social injustice and systemic racism, Davidson students, faculty and staff work to make communities and institutions better.
The Spencer-Weinstein Prize for Community and Justice, awarded annually and created by close friends of Davidson College Carole and Marcus Weinstein, recognizes this critical work.
The 2019-2020 recipients are recent graduates Bry Reed '20 and Liam Barr '20, and James K. Batten Professor of Public Policy and Harvard Nieman Fellow Issac "Ike" Bailey '95.
Bry Reed
Throughout her time at Davidson, Reed co-led an empowerment program for black girls at West Charlotte High School, where lessons ranged from college readiness to the art of storytelling through music. She believes all spaces should be safe—better yet, brave—spaces, and is devoted to creating these environments for others.
She also interned with CDF Freedom Schools, a six-week literacy and cultural enrichment program for children and youth in grades K-12.
"There's a real disparity for black girls in urban education and public education, and they need to know what they say has value," Reed said.
As a guest writer for Wear Your Voice Magazine, Reed wrote about being a generative leader and holding time and space for younger, black women to support each other.
"The goal is to lift as we climb," she said. "Together we can conquer the unconquerable. The only requirement is to show up as our full selves and understand that this is our space to claim. We eat. We laugh. We love."
Reed's impact was felt at Davidson, too. She led the Black Student Coalition and partnered with administrators to effect change on campus. Last fall, she launched a plan to host a book party event to help promote conversation and build excitement about Equal Justice Initiative founder Bryan Stevenson's sold-out Reynolds Lecture in Belk Arena. Under her leadership, 100 copies of his book, Just Mercy, were made available; other offices followed her lead, providing copies to their staff and others. In addition, she serves on the college's Commission on Race and Slavery.
This fall, Reed begins a doctoral program in American Studies at Purdue University. At Davidson, she majored in Africana Studies and minored in Gender & Sexuality Studies.
Liam Barr
Throughout his childhood, Barr was guided to listen and see the world through others' eyes. His passion for leadership and service made Davidson an obvious college choice.
"There is something powerful about hearing others' stories, sharing life and celebrating the joy found within life," he said. "It has taught me that the world is full of hardships and injustices, but also that there is a deep goodness and dignity of all people that transcends human experience."
Barr graduated as a Religious Studies major and Latin American Studies minor. Throughout his time at Davidson, he was involved with community-building interfaith work with diverse populations. He worked in Charlotte with individuals experiencing homelessness as part of a Stapleton/Davidson internship in 2017 and, in 2019, served as a Chaplains' Office Ministry Fellow at Grace Episcopal Church in Houston, Texas, supporting church community members from different racial, ethnic and socioeconomic backgrounds, sexualities, ages and family structures.
Later this month, Barr will begin his work as a Davidson Impact Fellow with the Catawba Lands Conservancy in Charlotte, an interest amplified by his involvement with Davidson Outdoors. His job will focus on maintaining and developing programs that connect the public with conserved lands in and surrounding Mecklenburg County. Longer term, he is considering going to seminary.
"As humbled and shocked as I am for receiving this award, I want to recognize that I am by no means a self-made person," said Barr. "The experiences that I am being recognized for would not have happened without the care, investment and grace of the communities who have invited me in."
Issac "Ike" Bailey
As an author and teacher, Bailey talks to students about his first-hand experience with crime and incarceration in the United States and the devastating effects they have on those who commit crimes, their loved ones, their victims and society. His classes push students to consider all voices and angles to current events.
"Davidson has long produced future leaders in all walks of life—politics, finance, education, athletics and beyond," Bailey said. "It's a privilege to play a role in the most powerful country in the world. I'm convinced that that privilege comes with great responsibility—to instill in our students an ethical foundation that will guide their future decisions."
A student had this to say about his professor: "Professor Bailey makes students uncomfortable in the best possible way … he isn't afraid to put his plans aside to focus on what is going on in the real world—something I think is rare for a professor to do but is so important."
Bailey said that may be the best compliment he's ever received.
"Before I ask students to examine others, I ask them to explore what's going on in their own heads and hearts first," Bailey said. "The more honest and complete that exploration, the more uncomfortable it will be. But it is extremely useful. It helps the students understand themselves in ways they didn't before while also making it easier for them to empathize with others who have had dissimilar experiences and upbringings."
Bailey's book, My Brother Moochie: Regaining Dignity in the Face of Crime, Poverty, and Racism in the American South, was the 2019 common reading book for incoming students at Davidson. His writing has appeared regularly in national publications and news outlets, including The New York Times, CNN and The Atlantic.
About the Award
The Spencer-Weinstein Prize for Community and Justice, established by Carole and Marcus Weinstein and honoring the late President Emeritus Sam Spencer and his wife, Ava, recognizes students, faculty and staff working to foster dialogue across difference and build bridges for a more just community. The winners share a $10,000 prize. Carole Weinstein is a former member of the Davidson College Board of Trustees and currently serves on the Board of Visitors.
Read More
Ike Bailey '95: 'George Floyd, Ahmaud Arbery, and One Journalist's Painfully Honest Self-Examination on Racism'
Ike Bailey '95: 'I'm Finally an Angry Black Man' in The New York Times
Ike Bailey '95: 'Georgia Vote Chaos Shows Why Stacey Abrams is Right' in CNN