Message from SGA President Brandon Harris '22 and President Carol Quillen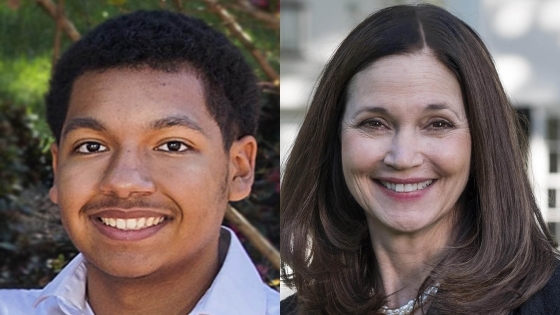 A note to members of the Davidson Community, from Brandon Harris '22, President of the Davidson College Student Government Association, and Carol Quillen, President of Davidson College. 
What happened in Minneapolis on May 25th was a tragedy. Once again, racist action resulted in the death of an African American. Words alone can't end racism, but through listening to each other's words we can strengthen our collective resolve to building a genuinely just community. Brandon suggested that he and Carol share perspectives on George Floyd's murder and then identify a few immediate steps to take together on the long road ahead.  Carol thanks Brandon, most of these words are his. We hope this note inspires similar conversations and commitments within the Davidson community. 
Brandon's Perspective: As a young black male, the killing of George Floyd has been extremely difficult to process. Seeing the video of the killing was another reminder that my well-being is under constant threat by a system that wasn't built to look out for people like me. The incident also triggered personal flashbacks of racism that I have had to overcome at Davidson and beyond. To give an example, often in academic spaces, I unfortunately get the feeling that I have to be aware of how I present myself in order to minimize judgements that professors and classmates may make about African Americans. I have to be aware of my haircut, whether or not I have my earrings in, make sure I have a belt, etc. The unconscious bias of others is why I feel the need to be aware of these attributes. I hope that the Davidson community can begin to address and overcome these biases because they make the college experience for people of color more difficult than it should be.  
Carol's Perspective: "Bad apple." That's how some white people see the man who murdered George Floyd. Demonizing the killer distances us "good" white people from the bad white racist. Then we "good" white people can ignore how our actions and putatively race neutral policies (in law, tax, finance, voting, pedagogy, healthcare) perpetuate racial injustice. Ignorance here is deadly. I want more white people to read Black authors. Frantz Fanon shows how ideas seemingly unrelated to race perpetuate stark racial inequities. Ida B. Wells taught me that black men have more reason to fear me, a white woman, than I do them. Alice Walker exposes "white savior" stories that deflect focus away from racist institutions and the agency of Black people. Ibram X. Kendi explains connections between everyday acts of bias and dead bodies. Breathing freely cannot depend on a belt, a haircut, or whistling Vivaldi. I am so sorry that we enable this harm to happen to members of our community. We must work to build a more just campus.
Davidson is helping to produce our world's up-and-coming leaders. It is important that we begin to take the steps at Davidson that are necessary for effective and sustainable change. That change must involve recognition of the roots of systemic racism and the identification of action points that we can work on as a community to work towards achieving the fair treatment of all people. Towards the bottom of this statement, some action points can be found.
In order for progress to occur, we must first realize that behavior drives change. Verbal statements can be effective, but that impact is limited. Until we practice what we preach, we will not experience the progress that we want to see. 
Racism exists on a wide spectrum. The presentation of racist ideology can be seen in police killings like the incident in Minneapolis, but there are also instances that are subtler that take place around us every day. These subtle incidents of racism can be hard to understand for people who do not share the victim's experience. This is why it is important that we make a notable effort as members of the Davidson community to understand and support our peers in overcoming the challenges that they face. 
If there's something in our daily lives that's not working for us, we usually dig deep to find the root of the issue. In addition to looking out for our personal well-being, it is important that we have this same response when we encounter communal issues. It is very clear that there are parts of our community experiencing tremendous pain as a result of systemic racism. If we are to resolve that pain, we must take the time to understand and work against discrimination as a team, no matter how uncomfortable it may be.
Some things that have recently been done: 
Davidson Campus Police have long abided by the "8 Can't Wait" policies recommended by Campaign Zero.

A Mellon-funded initiative called "Stories Yet to be Told: Race, Racism and Accountability on Campus" is calling for proposals from students and faculty. 

Davidson has initiated a fundraising campaign to support anti-racist initiatives across the college. 

Dr. Hilary Green, a historian who focuses on African American history and commemoration and who is the creator of the Hallowed Grounds Project (University of Alabama) will be in residence at Davidson in 2020-21 as the Vann Visiting Professor of Ethics and Society.

The Africana Studies and English departments will recruit a tenure-track professor this year to start in 2021-22.
 Here are our immediate shared action items:
We will institute a reading club that is open to all members of the Davidson community (Students, Faculty, Staff, Alumni, and Families) starting next month.

We will expand opportunities for experiential learning at Davidson.

We will expand inter-race conversation on campus and start a dinner gathering when that is possible. 

We will seek out stories from BIPOC alums in connection with the "Stories Yet to be Told" anti-racism project.
In addition to these shared action items, we will each work in our respective roles to address concerns, ideas and frustrations that community members are sharing through email, calls and social media. More on that soon. We are grateful for your help and efforts to make Davidson a better place.