Storytime on Main St.: Independent Bookstore Offers Comfort in Great Reads, Songs and Favorite Faces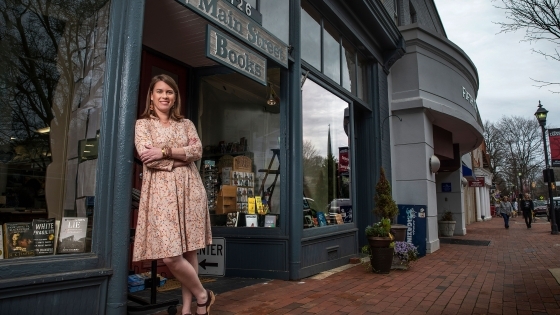 It's story time at Main Street Books, and the book lovers jump, clap and even dance.
"It's a crocodile!" an excited toddler shouts as a story unfolds. "It's snowing!" another announces, pointing happily to the book.
Story time happens twice a week and normally draws a loyal audience of the young and their grownups to the store. When the Covid-19 outbreak struck, story time moved to Instagram Live, with everyone tuning in from home.
Store co-owner Adah Walker Fitzgerald '01 isn't just cultivating a new generation of readers. She's building a community.
At a time when you can tap a few buttons on your phone and have a book sent by a giant online retailer, Fitzgerald believes her store offers so much more.
The stacked shelves, inviting sofas and living room chairs welcome lively book clubs, quiet browsers and downtown walkers.
"It's a space to declutter from the digital world with conversations," Fitzgerald says. "We are the platform for other people to tell their stories.
"It is really important for me to tell the bookstore's story so people can choose to support us, if they value literacy and conversation."
Fitzgerald recently marked her fifth anniversary at the bookstore that has been a flagship of Davidson's downtown for decades.
Customers and authors say it's a favorite.
"Adah has done such a phenomenal job," says author Mary Laura Philpott '96 (I Miss You When I Blink and Penguins with People Problems). "She's really put that store on the map. It is really well thought of in the book selling community."
Early Inclinations
Fitzgerald's love for books started as a kid who hid in the closet reading with a flashlight after bedtime. She also found her mom's book club meetings fascinating and would eavesdrop until someone inevitably discovered her crouching on the stairs.
Fitzgerald majored in biology at Davidson, then taught high school science for 13 years. She met her husband, Bo Fitzgerald '99, at Davidson. Both worked as volunteer firefighters for the town fire department. Bo Fitzgerald is now a veteran Charlotte firefighter and Davidson's fire chief.
After the birth of their second child, Fitzgerald took a break from teaching. Around that time, Main Street Books owners Betty Reinke and Barbara Freund decided to retire. Fitzgerald and her mom, Mary Barone, had always wanted to go into business together and bought the store in 2015.
As managing partner, Fitzgerald first hired her close friend, Catherine Hamilton-Genson '01. A former student came on board to babysit and help as they cleaned, painted and refinished floors and bookshelves.
Besides bestsellers, Fitzgerald and her team look for books from smaller, independent publishers, seeking off-beat gems that resonate.
The concept of windows and mirrors drives the books they choose.
"People should be able to find books that reflect their stories and see into windows of stories that are very different from their own," Fitzgerald says.
She also has fun with author events.
When Mesha Marin (Sugar Run) came to town, the author, Main Street Books crew and customers rode on a rented party bus to a dive bar in Charlotte.
"It was so much fun and people were able to talk about elements of their own stories with the author and each other,'' Fitzgerald says. "They formed friendships and made real connections."
The pandemic has reinforced how much connections matter. When Fitzgerald had young kids, story time was a lifesaver. Her customers echo that.
One mom, who'd moved to Davidson not knowing anyone, told Fitzgerald she made her best friends at story time. Many make a morning out of it, grabbing coffee at Summit Coffee House and heading to the playground out back afterward.
Leslie Goggin has worked as a storyteller for years.
"It's so rewarding to see the children developing their love of books," she says. "I love to watch them take in the books and pictures. It's fun to expose them to different styles of stories."
When Fitzgerald had to shut down Main Street Books temporarily during the pandemic, customers could still buy their books through the store's online site.
She quickly decided on a virtual story time.
"At one point it occurred to me that we could pre-record a bunch of story times," Fitzgerald says. "But after that very first run of Tunes and Tales on Instagram Live, when I could see 50 families tuning in with lots of enthusiastic commenting, I knew that we'd have to scrap the idea of pre-recording.
"The magic is in knowing that we're all sharing a moment together right now from one living room to another," she says. "We're living out the craziest collective story of our lives and coming together for a few minutes each week to find comfort in books, songs and our favorite faces."