Davidson College Launches Free Program to Help Families Navigate College Search, Application Process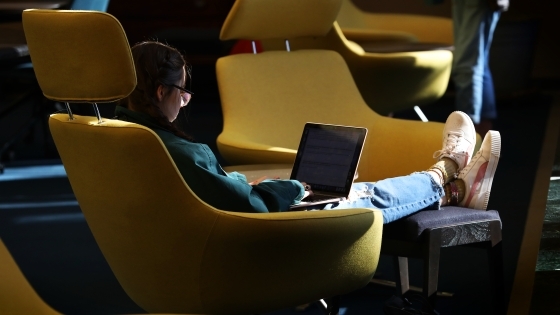 When the pandemic canceled Davidson College's July Experience this summer, the Office of Admission and Financial Aid turned the loss into an opportunity to help prospective students.
Instead of hosting a small number of high school students on campus for three weeks, the Admission and Financial Aid team created a free series of online workshops to increase access to some of the program's popular highlights.
The Admission Intensive workshops will offer advice and breakout sessions on topics ranging from writing college essays to working through financial aid options. Panelists include experts from Davidson, Vanderbilt University, UNC Charlotte, Gettysburg College and Xavier University of Louisiana; as well as a cross section of private and public high schools.
The workshops run from July 13-17 and are open to rising high school seniors and juniors. Space is limited and registration is required. Smaller sessions will have a maximum of 50 participants, while larger webinars will have up to 500. Some panel discussions will be recorded and shared.
"We know that rising seniors and their families are nervous. So much of the landscape has changed because of the pandemic," said Kortni Campbell, senior associate dean of admission. "We're getting so many questions, and our goal is to help students and families better understand the college search and application process."
The July Experience began in 1976 and is considered one of the country's best summer programs for high-achieving high school students. They eat meals in the dining hall, stay in residence halls and take non-credit classes taught by Davidson professors.
Davidson has had a longstanding commitment to recruiting top students, regardless of their ability to pay. The admission office partners with high schools and community-based organizations to ensure a socio-economically diverse campus. That commitment extends to the July Experience, where some students can afford to pay the full price, while others attend with financial aid support.
"Cancelling July Experience was such a blow," said Leah Hoffman, senior assistant dean of admission and director of the program. "It helps expand access to students who may not have thought of Davidson as a possibility. Some are the first in their families to go to college. It helps them gain confidence about applying to college."
Hoffman and college partners recognized an opportunity to help even more families navigate this singular aspect of the new COVID-19 reality.
"We wondered, 'what can we do?' The more we thought about it, we saw it as a chance to give this information to any student who needs it," Hoffman said. "People charge hundreds of dollars for student essay writing guidance. Many families can't afford that. These workshops will further expand access to these opportunities."
Commitment to Access
For years, Davidson has worked with KIPP schools and college access programs around the country to bring students to campus for July Experience. One such program is The TEAK Fellowship, a non-profit that works to help high-achievers from low-income New York City families access top high schools and colleges. Students in the TEAK program have attended July Experience for more than 15 years. This year, a handful will attend the virtual Intensive Admission program, says TEAK Director of College Guidance, Dan Blednick.
"I respect that Davidson is offering this free program to provide these resources for the class of '21, which needs that support more than ever. They did it because it's the right thing to do," Blednick said. "That speaks volumes about Davidson's commitment to support low-income students and students of color in the application process. Those values are near and dear to our mission, which is why we've been long-term partners with Davidson."
Most colleges cancelled summer programs for high school students because of the COVID-19 pandemic. Some turned to paid virtual versions. The free college preparation workshops appear to be uncommon. One exception is The University of Pennsylvania, which has a free, four-week, virtual college and career academy for up to 2,500 Philadelphia high school public and parochial school seniors. Penn's also offering a take-at-your-own pace college application course to all Philadelphia public and parochial school seniors.
Davidson's Admission Intensive program is open to all students around the world.
The on-campus July Experience program will resume next year, if conditions permit. The college will also continue the free online workshops throughout the year to help more students, even if they don't end up at Davidson.
"The pandemic was a loss on many fronts, but it held up a mirror to how we approach access," Campbell said. "To be able to put the great knowledge, passion and talent of our staff to work not just for students interested in Davidson but for students everywhere, has been amazing."