The Colonel Meets Peter Pan: Ad Exec Moonlights as Moth Man to Get His Funny On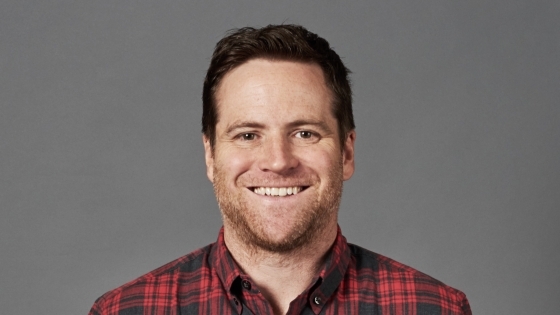 Besides heartburn, what do you get for running six miles while eating tacos from 11 different taco shops along the way? For Britton Taylor '98, the telling of the gastronomically engrossing tale earned the advertising executive and budding storyteller a place in the winner's circle on the nationally syndicated Moth Radio Hour.
Taylor's crackling imagination and relatable humor help him succeed on the stage and in advertising, where he's built a career promoting some of the biggest brands in the world—Coca-Cola, Diet Coke, Starbucks and, perhaps most famously, Old Spice. Remember "The Man Your Man Can Smell Like" campaign? That was Taylor.
Today, he leads creative strategy and branding for Kentucky Fried Chicken, a client of Portland-based creative agency Wieden+Kennedy.
"One day in 2017, without announcing it to anyone, our team decided that KFC would unfollow everyone on Twitter except for the five Spice Girls and six men named Herb—a nod to the company's original-recipe blend of 11 herbs and spices," Taylor says. "We also recently partnered with Crocs to create a shoe that looks like fried chicken."
Inspiration comes from a variety of places, including the fried chicken king himself.
"We've learned that humor was a big part of Colonel Sanders' life—he would do anything," Taylor says. "So, we try to think about what he would do to sell chicken if he were alive today."
Taylor finds solace in humor. It ignites creativity and helps connect people and ideas, passions he unearthed as a Davidson student.
The 18-year-old Taylor wanted to pursue sports medicine. He broke his leg senior year of high school and thought the work would be cool. After one chemistry class, the idea lost its sparkle.
In college, he wrote humor pieces for The Davidsonian.
"Davidson helped me discover my creative side," Taylor says. "From film classes with [Zoran] Kuzmanovich to acting out a play for incoming freshmen with Ann Marie Costa, I figured out what I enjoy and where I excel. I think with exposure to so many things at Davidson, it's impossible not to find something you love."
Today, Taylor loves what he does. He's proud to work for a company that prioritizes creativity and storytelling. As brands vie for precious market share, he says humor is critical to maintaining relevance with young audiences.
"We often talk about how we're not just competing with other brands in our categories; we're competing with everything on the internet, from YouTube to Reddit… and we want to be the funniest," Taylor says.
Taylor's won national recognition for his work. He made Advertising Age's "Creativity 50" as one of the year's most influential creative figures in 2017. The next year, Advertising Age recognized the KFC account for "Campaign of the Year."
"On the storytelling front, we have a healthy cynicism when it comes to consumer research," Taylor says. "Many brands test the heck out of their advertising, and, in our opinion, this leads to exceptionally average work. Instead of asking people what they want, we believe in giving them something they never could have imagined."
Taylor doesn't stop telling stories when he leaves his office. He takes a memoir-writing class where his classmates, mostly 60-plus-year-old women, have diagnosed him with Peter Pan Syndrome. He's even tried stand-up comedy, participating in Portland's annual Funniest Person contest. 
"It's safe to say I'm Portland's 242nd funniest person," Taylor says.
He's also a huge fan of The Moth. For two decades, The Moth has promoted the art and craft of storytelling live. With shows all over the world, prospective storytellers come in droves hoping to have their names drawn for local shows, called StorySLAMs. The chosen ones take the stage and tell a five-minute story. The audience judges and gives scores for the stories, which are recorded and shared online.
Taylor has logged a few wins.
"My favorite story? Probably the one about The Taco Trot," says Taylor. "You run six miles and eat 11 tacos from 11 shops along the way, including two Taco Bells. It's not great."
But, a serious bout of indigestion and some emotional distance later, it is funny.                                                            
This story appeared in the spring/summer 2020 Davidson Journal.