Pandemic Shelves Cake Race, For Now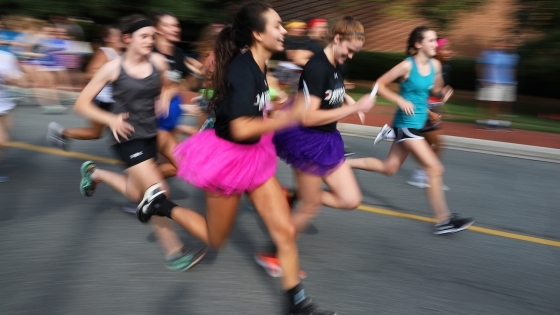 There is no cake.
No sweaty runners, cheering crowds, or racing for the glory of picking the biggest and best cake to share with your hallmates.
This horrible pandemic—let's call it what it is—has put the annual Cake Race, one of Davidson College's most beloved traditions, on ice. Not ice cream, which is sweet and delicious like cake… and on cake, but ice. Cold. Tasteless.
It's not surprising in this age of social distancing and mandatory mask wearing that the college wouldn't want hundreds of runners, neck-and-neck, racing across campus with respiratory droplets and sweat flying everywhere.  
Count the Cake Race as yet another COVID-19 cancellation.
The race has rarely been cancelled in the nine decades since a Davidson cross country coach brilliantly required all freshmen to run it. The winner got a cake, and the coach got to see the class's fastest runners in action. Athletic recruiting was hardcore in 1930. 
A student named Rufus Morrow won that first 1.7-mile race in 10 minutes and 30 seconds. He and those who came in close behind got to select cakes baked by faculty members' wives. Other prizes donated by local businesses included vouchers for haircuts and movies, or, as they said back then, "picture shows."
As reasons to cancel go, 2020 shares the moment with another historical time of gravitas, World War II, when many Davidson students went off to fight after the 1941 Japanese attack on Pearl Harbor. 
"Cancelling for World War II and pandemics—that's allowed, there's no shame there," said Sandy Helfgott, Davidson's director of physical education, recreation and wellness, and Cake Race guardian. 
Another cancellation was more of a head-scratcher. 
In 1972, college administrators decided that the Cake Race was "too Joe College-ish," and opted against having it. "Upperclassmen threw a fit—they said they had to go through it so they wanted to see everyone else run it," former track star and longtime coach Sterling Martin '63, (1959's winner) told the Davidson Journal.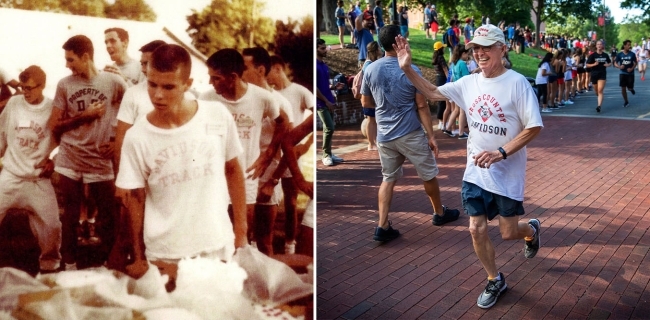 The next year the Cake Race returned and the college's newly admitted women jumped in. The women had slightly slower running times—less cake for them—so the college decided to have two competitions a few minutes apart to separate them from the men.
Over the years, the event has gotten bigger and more elaborate as local families, bakeries, Dining Services pastry chefs and people like varsity men's tennis coach Drew Barrett turned the baking itself into a contest as competitive as the running. 
Barrett, the reigning champion, and the Dining Services bakers, who have enjoyed many top seed finishes, are busy these days looking out for students amidst the challenges of the pandemic. But they vow to resume their competition someday.
"We'll just take this opportunity to come up with something even bigger and better for the next Cake Race," said baking supervisor Becca Sporney. "And to make sure that the Bake Shop cakes take 1st, 2nd and 3rd place." 
Enough to Go Around
The race is traditionally held on the first Wednesday of the first full week of fall semester classes. It's no longer mandatory, but many students run anyway.
Runners have gotten faster over the years.  
Last year, four members of the men's cross-country team crossed the finish line together to win with a time of 7:10. The women's race winner finished with an 8:08 time, decisively faster than the original all male class in 1930.
Cake numbers, on the other hand, have only gone up. Last year, winning runners got to choose from among 272 cakes that filled multiple tables at the Baker Sports Complex. The cakes usually go back to team locker rooms and residence halls for sharing. "Cake-hopping"—going from floor to floor for samples—is a popular Cake Race night tradition.
For now, first-year students will have to get their cake from Vail Commons.
Cake Race guardian Sandy Helfgott said the fate of the class of 2024's Cake Race rests on whether an effective vaccine is developed.  
"If we do it right, get the virus under control and have the Cake Race in spring," he said, "what an awesome thing that would be."