Student Profile: Grace Rooker '24 Exploring Every Opportunity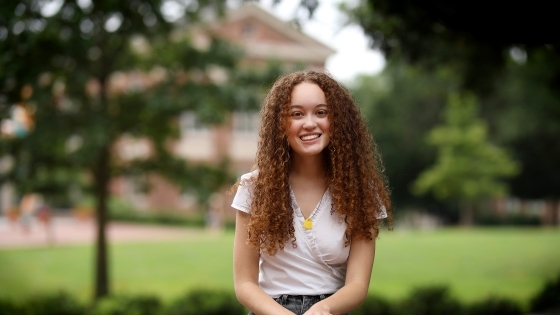 Grace Rooker '24 did not expect her first semester of college to include masks and hand sanitizer and weekly COVID-19 testing. Despite all the extra "to-dos" listed in her planner, she happily does her part to ensure she gets to stay on campus, and she never doubts she made the right choice in Davidson.
Rooker is the first recipient of the Pisgah Investments Foundation Endowed Scholarship, created by former Davidson parents in support of students from the Charleston, South Carolina, area. Additionally, she is a recipient of the Class of 1979 Scholarship.
"I did not see Davidson in person until the day I moved into my room on the second floor of Belk," said Rooker. "My close friend's mom went to Davidson, and when her family visited campus last year, she sent me pictures. It blew me away, and I got this feeling that it's where I belonged. I kept asking for more and more pictures."
Rooker, who grew up in Summerville, South Carolina, with her mom and three siblings, considered schools all over the country. Her grandmother thought Stanford was a good idea. Other family members encouraged her to look at schools up north. Rooker obliged with visits and applications, but deep down, she knew she wanted to stay closer to home.
"I didn't leave my dorm room for the first two days, but then I realized we are all in this unusual time together, and I needed to start exploring," said Rooker. "I have made some great friends, and my whole hall is on a group chat. It is going really well, all things considered."
Rooker doesn't spend much time on her phone or computer outside of classwork, allowing her to build close connections and embrace campus life. She loves to read, walk around campus and listen to music. She looks forward to cooking with friends when it is safe to do so.
On the academic side, Rooker's first semester looks like that of the quintessential liberal arts student, with classes in theatre and social justice, chemistry and Latin. A few weeks in, she plans to pursue a path that allows her to marry her passions for environmental studies, law and social justice.
"In seventh grade, I gave a presentation on veganism and its environmental impact," she said. "I became a vegetarian and started doing activism and more research on the topic. My interests related to the environment just kind of stuck."
In high school, Rooker was involved with her school's student council, serving as student body vice president. She also was a founding member of the Summerville Youth City Council and worked with the mayor and the town council to offer perspectives from area youth and shadow local leaders. Her law interests stemmed from this experience.
"It's exciting to be able to take all different kinds of classes here," she said. "I'm taking Latin because I figured 'why not?,' even though I speak Spanish. And my theatre and social justice class has piqued some new interests for me. I love the variety."
Rooker's scholarships make it possible for her to explore every opportunity Davidson has to offer as she begins to chart her path in and after college.
The donors behind the Pisgah Investments Foundation Endowment Scholarship have a similar scholarship that benefits students from the Asheville, North Carolina, area. They were inspired to expand the reach of Davidson opportunities to talented students from the Charleston area, making an exceptional liberal arts experience possible for young people who may not otherwise be able to attend.
Alumni from the Class of 1979 created a scholarship because they wanted to support students who followed in their Wildcat footsteps with both a scholarship and summer internship funding.
"I was writing a letter to my scholarship donors, and it is amazing that I can personally thank the people who are supporting me," she said. "It is very humbling. I am so happy to be here."