Loss and Success at Sundance: Alumna's Wrenching Road to Filmmaking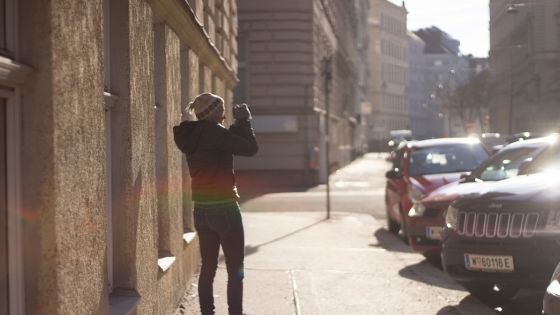 Caroline Rumley was asleep in Vienna. The call from Los Angeles, a nine-hour time difference, rolled over into her voicemail.
Rumley's family is spending a year in the Austrian capital for her husband's work, but it was Rumley's career that was transformed by the call. When she later punched the buttons to retrieve the message, the caller announced that her 12-minute documentary, "The Ghost Behind," had been accepted at the Sundance Film Festival that started on Jan. 24 in Park City, Utah.
It is a film she wishes she never had been able to make.
First, it helps to understand the impact of Sundance:
It's difficult to get in -- just under 200 films were selected out of 14,260 submissions last year. Founded by Robert Redford's non-profit organization almost four decades ago, Sundance is the largest independent film festival in the nation with films drawn from around the globe. It is viewed as a predictor of the coming year's successful movies and serves as a snowy networking bonanza for filmmakers trying to break into the movie business. And, as Vox observed, it's "a place to spot celebrities in puffy jackets and furry boots."
Rumley, who graduated from Davidson in 1985, first dismissed the call as a joke. Then an email arrived. Then she started laugh-crying.
"I am not young, but I am a young filmmaker," she wrote in an email from Vienna. "This is my second film that is longer than two minutes, and then this happens. It's incredibly validating."
The journey to Sundance was painful, if not raw. The film chronicles the life and sudden death in 2016 of Rumley's brother and fellow Davidson alum, Jim, who graduated a year earlier. Caroline Rumley remembers being upset with him throughout making the film.
"He wasn't supposed to leave like this," she wrote.
Rumley graduated from Davidson and earned master's degrees in German and education, studied in Germany and met her husband, Hiram Maxim, who was in the same program. As he earned his doctorate and became a professor of German, they moved around the United States: Austin, Los Angeles, Knoxville, D.C., Atlanta. Rumley studied costume design, took a run at writing screenplays, gave birth to her daughter, Audrey, and, in Atlanta, began working with photography. Ultimately she earned a master's in film production at Georgia State.
"She invested herself wholly into not only the craft -- finding unique formal strategies to express ideas -- but, perhaps, more importantly, she wants to tell stories that resonate on an honest emotional level," wrote Daniel Robin, one of Rumley's film production professors at Georgia State and a filmmaker himself whose work has appeared at Sundance and other festivals.
"For most film students, it's a fine and difficult line to navigate when receiving feedback on rough cuts, what to change, and what to hold onto," Robin wrote. "Caroline walks this line with a sense of knowing, which is rare for film students."
Film Takes Shape
Family photos show Jim and Caroline Rumley playing together as young children. As teens they developed their own sets of friends but both played in their high school marching band in Florida.
"I guess I followed him to Davidson," she wrote.
They enjoyed the long car trips back and forth between their home, near Clearwater, and Davidson.
"Once or twice we even went back for the weekend, if we knew it was going to be 80 degrees on the Gulf Coast and 45 in North Carolina," Rumley wrote. "We'd look for tasty road food, bar-b-q or a meat-and-three place instead of fast food, and talk the whole way up and back, sometimes in a Chevy Blazer with no heat."
Jim, a drummer, joined a band called The Popes after college and the group tried to reach the national music scene. They traveled, and, in the early years, Caroline would see them when they played nearby. The siblings, though, drifted apart.
The film conveys the wrenching moments when she learned of her brother's death.
Caroline Rumley's thesis project at Georgia State began as a film centered around the surviving band members. The more she talked with one of the musicians, the more each of them discovered pieces of Jim's life they didn't know. After a series of those conversations, she realized the film would focus more on her brother than the band. She faced a time constraint, so she seized the new direction.
"I kept on," Rumley wrote, "not really thinking anyone would see this film beyond my [thesis]
committee."
She passed the defense and got the degree but wasn't happy with the film. She kept working on it. Soon, she thought she might have something for others to see. It screened at two experimental festivals, Anti-Matter, in Canada, and Haverhill, in Massachusetts, and she started to feel better about it.
Then: Sundance.
Now the festivals are calling her:
"The S-word carries weight," she wrote.
Rumley still doesn't have a publicist, but a recently produced music video is gaining attention, in part, because it was labeled as "created by a Sundance-nominated filmmaker," she wrote, adding:
"I'm starting to say that the dinners I cook most nights are 'created by a Sundance-nominated
filmmaker'."
Sundance is an achievement for a filmmaker regardless of their place on the spectrum of experience, Robin wrote, "something to hold onto for a lifetime, or at least as long as we're still watching films in theaters and film festivals are still relevant."