Davidson College Employees Celebrated for Creativity, Kindness and Unceasing Effort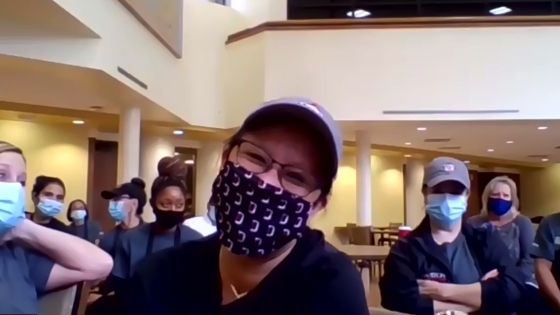 They found and bought one thousand cases of disinfectant wipes. They transformed offices and outdoor spaces into classrooms. They devised creative ways to use Zoom, Slack and podcasts as tools for teaching and connecting virtually. Davidson College faculty and staff have risen to countless challenges since the pandemic forced campus closures around the country in March.
During a virtual gathering to celebrate employees, Davidson College President Carol E. Quillen recognized the enormous, unceasing campus-wide effort required to open the college this fall. She highlighted the many, unpredictable shifts employees have made in their work to provide a meaningful experience for students.
"Thank you all for leaping into this flat-out run last March," said Quillen. "You have not slowed down since."
Hundreds of employees joined the virtual gathering to applaud each other's efforts and celebrate colleagues who were presented with awards for their dedication and service to students. They included:
Spirit of Davidson Service Award: Eva Alvarez, Wildcat Den Supervisor 

Hackenson Family Fellowship Award: Jason Shaffer, Associate Dean of Students

Matthews Travel Award: Donna Baysinger, Accounts Receivable Coordinator 
Participants unmuted their microphones to cheer for the award recipients. Quillen ended the event with a special surprise for employees in regular staff positions—five additional "floating holidays" to be used before the start of the spring semester. Messages of gratitude lit up the chat screen.
Spirit of Davidson Service Award, Eva Alvarez
This is the ninth year of the Spirit of Davidson Service Award. In appreciation for the service of hourly staff members to Davidson College, and in particular for the caring way in which hourly staff interacted with and supported their son Mike, who graduated in 2008, Kathy and Gary Parsons established the Spirit of Davidson Award with a prize of $850. An additional gift to the endowment of this fund made by Donna Molinek, professor of mathematics, and Frank Molinek, friend to many Davidsonians, increased the award to $1,000.
This award is given annually to an hourly employee who has been at the college at least three years, who acts in accordance with the Honor Code, and who excels in service and support to Davidson College and its students. 
Our students nominate employees for this award. In their nominations this year students said:
This person makes me feel at home. She always makes a point to check in when she sees me and picks up on my current mood. She genuinely cares about students beyond her role as a staff member and I would love to see her get this award.

Another student said: She always greets me by name and with a smile when I see her at the Wildcat Den and Commons, and I remember meeting her my very first day at Davidson College.

Still another student: Especially during times that I feel pressured with academics, this person has always been a beacon of warmth and cheerfulness for me. She never fails to smile and greet students with joy as she takes their orders at the Den or Vail Commons. She has also made consistent efforts to connect students of Filipino roots together, creating a small community that has personally allowed me to feel at home on campus and form new connections that has made my time here at Davidson even better.

One student wrote: This staff member works at the Wildcat Den, and if I am ever having a bad day, you know exactly where I'm going for lunch—

The Den. She is always excited to see you, knows your name (and usually your order) and makes the windowless dining area a bright, enjoyable space. She is also the head of the Filipino club on campus. One day when I first met her, she figured out that I am part Filipino and quickly encouraged me to join her club. Growing up in America and with no connection to the Filipino side of my family, I know very little about Filipino culture. It was a really great experience getting to meet other Filipino students and employees on campus as well as enjoy some amazing food. I am so grateful that she reached out to me and welcomed me into a group of which I have never been a part. She has had an extremely positive impact on my Davidson experience, and it is because of people like her that give me so much pride to call Davidson my home.

Another student said: This staff member has been incredibly welcoming to me throughout my four years, especially as a Filipino student. She often organizes cookouts at Lake Campus with delicious traditional dishes for a group of Filipino students and friends. Through her own initiative I have met many great students, family, and friends and look forward to these occasions more than anything each semester. She is like my Filipino mother at school, always looking out for students and always taking time out of her busy work—

usually the Den lunch rush!!—to say hi and chat. She goes above and beyond to make students feel welcome and happy, and surely embodies the spirit of Davidson. Love you, Eva!
This year's Spirit of Davidson Award goes to Eva Alvarez, Supervisor of the Wildcat Den.  
Hackenson Family Fellowship, Jason Shaffer
It is a privilege to recognize the second annual winner of the Hackenson Family Fellowship. Established by Elizabeth and Bill Hackenson in honor of their son Billy's graduation with the class of 2013, this annual award recognizes a staff member who acts in accordance with the Honor Code and who provides superior service to Davidson College and its students, going above and beyond his or her job responsibilities to mentor students and enrich the campus community. The fellowship provides $5,500 for the recipient's expenses and travel for continuing education so that they may gain new understanding and enhance professional development. 
This Hackenson Family Fellowship award winner was nominated for caring for students with head and heart.
In normal times—remember those?—this person quickly adapted to a new role with broader responsibilities and has been able to balance working directly with individual students and family members to problem-solve and generate practical solutions to individual student needs. This staffer worked with student leaders to develop creative approaches for improving campus culture.  
This person was in demand, for example, to answer questions during "town hall meetings" organized by student groups, held—of course—during evening hours when this person could otherwise have been with family. This person assembled and advised groups of student leaders seeking to influence healthier norms and behaviors around alcohol and mentored a group of college men who worked toward interrupting their own gender biases and the gender biases of their peers. 
This person's commitment to above-and-beyond service to students has always been evident.
In times of crisis, it inspires colleagues.
During the college's brief shelter-in-place order last fall, after a SSAFER alert, this person's swift and decisive actions influenced the actions of colleagues. This person stood up from breakfast, moved students back from windows, secured doors and then asked Vail Commons employees how to be helpful.
In March, this person worked literally around the clock to support our students in a stressful and uncertain time. Donning mask, gloves and gown, this person was on the frontline of reassuring anxious students, protecting their privacy, getting them food, packing their essentials, helping them figure out how to get home.   
This summer, this person convened a working group of faculty, medical experts and other administrators to develop the college's policies and approaches to masks and face coverings. Colleagues value his smarts, his ability to listen and synthesize, and his commitment to collaboration.   
Like Samson in the Bible whose flowing locks were a symbol of strength, our recipient has also impressed and amused many on campus with his pandemic coiffures.
None of these activities fell neatly into this person's job description but there was never a moment of pause about these "other duties as assigned."
Because he exemplifies the smart, driven and kind person we want our students to be and because he puts students at the center of his priorities, we recognize the many contributions of Associate Dean of Students Jason Shaffer with the Hackenson Family Fellowship.
Matthews Travel Award, Donna Baysinger
Frank Matthews, Class of 1949, established this gift in memory of his brothers, Eugene Robinson Matthews '36 and James Houston Matthews '50. He directed that this grant be made annually "in due recognition of the outstanding and unselfish service rendered Davidson by members of the college family."   
The award is $20,000. The funds are to be applied to travel expenses of recipients and their families. While the travel may be related to an academic or professional interest of the recipient, "its primary purpose is to afford opportunities for personal renewal and enjoyment."    
The Matthews Travel Award was inaugurated in 1999. All faculty and staff who have been employed by the college for a minimum of six years are eligible for the award.  
This person's depth and breadth of campus knowledge is impressive. Known for impeccable customer service, this person can resolve most questions singlehandedly, but colleagues are amazed by the recipient's ability to collaborate across campus with coaches, RLO, Cat Card services, Dean of Students Office and the Patterson Court Advisor. The recipient will jump in on a team project even to the detriment of their own priority list. 
This year's recipient is lauded for "putting heart and soul into Davidson students," "for a true and genuine interest in each person who walks through the door," and for making each student feel important and loved.  
These relationships begin the moment a student or anxious family steps on campus, and sometimes before, when tuition bills hit mailboxes. It continues through to the Cake Race or Halloween celebrations or birthdays marked by a pan of brownies. And these student relationships continue post-graduation at weddings and baby showers and graduate school award ceremonies, no matter the distance. Her commitment to her students' success knows no temporal or geographic bounds. In fact, students sometimes refer to the recipient's biological children as siblings. 
What makes this all the more remarkable is that our recipient's primary job function is to collect money owed to the college. 
Many on campus have found their job made more challenging by the pandemic. And certainly one could think that the pro rata room and board refunds back in March might have compounded our recipient's workplace challenges. The bigger pandemic issue for our recipient, however, is that she is a hugger by nature, and she has suffered mightily by having to stay six feet away from her beloved students.    
For her outstanding and unselfish efforts on behalf of Davidson College, this year's recipient of the Matthews Travel Award is Donna "Mama Donna" Baysinger, Accounts Receivable Coordinator.