Antibody Science Yields Milestone Advances in Prevention and Treatment of COVID-19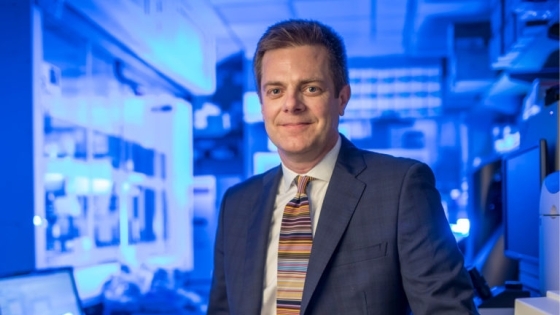 On Jan. 19, 2020, the first known person with COVID-19 walked into an emergency room in Seattle. Two days later, Davidson College alumnus James E. Crowe Jr. acquired a blood sample from the patient. His lab pivoted from a planned avian influenza preparedness exercise to the real work of identifying the DNA sequences of COVID antibodies. They accomplished the task in record time. Crowe's lab passed those sequences--in Crowe's words, "the recipe for the cure"--to pharmaceutical partner Astra Zeneca and the U.S. government. Potential treatments now are being tested in five different Phase 3 clinical trials. Crowe is a recipient of the 2020 Golden Goose COVID-19 Recognition for his decades-long pursuit of a better understanding of the human immune system, which is now paying dividends in the fight against COVID-19. Check out a video and feature on Crowe's work at "The Human Immunome: Small Moves Become a Movement."
The following was originally published March 26, 2020:
In war, armies can turn viruses and bacteria into weapons. The Pentagon needed the capacity to respond quickly to an epidemic, and they enlisted the help of the Vanderbilt Vaccine Center, led by immunologist James Crowe.
His lab, which receives more than $100 million in funding from the Department of Defense and National Institutes of Health, shrank the antibody development process from two years to 78 days during a practice discovery effort last year.
"We did the antibody discovery sprint for real this year," said Crowe, from Davidson's class of 1983.
Crowe and his team harvest antibodies from survivors in order to save lives.
That may sound a little ghoulish or perplexing, but, first, a quick rundown of the three basic ways to make vaccines:
Using inactivated, or "killed," virus, such as some vaccines given to babies that last years or a lifetime.

Using an anti-viral chemical drug that can offer prevention or treatment for a few days.

Using antibodies that survivors' own systems produced, extracting the genes and replicating them into a biologic drug that can offer up to 90 days of protection or treatment when given to another person.
The researchers in Crowe's lab, which looks like a biotech company, are trailblazers in the third category, using antibodies. The trouble in the COVID-19 pandemic was that, in the early weeks, he could find few survivors in the United States or Canada, as there had been few cases in either country.
"By mid-January, it was clear that the epidemic was out of control," said Crowe, also a professor of pediatrics and pathology, microbiology and immunology. 
The lab turned its attention to COVID-19 and focused on identifying and working with survivors. Adding to the difficulty, the human immune system takes a little while to develop a response to an invader. The work by Crowe's team included studying the first person infected in the United States, a 35-year-old man in Snohomish County, Washington. 
The Department of Defense is working with private sector partners, as well, but Crowe said his is the only academic lab fast enough to meet the Defense Department's needs for ultra-rapid response.
The lab now has thousands of antibodies in their pipeline and are narrowing their work down to a handful. Researchers have started mixing some of those with the virus in the lab to see how well they inhibit the virus. Next is testing on small animals, then nonhuman primates before partnering with a company that can replicate the antibodies in large quantities and manufacture the vaccine for testing in humans, which could happen as soon as this summer.
Crowe and his team worked on the dengue and Zika viruses and are prepared to respond to the next pandemic.
"Any virus that has the potential for a pandemic," he said, "we're probably already working on it."