Students Create Mural With Powerful Message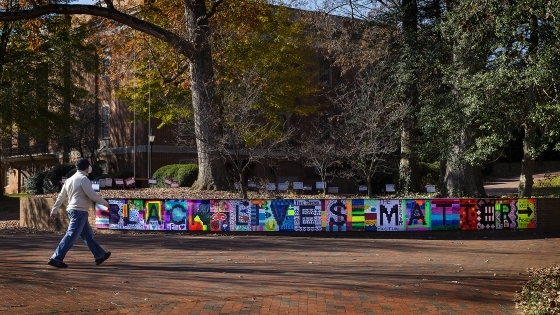 In a year that brought a pandemic, nationwide protests and a brighter spotlight on racial inequities and injustice, Davidson College students came together to create a mural with a simple, powerful slogan of the ongoing social justice movement: BLACK LIVES MATTER.
T.J. Elliott believes in the value of public symbolism.
In a year that brought a pandemic, nationwide protests and a brighter spotlight on racial inequities and injustice, he thought the Davidson College community should end the fall semester with a clear display of its values.
He enlisted Student Government Association President Brandon Harris '22, studio art major and digital studies minor Adelle Patten '21, and SGA Class of 2023 President Israel Palencia. They explored different ideas and settings before deciding upon a mural made with thousands of tiny ceramic tiles. And as classes wrapped up, they invited students to paint those tiles with the simple, powerful slogan of the ongoing social justice movement: BLACK LIVES MATTER.
"We wanted to include the whole student body to show this is not just one person saying this, but this is where we stand together," said Elliott, '21, a Bonner Scholar from Charlotte and linebacker on the men's football team. "We want to let people know we're going to keep fighting for Black and Brown lives, for more opportunities and equitable treatment, in Davidson and the United States."
The three-foot-tall, 40-foot-wide mural commands a bold and colorful presence on a curved brick wall near the Alvarez College Union. More than 100 students participated, and in a sign of the times, painted their tiles while masked, in socially distanced outdoor spaces.
"It was great that people could tackle different sections of the letters, having so many pieces meant that it could be a really collaborative, campus-wide effort," said Patten, a MacDonald Community Scholar.
 
Patten designed the mural. She said the tiles represent pixels, "the experience of advocating for social justice behind a screen due to COVID during the protests…and in turn, how racism permeates our digital reality and continues to oppress people of color."
"I was shocked by how quickly people put it together, which shows you how enthusiastic they were. It shows how much a public message like this is needed," Patten said. "I love all the different bright colors. I'll be so excited to walk around next semester and see those letters."
The students paid for most of the supplies with a Davidson Arts and Creative Engagement's SPIKE! grant. The SGA made up the difference.
"The SGA wanted to support this symbol, to say that we stand in this movement," said Harris, a Belk Scholar and Terry Fellow. "And we are willing to put in the steps to make sure it continues."
He said building the mural, which involved working through some very cold nights, became a bonding experience.
"When it got really cold, we kept each other's spirits up," Harris said, "and reminded ourselves how important this was as a campus for this to happen."
The students reached out to the college's Physical Plant Department. David Holthouser, director of facilities and engineering, helped them scout out a location and work through the process of installing termed public art on campus. His team provided a printed-to-scale template. The students spent hours cutting and arranging tiles.
Physical Plant workers secured the mural's plywood backing to the brick wall. Construction manager Ronnie Shirley applied the glue to keep the tiles in place, and Elliott, Harris and Palencia installed the 14,400 tiles. Physical Plant then grouted and sealed the finished tile array.
"My team and I don't get a lot of opportunities to work with students like this. To get to know them and see their dedication and commitment is something really special," Holthouser said. "The power of their message is extremely timely, and my team wants to be part of the message."
Students said they were also motivated by the college's Commission on Race and Slavery report, which laid out how enslaved Black people helped build Davidson's campus and served professors and presidents. After slavery ended, the college supported laws that continued to oppress Black people. 
"I think we're heading in the right direction as a campus," Elliott said. "We wanted to have this as a reminder, to keep Davidson accountable, now and in the future."
Palencia, a Posse Scholar and Bonner Scholar from Miami, says the mural serves as a reminder that the path to a more just society requires diligence.
"I want to make sure that as students, and as a campus, we keep having these conversations and moving forward," he said. "We have gone through a lot this year. We hope the mural is a symbol that represents Davidson's progression toward more equity and unity—especially through these struggling times."