Young Artist Charts Course as Inaugural Malú Alvarez Visual Art Scholar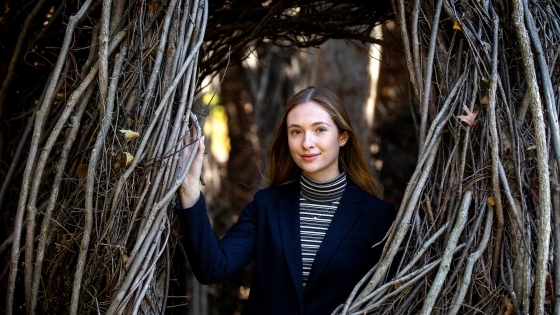 Julia Matthiesen '24 stood before Auguste Rodin's Jean d'Aire sculpture, the centerpiece of the Katherine and Tom Belk Visual Arts Center building. The then-high school student reached out to touch the sculpture, a moment she describes as the highlight of her Davidson tour.
Matthiesen now is the inaugural recipient of the Malú Alvarez Visual Art Scholarship, created by artist and alumna Malú Alvarez '02.
"I have always been able to create art," Matthiesen said. "When I was little, I would tell my mom that I was going to draw a fish, and it actually looked like a fish. I am a painter now, and I can already see the impact of my professor's teaching in my work. I am learning how to write about my work and create artist statements, too, which allows me to say more than the works could ever say on their own."
In addition to art, Matthiesen is interested in computer science and is excited about the ways her interests will mesh at Davidson.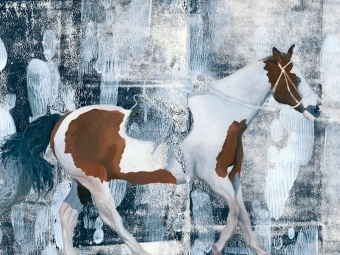 Alvarez, whose photography has been featured around the world, has witnessed how scholarships change lives through the Alvarez Scholars Program, created and funded by her parents, Carlos and Malú, to support international students at Davidson. As an artist herself, she understands how young artists can struggle as they find where their passion will lead them and is deeply moved by the opportunity to encourage a student's talent through scholarship.
"Art is as intimate a practice as can be," Alvarez said. "The soul of an artist comes through their work, and you learn what's behind the work, whether it is political or about the human experience. It's very enriching to be able to expand your perspective, challenge your own views and empathize with other people. I am glad to be able to support something so important through Davidson students."
Matthiesen said the scholarship gave her added confidence to follow the visual art path and demonstrates to her that Davidson is committed to her success.
"Every alum I talk to shares how much they love Davidson and how strongly they recommend giving back in whatever way they can," she said. "And every student has impressed me with how well this semester went and how seriously we all took the current situation. It is clear to me that we are here to look out for one another. I appreciate the strength of our community."
Outside of art and computer science, Matthiesen participates in club sailing on Lake Norman and club volleyball, which has met informally on Chambers Lawn. Next, she hopes to get involved with and submit work for student-led art and literary magazines.
"I had the opportunity to visit with Julia a few weeks ago via Zoom, and I am blown away by her talent and enthusiasm,'' Alvarez said. ''A few well-known contemporary artists came to mind when I saw her work, and I cannot wait to see how Davidson nurtures her talent."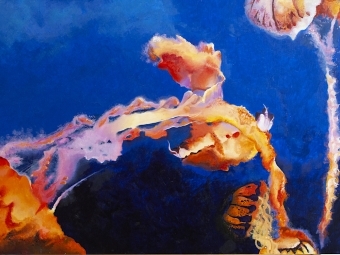 Matthiessen primarily paints what she calls magical realism—painting real things but in expressions that are imaginary. She draws inspiration from artists such as Mary Heilmann and Georgia O'Keeffe and is interested in growing in abstract expression to convey emotions undefinable through words.
Alvarez's work has been included in national exhibits and in major publications such as The New Yorker and The New York Times. She took an oil painting class during the quarantine period, which gave her a new appreciation for painting.
"Now when I see paintings in museums, I'm aware of the mastery required to create shadow and light," she said.
For three of the past six years of her involvement in the Davidson Art Collection Advisory Committee, Alvarez chaired the committee, which has allowed her to contribute to the growing body of artwork on campus and be a part of broader conversations on how to strengthen the visual arts at Davidson.
"It is energizing to build on Davidson's past arts scholars and graduates with new, talented students like Julia," she said. "It is a lucky place for visual artists to be as they weave in and out of works across campus. Art is a big part of the Davidson fabric."