Project '87 to Project 2027: A Q&A With Janet Stovall '85 and Maia Harrell '20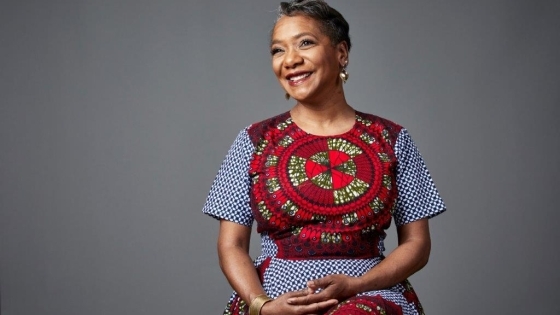 In 1984, Janet Stovall, one of 50 Black students at Davidson, decided to do something about racism on campus. Stovall launched Project '87.
Project '87 called for increases in the numbers of Black students, professors, classes and deans, took shape. The college has made progress toward Project '87 goals, but the work is not done.
"I want to see Davidson working—simultaneously—to deconstruct racism within Davidson's walls and outside them, across the nation," she says. "I'm ready to start on Project 2027."
Stovall joined the Davidson College Board of Trustees in January 2021. Her daughter, Maia, is a 2020 Davidson graduate. An international speaker and one of the few FORTUNE 500 speechwriters of color, Stovall is a respected voice for equity and cultural change in corporate America. Formerly senior director of social impact and The UPS Foundation, she recently joined The NeuroLeadership Institute—a global research and consulting firm focused on driving organizational change with data and science—as a senior client strategist.
Janet Stovall '85
You were a vocal and single-minded advocate for change (to borrow from your TED Talk) during your time at Davidson. How did your experience on campus shape the way you have approached advocacy after Davidson?
In two ways. First, my experience at Davidson shaped my focus and taught me the importance of sticking to it. At Davidson, I spoke to the experience of Black students because that was my lived experience. Now, as a voice for equity in corporate America, I'm often asked to speak for diversity in general or people of color as a group, and intersectionality. Nope. Even if I start there, I quickly navigate to race, specifically the Black experience. I don't dilute the message because what really matters to me is what I can be tireless and passionate about; my lived experience is what I can talk about with the most insight and knowledge.
Second, Project '87 taught me the value of objectivity. Project '87 was both lauded and loathed because of its logic. I moved us beyond aspirational to actionable. And that has been a huge lesson for me, especially in a space where profit is as important—if not more so—than principle. Today, I speak to companies about racial diversity, equity and inclusion as the smart thing to do, not the right thing to do. 
How was Project '87 born?
Out of sheer exhaustion! I had been fighting the fight for fairness since my second day on campus. By junior year, I was exhausted. I actually withdrew for a term and considered transferring. But, in the solitude of my apartment, away from the daily pressure of being "other," I started thinking about how to stop swatting at the symptoms and start fighting the disease.
I decided the problems stemmed from three root causes—too little influence, too much ignorance and practically no nurturance. The solution was efficacious critical mass, education and advocacy. I believed there should be specific numbers set, so we could actually measure progress. But the numbers needed to make sense. Therefore, Project '87 called for:
100 Black students, which would double the number we had in three years (doable) and get us on track to double it again in six years to achieve the ultimate goal of reflecting the percentage of Black people in the United States at the time;

10 Black professors, with a special emphasis on sociology, English, political science, mathematics, history and economics, the disciplines pursued by many Black PhDs nationally and most Black students at Davidson;

Five Black studies classes, with an even tighter focus on specific disciplines in which it would be easy to develop classes focused on the Black experience—history, English, sociology, and political science; and

One Black dean of students with a focus on Black student life, which would allow the admissions office to reapportion the travel-heavy recruitment function to allow for more support.
You weren't on campus to see the goals of Project '87 met, but you've stayed involved with the college in volunteer and leadership roles—why?
Over the years, I came to the conclusion that Davidson is uniquely—maybe exclusively—positioned to be something amazing: the epicenter of the effort to dismantle racism in America.
Imagine…The brightest kids in America bringing their racial baggage to one of the top liberal arts schools in America, where the only job they have for the next four years is to learn how to think differently.
Imagine…Teaching them how to think differently, but also how to move from thinking to doing, while helping alumni already out in the world to think differently as well.
Imagine…Putting enlightened Davidson graduates and alumni out in the world, along with those from schools that follow our example, hundreds perhaps thousands each year. The brightest graduating and graduated from the best, the now and next CEOs, headmasters, managing partners and leaders of church and state, capable of making, as President Quillen says, "disproportionate positive impact on the world."
Imagine…The people making the big decisions—about education, policy, law, housing, employment—aware, enabled and committed to fighting racism in all its forms: individual, institutional and internalized.
That's how Davidson plays a part in deconstructing racism: Creating enlightened leaders able to imagine and implement enlightened, actionable ideas about race, diversity and inclusion. I can see that, and that's why I stay involved.
Did you encourage your daughter, Maia, to attend Davidson? Did you offer her advice when she decided on Davidson?
It wasn't easy. On the one hand, she had the rare experience of growing up surrounded not just by Davidson alumni but by Black Davidson alumni. Her mother, aunt, uncle, godmother and a host of 'play' uncles and aunts—the people who were part of her holidays, vacations and rites of passage—are all Black Davidson alumni. She grew up on the campus. She lived the reality of the connections formed there. I told her the people I met there, were, for the most part, the most important people in our lives because they were the best people in my life.
But I warned her that it wouldn't be easy. She heard the good and bad from all of us; we never lied about the challenges. She knew what brought me to Project '87 and she knew that much had changed, but not all. I advised her to go there and find her space to make a difference. And I told her Davidson was a place where she could make a difference. I told her she would be challenged more than she ever had been, but when she succeeded—and she would—she and the world would know that she had done something extraordinary.
How did Maia's experience at Davidson compare and contrast with your own?
I believe it was quite different in some ways. The town has changed. Her situation is dramatically different. She came there with a lot more insight, a lot more privilege and a lot more access to opportunity than I had. She went abroad. Few Black students did that when I was there. In fact, I don't personally know any who did. Maia was a hall counselor for three of her four years at Davidson, leveraging her diversity and having an impact on others' lives in a much more personal way. I'm happy for that.
But there are some ways in which her experience was the same. Racism affected her. Systemic racism reared its ugly head in the classroom, on Patterson Court, with individual students and teachers. She may have been better prepared and supported, but the pain of that is just as acute.
Where do you want to see the college in terms of diversity and inclusion goals, and how do we get there?
I want to see Davidson working—simultaneously—to deconstruct racism within Davidson's walls and outside them, across the nation.
I'm thinking about Project 2027. To do what's next, what's possible, Davidson must be three things:
A microcosm: Davidson College is a small institution populated by extraordinarily smart people who, despite actual privilege and eventual power/influence, believe in service. As such, we are a practicably-sized, representative system that is configurationally analogous to larger systems, academic and social.

A model: As a microcosm, we are a laboratory. What we learn, we apply. In so doing, we make Davidson both a better place and an example to be imitated.

A missionary: The expertise we develop in creating this model uniquely positions us as SMEs, able to mentor and evangelize. Davidson becomes an innovator and originator, firmly at the epicenter of the discussion of race, diversity and inclusion.
To become these three things, we must do three things:
Define: Describe and state exactly the nature, scope, or meaning of racism as it pertains to our effort;

Dismantle: Break what is a huge problem into discrete, actionable areas for which objective, measurable solutions can be developed and implemented; 

Disrupt: Apply solutions, monitoring outcomes and adjusting as needed.
Is there something or someone from your time at Davidson you'd like to acknowledge?
The Black Student Coalition (BSC) was my refuge, my lifeboat. I would not have made it through the Davidson of my time, nor would I have become what I am had it not been for the friends I made there and the shared mission we advanced. Many of them have become family for me, literally and figuratively.
What is the best advice you've been given?
One year, as part of the BSC's Martin Luther King Lecture Series, we invited Dr. Charles King to conduct his racism workshop. I was driving him back to the airport and he said, "You're the angriest little Black woman I've ever met. Stop getting mad and start getting meaningful." Project '87—and everything I've done since—grew from that moment.
What keeps you going as an advocate for inclusion and in the work of combating racism?
In this country, there is no more important work than the fight against racism. If I can be a warrior in that fight, I will be.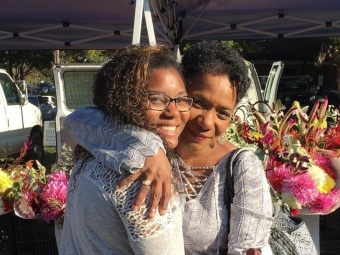 Maia Harrell '20
You're an entrepreneur at a time of intense economic uncertainty. Please tell us about your business and how you arrived at the decision to pursue it? 
My business, Lord of the Pies, is a cottage food business based in Tucker, Georgia. I make, serve, and deliver affordable, approachable, and delicious homemade pies. I focus on fresh, in-season ingredients of the highest quality to give the best food experience. Using both old family recipes and new ones developed with food science, I like to think my pies are perfect for every occasion.
I decided to pursue it because of COVID. I had applied and been accepted to a few master's in food science programs in January. In February and March, I was interviewing with professors at the schools to work in their labs. Most of the professors ended the interview with, "I'd love to have you in my lab, but I'm not going to hire any student unless I can guarantee funding for them. We are still waiting to hear about funding for next year." And then I never heard back from them! I reached out to the schools and was told they were waiting to hear about grants and federal funding. By this time, it was early April, and I was tired of waiting.
I've wanted to own a pie shop since I worked at one in high school, and I thought "why not now?" Lord of the Pies went from plan B to plan A in a few weeks. I am living at home, and my mom has been gracious enough to allow me to use her kitchen to start my business. I have been fortunate enough to not have the usual start-up costs, allowing me to move my business further and faster.
Black women are the fastest growing group of entrepreneurs in America. What are the opportunities you've encountered and challenges you've experienced as you've made your way in this space? 
The fact that there are so many Black women entrepreneurs has been a great advantage. Whenever I go to a market or pop-up, I make it a point to find every other Black woman there and talk with her—ask her questions about her booth set up, payment methods, favorite markets, whatever I can think of. I always make it a point to exchange cards, follow their brand on social media, and maybe purchase an item to show my support. I have friends and family who are very supportive, too. They will buy pie, tell me about a new market, run a booth with me, or share a post on social media.
Some challenges have been being a food business that is solely online. We eat with our eyes and noses first, so not being able to interact with food before you eat it has been difficult. I have great product photos to help alleviate that, but not having a physical space is difficult. I hope to open a brick-and-mortar location as soon as possible.
Why did you decide to attend Davidson? 
Originally, I didn't plan to go to Davidson. I was actively trying to avoid it! I wanted to study food science, and I was looking at schools like Cornell, UGA and Purdue. Davidson was my back-up school. My mom and I fought everyday over my decision to attend Cornell. She always said, "it's cold, far, and expensive," and that I would never come home. I knew she was biased towards Davidson, so I tried to ignore her. I thought about it for a long time, though, and realized that I had only one chance to attend Davidson, but I could attend graduate school elsewhere. I also wanted to go through the Center for Interdisciplinary Studies at Davidson, but after realizing that wasn't going to work, I chose a chemistry major. I knew I could get a little bit of both food and science from Davidson, so I made it a point to study food in every class I took.
What did your mother tell you about Davidson? 
She told me about the "lifeboat mentality" that kept her and her Black peers together while they were there. She told me Davidson taught her to think, not just how to do. She told me that despite her difficulties there, it was the best decision for her. Honestly, I don't remember her giving me too much advice. She mainly told me about her mistakes and things she wished she knew while she was there. She was aware of how different Davidson is now compared to when she went, so she wanted me to experience it for myself.
How did your experience at Davidson compare and contrast with your mother's? 
Davidson in 2020 is not the same as in 1985. Our experiences were both very different and extremely similar. Her parents could barely afford Davidson and couldn't afford to support her while she was there. I am fortunate that my parents could, giving me a different experience. I worked for RLO for three years, but she moved off campus after her freshman year. I was a chemistry major, but she was an English major. Our experiences seem very different on the surface, but deep down we struggled with similar issues: racism and discrimination among our peers and from our professors; working several jobs while being full-time students; struggling to navigate a majority white space.
Your mother talks about Project 2027. Where do you want to see the college in terms of diversity and inclusion goals, and how do we get there? 
I want to see more diversity in the STEM departments. There are no POC faculty in chemistry, and maybe a handful in physics, biology, computer science, and mathematics, combined. There is a large number of POC and women students in these departments, and I think they would appreciate having an advisor and teacher that looked like them. I think Davidson needs to do more than just bring diverse students on campus and should work harder to support those students once they get there. To reach these goals, I think Davidson needs to use its biggest asset: community. Use Davidson grads, faculty, staff and community members. There are thousands of Davidson grads and supporters who have other networks that can be utilized.
Is there something or someone from your time at Davidson you'd like to acknowledge?
I want to recognize my RLO family. After my first semester, I was ready to transfer. I had serious imposter syndrome—I thought I didn't belong on campus. I told myself if I felt that same way at the end of the spring semester, then I would leave. I applied to be an RA because I thought it would be a good resume booster and is the best-paying job on campus. I interviewed and got offered a position to be a hall counselor. I figured I'd stay another year since I got the job but was still thinking about transferring. After our two-week training in August, I knew I wanted to stay. I had found my tribe. I loved the other students I got to meet and work with, people I would've never met otherwise. I loved the professional staff, people who would become some of my greatest allies and supporters. I loved my residents, people who impacted me as much as I impacted them. RLO is what kept me at Davidson, and I can't imagine being at Davidson without them.
What is the best advice you've been given? 
Do what makes you happy. I know it's simple, but it's true. I started a business because working for myself and baking pies all day makes me happy. I joined RLO and became a hall counselor because helping people through the same struggles I had made me happy. I studied abroad in Italy because traveling makes me happy. I understand that doing what makes you happy can be difficult at times, and it comes with some restraints. But it's so worth it. I may not have everything I want (yet), but I know that as long as I'm doing something that makes me happy, I'll get there eventually.
What are your hopes for the future, personally and professionally? 
I hope to figure out my career path soon. I want to grow Lord of the Pies, but I am also open to other career paths. I hope to figure out my place in the world (I know, another big cliché). I hope to continue to do what makes me happy.
Anything else you would like to say? 
Support a new small business at least once a month.
Published
Category
Davidson Journal Fall/Winter 2020