'Minari' Earns Oscar Noms, Marks Evolution of Asian-American Storytelling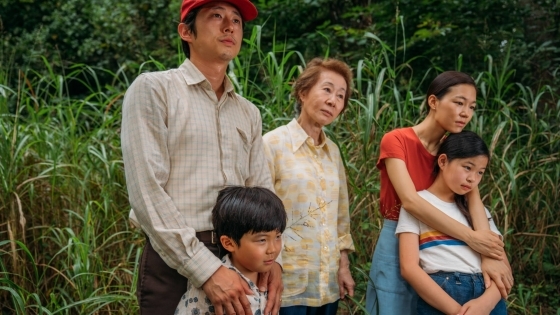 Minari, the story of Korean immigrants building a life on a small Arkansas farm, earned six Academy Award nominations, including nominations for best picture, best actor and best director.
Combined with the 2018 smash Crazy Rich Asians, last year's The Farewell and best picture winner Parasite, Minari is another sign that Asian actors and stories have moved into the mainstream of American popular culture.
Yurika Tamura, a visiting assistant professor in gender & sexuality studies, is teaching a class on Asian-American film this spring. In early March, she and her students had just watched Minari. She shared her thoughts on that film and Asian-American film in general.
What makes Minari unique? 
The film's content is actually fairly conventional. It tells the story of a typical immigrant family's struggle with land and their struggle to belong. It can even be read as any American frontier narrative: roots, family, growth and healing.
But the twist here is that the basic American Dream storyline is told from a Korean family's perspective, almost entirely in the Korean language.
One of the common narratives in Asian American history is that they are seen as "perpetual foreigners." While other immigrants may cultivate their roots in this nation, Asian ethnicity has been viewed in the United States as most unassimilable and alien. Minari turns this inside-out. Even though it proceeds mostly in Korean, it has charmed the American audience. And that's a significant achievement.
If owning the same story is an important part of belonging, this film certainly achieves a representation of Asian-American narratives of belonging and inclusion, without falling into traditional flat stereotypes of mothers, model minority and so on.
How significant are the Oscar nominations?
This is a tough time to be Asian in the United States. While the discourse of silence and erasure persists in Asian-American history, anti-Asian-American violence has increased dramatically since 2020. In the face of all these challenges, this award is a positive sign.
Of course, this isn't the first Asian-American film to make an impact. There is a long history of independent Asian-American filmmaking in the United States. The Rodgers and Hammerstein musical and film, Flower Drum Song (1961), told a story of family in San Francisco's Chinatown. And in 1993, The Joy Luck Club was a big hit. However, I find many of these films aim to show the Americanness of Asian- Americans, insisting that they are indeed all-American, and some even go to the extent of arguing that second- and third-generation Asian-Americans are Americans trapped in Asian (read: foreign) bodies. In such narratives, the first generations are often seen as incorrigible foreign others whose values and mannerism are stuck in the past.
The trend seems to be changing. The Farewell and Minari both succeed in not exoticizing Asia or the elderly parents, but rather show the stories of human family from transnational Asian-American perspectives.
Instead of telling the conventional American take on Asianness, they tend to humanize Asian-American families and tell their nuanced stories without feeling the need to make excuses or fit the stories in stereotypes.
We hear that representation matters, and it feels like Asian-Americans are represented more frequently—and more realistically—than ever. However, "Asian" is a big umbrella. Will this label have to be refined to reflect the diverse cultures among Asian-Americans?
A famous Asian-American theory that was published rather recently is Kandice Chuh's Imagine Otherwise (2003). In that, she argues that there is no such thing as Asian-American identity, but rather "Asian America" can be an intellectual methodology. She claims that multiplicity, transnationality, hybridity, as well as the impossibility of being one identity—those deconstructive concepts can work as a productive lens to critique race, gender and nation-state. My students also tell me that they were never Asians until they arrived at the United States, which makes the category of Asian a Western concept.
Defining "Asian America" has been always a work in progress and has been happening more vibrantly since the 1990s. It continues to evolve today, especially with young, female, and queer Asian-American artists and theorists. (Ocean Vuong and Franny Choi are good examples of such art and theory making.)
Stereotypes and Asian-American experience have historically a complicated relationship. It is fair to say there may be more "Asian-American films" (however you define it) that will be available in the theater, but that means more problems of representation, misrepresentation, and disagreements in representational politics are bound to happen with tangible impacts on the real people. I also would like to say, the fact that I can still count major Asian-American films for the past decade on one hand, and that they are all rather conservative family stories of good Asians, indicates that it [filmmaking] has a long way to go before we can claim an ascendancy.
Minari is available for rental through digital platforms like Amazon Prime and iTunes.