Davidson College Alum Represents Floyd Family in High Profile Derek Chauvin Case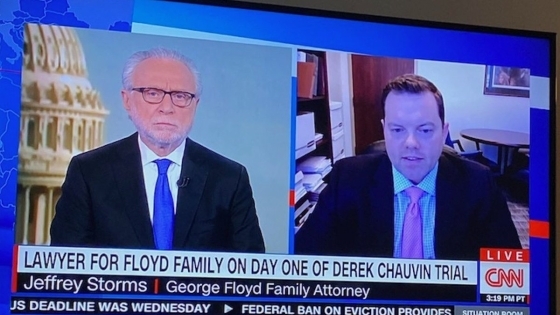 Minneapolis lawyer Jeff Storms, a police lieutenant's son and New Jersey native, was in a chain hotel room in northern Minnesota last summer, preparing for a deposition, when Angela Smith called.
"She said, 'Why am I seeing another Black man in Minneapolis die the way my brother died?,'" Storms recalled.
Smith was talking about the death of George Floyd, who asphyxiated under the knee of a Minneapolis police officer, a scene recorded and playing repeatedly on television that day.
Nearly a year later, Storms, a 2002 Davidson College graduate, is one of the lawyers representing Floyd's family. He and his co-counsel recently obtained a $27 million settlement on their behalf. Storms is often one of the family's spokespersons in front of a battery of TV cameras as the prosecution of the Minneapolis officer, Derek Chauvin, unfolds, one of the nation's highest profile criminal cases in years.
The case, though, also immerses Storms in questions about one of the most recognized successes of his career, which also involved a police officer's knee and a Black man's death.
Storms helped represent the family of David Smith, who was mentally ill and died in 2010 after, his lawyers said, being stunned with a TASER device and held facedown at a YMCA for several minutes with an officer's knee on his back. Minneapolis paid more than $3 million to settle that suit, one of the largest police conduct settlements in the state's history. The city also pledged to provide more training to officers on how to safely restrain suspects. 
"The only thing we were left with," Angela Smith told CBS Minnesota, "was to make sure it didn't happen to anyone else."
That's why she was calling Storms that day last summer. Her family didn't just exact payment, they forced the city to change how officers are trained and hopefully save lives. Or they thought they had. Now, with Angela Smith on the phone, Storms' mind raced: Had he failed? Had the city lied? Was police brutality too big for a single lawsuit to rein in?
"Every one of those things occurred to me," Storms said. "I just couldn't believe that it would happen in Minneapolis. I thought everyone in the city had to be on notice" after the Smith settlement.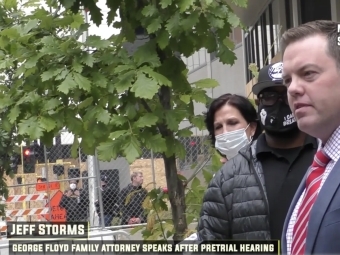 Belief in Civil Rights
Storms was a prep school national wrestling champion who was continuing the sport when he arrived at Davidson with an eye toward work in theatre. Freshman year he suffered a herniated disc in his neck that required a disc fusion. His wrestling career, and part of his identity to that point, were over. After time off for recovery, he explored new class subjects, including sociology.
"I grew up in an environment that had very different beliefs from what I advocate now," Storms said. "My experience in the sociology department helped me see other people and society differently."
His senior thesis focused on protecting privacy while fighting terrorism.
Fresh out of law school, Storms tackled a variety of types of cases. He gravitated toward civil rights cases and soon earned a word-of-mouth reputation for effectively litigating them. He still balances his mix of casework and acknowledges that civil rights cases typically don't generate the kind of big payouts that attract a lot of lawyers.
"There are much easier ways to make a living than a civil rights lawyer," he said. "You have to believe in this. Some people are going to hate you for what you say."
Before he finished a recent CNN interview, there was a hateful call on his voicemail.
Storms is encouraged by the city of Minneapolis acting as a partner in making policy changes after Floyd's death. He holds hope that this time the city will see real change. Angela Smith seemed to agree in the TV interview.
"This time is different," she said in the interview, "I feel like people are not willing to stand by and say 'it's okay.'"
The Smith case nearly a decade ago drew attention to civil rights abuses from across Minnesota. Now, Storms said, "the whole world knows about it."