Summit Stays: College and Outpost Operator Establish New Partnership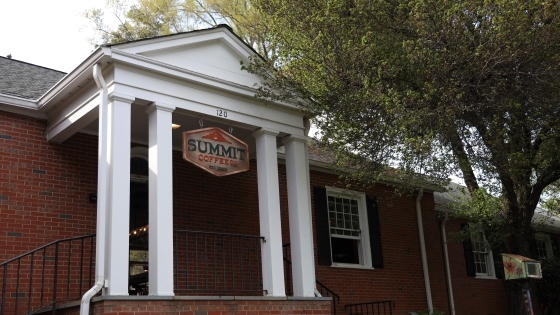 Davidson College's Auxiliary Services is pleased to announce that, after continued conversations with Summit Coffee over the past few weeks, Summit and the college have identified a way forward that will allow Summit to continue to manage the Outpost location while still offering late-night food that students have told us is important.
Immediately following the announcement that Summit's partnership with Davidson would shift to an exclusive coffee contract, both sides determined that the underlying assumptions for the agreement required greater discussion. As a result, Summit will continue to manage the Outpost and, beginning next year, students will have unrestricted use of Dining Dollars at that location. Further, we've agreed that the 2021-2022 school year will be used to assess the demand for the late-night weekend food service that the college's contract with Summit requires. The volume of student sales during late-night will be used to determine whether this will remain a requirement of the contract in the following years.
"Summit has provided a very good experience for our students over the years," said Richard Terry '81, Director of Auxiliary Services. "While we had confidence that we could replicate that, we appreciate that students feel strong loyalty to Summit. We're happy to enjoy Summit's continuing leadership of this program."  
"The bottom line is pretty clear: we're staying on campus, and we're thrilled about it," said Brian Helfrich, Summit Coffee CEO and Davidson College class of 2007. "We're grateful for the college and the conversations we have had over the past week, where there was an open and honest forum about what we both wanted to happen. At the end of the day, we recognized we were far more in alignment than we had realized, and we're excited to continue our relationship for the years to come."
Frequently Asked Questions
What will the late-night hours be?
The contract with Summit has always called for them to provide a late-night food option on Friday and Saturday nights when school is in session, until 2 a.m. (requirement waived during Covid). That has morphed over time to mean the period from 11 p.m. to 2 a.m. on those nights. 
Will this begin immediately?
No. The activity at the Outpost during late-night hours has always been linked to Patterson Court social activity. With the houses closed for social activity, Summit will not be required to provide this late-night service until Patterson Court houses are socially active again.
How is Dining Dollar availability for use at Summit changing?
For several years, student accounts had two purses in their profile: one for Summit Dining Dollars and one for Regular Dining Dollars. Beginning in the fall there will be only one purse, and it will be available for students to use at Summit whenever it is open.
Will beer and wine still be served at Summit Outpost?
Summit will continue to sell and serve beer and wine at the Outpost. The college does not have any specific requirement about when Summit does that, except that they cannot serve it after 1:30 a.m.
How busy does the late-night period need to be to justify continuing the service in 2022-2023?
Summit and the college have agreed to a level of sales activity that would cover expenses. That works out to about 50 customers per night based on rough average transactions to date.