Eat. Learn. Play. Wildcats.: Stephen and Ayesha Curry Support Davidson Student Success Through Lula Bell's Resource Center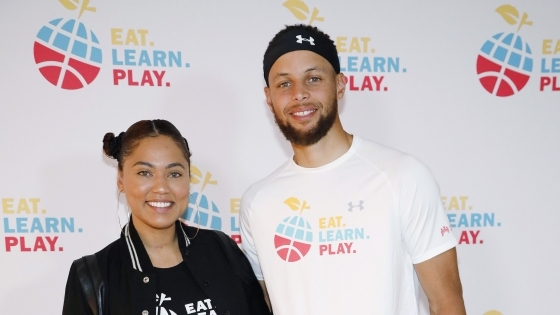 When Davidson students arrive on campus, they bring the challenges from back home with them.
Stephen and Ayesha Curry are helping ease that strain.
Davidson recruits talented students from all backgrounds, in part because education includes learning both alongside and from each other. Students from a range of life experiences bring different perspectives into the classroom or a project.
Sometimes they also have different personal responsibilities.
Davidson meets students' demonstrated financial need with scholarships, including money for meal plans for many students. But there is much about students' lives that the college does not know. A student may, for example, face circumstances that push them to send some of their meal plan money home to help their families, leaving themselves at risk.
Lula Bell's Resource Center, at Davidson, opened in 2017 to help close that gap and others and provide the full Davidson experience for all students.
If a student is hungry, they can get food without cost or questions.
The center also offers professional outfits for interviews, winter clothing, textbooks and kitchen supplies at no cost. Since its launch, demand has surged, with student visits numbering in the thousands—97 percent for food and groceries.
In support of all Davidson students and in alignment with the work of their foundation, Eat. Learn. Play., Stephen, from the class of 2010, and Ayesha have made a generous gift to eliminate the current funding shortfall created by increasing demand for the resources that Lula Bell's provides.
"Davidson has played such an important role in my life, so with the challenges of this past year negatively impacting students, Ayesha and I wanted to give back in a way that supported the needs of Davidson students," said Stephen Curry, co-founder of the foundation. "We've been able to see the incredible impact that Lula Bell's Resource Center has had since its creation, and we're excited to be able to lend a helping hand through our Eat. Learn. Play. Foundation."
Lula Bell's reaches a wide array of students. Some may only visit once a semester to pick up rented textbooks, while for others, like Ben Leach '22 and Julia Lau '23, Lula Bell's provides a safety net.
Leach is a junior psychology major from Boston who plans to attend medical school and continue his education in neuroscience. His health insurance and phone bill are paid by his mother, but the family's finances are stretched, with his father suffering from Alzheimer's disease. All other expenses are Leach's to cover. He is a Thatcher Scholar, Bonner Scholar and recipient of support from The Davidson Trust. He views Lula Bell's like an extension of his family.
"Freshman year was okay because we were required to get the largest 21-meal plan, but as time has gone on, I depend on Lula Bell's for almost every service they offer," Leach said. "I also volunteer there, so I've gotten a better picture of the breadth of its campus reach. You don't expect to see some of the faces you might see—I would not want to project about someone's financial circumstances, but it has been very educational. There have been so many improvements lately, too, from additional food options to a more expansive textbook program—Davidson is putting in the effort to make it even better."
Lau came to Davidson from Los Angeles, where she was also considering UCLA and Berkeley. After an in-person visit, the intended digital and screen media major and computer science minor chose Davidson. Lula Bell's has been critical in lightening the financial load she carries. Lau is also a Bonner Scholar and benefits from The Davidson Trust.
"I've taken advantage of the food and textbooks, mostly," Lau said. "I love that Lula Bell's gives students resources we otherwise wouldn't be able to afford, or at least things that, if we had to buy them, would make our lives more difficult. Knowing I can borrow textbooks is huge. I've talked to friends at different schools, and they don't have a resource quite like this. It's modern and welcoming, and if it weren't for COVID times, it's a place I'd want to come and chill, too."
Since Stephen Curry's time on campus, Davidson has taken measurable steps in bridging the most critical gaps in student resources. In the last 15 years, academic resources and student services have more than tripled. Davidson's scholarship program is the driver in ensuring that financial circumstance is not a barrier to a Davidson education for talented students. As the community changes, the support structure must change, too.
"Even with our commitment to meeting need, many of our amazing students face personal and financial challenges, and no one on this campus should go hungry or be without books," said Davidson College President Carol E. Quillen. "Stephen and Ayesha's generous gifts help ensure that creative and courageous students from any circumstances have the opportunity to enjoy the Davidson experience."
Along with resources for all students, the center, named in honor of the late Lula Bell Houston, a 60-year Davidson employee, hosts innovative and informative programming around systemic social issues and life skills, such as financial literacy.
"Lula Bell's embodies a community coming together to support each other," said Kristin Booher, Davidson's director of civic engagement and Bonner Scholars. "From day one, we had countless champions who understood the need for a space like this. It is bright, comfortable and right in the center of campus. Everyone is welcome, and there are no questions asked, because at Davidson, we realize we all are sometimes in a position to give and sometimes in a position where we have needs. And although most students visit Lula Bell's because they have a specific goal in mind, nothing about it feels transactional. Without a doubt, every gathering place on campus is beneficial, but I believe Lula Bell's is special."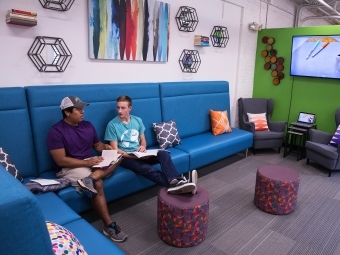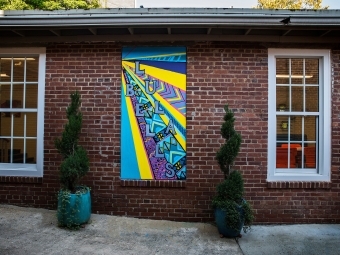 Eat. Learn. Play. focuses on the three vital pillars for a healthy, fun and successful childhood—nutrition, education and physical activity. Their work aims to unlock the full human potential of every child by fighting to end childhood hunger, ensuring access to quality education and providing safe places for all children to play and be active.
Lula Bell's was made possible through the investment of Decker Anstrom and Sherry Hiemstra in memory of their son Tom Anstrom, a member of the class of 2004, who loved Davidson and who believed that every student should have the opportunity to take full advantage of all Davidson offers.
The Currys' most recent support ensures every student will have the opportunity to thrive at Davidson without day-to-day barriers inhibiting their focus and achievement as they prepare for lives of leadership, service and impact in their communities and around the world.