Entrepreneurial Spirits: From Mopping the Floors to Making the Brews
On a sprawling Australian farm, Eric McKay '03 and Rebekah Rush McKay '03 cared for rescued kangaroos and developed a deep appreciation of craft brews, but not at the same time.
Though the pair didn't know craft beer would become their livelihood, they knew it was love at first sip.
Today, Eric and his childhood best friend operate the largest Virginia-owned brewery, a ranking they earned last year. Named for the farm where it all began, Hardywood Park Craft Brewery's two Richmond locations employ 75 people.
After a terrifying and grueling year for businesses large and small, Hardywood is once again open to visitors. Its newest location in the far west end of the city is a 60,000-square-foot production space and taproom sitting on 24 acres—an inviting space for young professionals, private event groups and families looking to enjoy good beer, food trucks, concerts and festivals.
Eric and Rebekah, who met during an Odyssey trip before freshman year, are excited that the next distribution markets for Hardywood beer may include Davidson and Charlotte.
"After studying abroad in Australia, I came back to campus with a new passion," Eric said. "I started working for the C. Shaw Smith 900 Room, running the bar, hiring bartenders. I also apprenticed the next year and a half with Carolina Beer Company in Mooresville … mopping the floors and scrubbing tanks. It was important to have that experience. Some people aren't willing to put in the hard work; it's easy to forget being the owner is also hard work."
Eric's apprenticeship informed his first foray into the brewing and fermenting process, which took place on campus (we'll leave the exact location undisclosed). On the occasion of their graduation, Eric gifted a bottle of his beer, brewed at Carolina Beer Company, to every member of the class of 2003.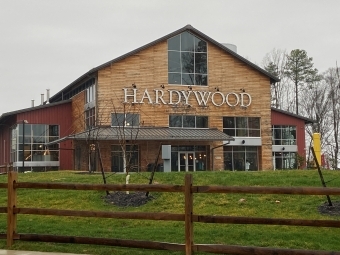 Uncertain Paths                                          
Following Davidson, the economics and English majors moved to New York to start jobs in their respective fields. He was with a hedge fund, and she worked at a publishing company. But after six months of number crunching, Eric went back to his passion for craft beer, holding jobs of increasing responsibility in sales, communications and marketing for a distributor.
"I worked in the industry for a decade," he said, "before we finally decided to give it a shot with our own place"
After identifying Richmond as a market where new businesses featuring hand-crafted goods thrive, the McKays, co-founder Patrick Murtaugh and head brewer Brian Nelson selected an empty downtown warehouse as their first location.
"The toughest moments were during the business planning times," Eric said. "I was still working for the distributor, was on the road at least three days each week, we had a new baby … and at the same time I was in business school and trying to compile a business plan and find investors. We were on a trajectory to run out of money in that first year."
Eric pushed for state legislation to allow establishments to serve glasses of beer at their facilities—when the legislation passed, it was the financial game changer Hardywood needed to stay afloat. Well, more than afloat. They doubled their sales the first few years and have since settled into a more methodical model, growing at around 10 percent per year.
"We started the first location soon after the birth of our first child, and we opened our second location when our third child was very young," recalled Rebekah. "No more breweries and no more kids. We're done building things."
Brew With Purpose
A brewery is mostly about the beer. But for Hardywood, it's also about being a responsible member of the community. Their slogan: Brew with Purpose.
"These are philosophies Rebekah and I learned at Davidson," Eric said. "We offer quality brews, source locally and ensure 100 percent of our electricity comes from renewable resources. We donate $5 from every barrel of our flagship IPA to the James River Association. Last year, we launched the West Creek 5K for ALS, a fundraiser in honor of our Davidson classmate Andrea Lytle Peet, which will now be an annual event. We also participate each year in Ales for ALS, brewing new beers for the occasion—one named for Andrea and one for my co-founder's uncle, who died from ALS."
With support from Hardywood, the James River Association won the 2019 Thiess International Riverprize, an award for river conservation. Improved river quality has allowed the endangered Atlantic Sturgeon—the fish that adorns the label of their flagship Great Return IPA—to return to the James River.
Since early 2020, they brewed a beer that resulted in support for Australian communities devastated by the recent wildfires. They donated to the Australian Red Cross and to wildlife rescue organizations, a legacy of their love for the country and its special place in the brewery's origin story.
In the past year, Hardywood has also released "Tropic Like It's Hot" in partnership with Virginia Pride, and "Black Is Beautiful" in collaboration with dozens of other craft brewers to promote inclusivity in the craft brewing industry.
Living a Dream
At Davidson, Eric wrote his thesis about the economic history of America's brewing industry, which looked at the explosive growth of the industry pre-prohibition and post-prohibition.
"There were maybe 30 locations in existence when I was born, and now there are more than 9,000 breweries," he said. "One of my theories was about potential saturation, and we're getting to that point. It will be interesting to see how things take shape in the next decade."
The national craft beer scene, often called a revolution or movement, has become less about alcohol and more about the quality and overall experience. Data show the craft beer market is expected to reach $503 billion by 2025.
The couple hopes to continue growing the reach of Hardywood products while incorporating even more of their Davidson connections into the work: A partnership with their friends who run Summit Coffee is high on the list of ideas.
For Rebekah, a North Carolina native, Davidson was always the top choice. Her grandfather was a Wildcat, and she felt the college was a perfect fit. Eric learned about Davidson from information sessions and admission recruitment at his boarding school in Connecticut. He said the most critical leadership skill he developed as a student is the ability to solve complex problems.
"If Eric had gone to a big school, I don't think he would've even gone to class," Rebekah said with a smile. "Accountability at Davidson is huge. Your professors know when you're not there. And that matters in business—being accountable for your actions and showing up and understanding that your work matters."
While the early days were tough, and the pandemic gave new meaning to the word, it's no easy task to run two locations and work on adding a full-service restaurant and concert venue, all while raising three young children.
"On the hard days, I remind him that not a lot of people get to live out their dreams," Rebekah said. "And we're doing that every single day."