Better Together: Sisters Olivia '21 and Julianne '24 Carey a Winning Combination for Wildcat Lacrosse
When lacrosse originated in the 1100s, it was more commonly referred to as "the medicine game." 
In its purest form, the sport was played for physical, emotional, spiritual and ceremonial reasons, with the intent to help the sick, promote peace among the Iroquois' Five Nations and provide an outlet for recreation.
Nearly a thousand years later, women's lacrosse is the fastest growing sport in the United States and across the NCAA. 
The sport is growing at Davidson College, too, as sisters Olivia and Julianne Carey celebrate one of the team's most successful seasons in Wildcat history.
Thanks to the help of this sisterly duo, the 'Cats clinched an A-10 postseason birth to wrap a 2021 season that no one had been entirely sure would even happen. Behind the Careys, Davidson lacrosse picked up its first win over a ranked opponent in school history, helped head coach Kim Wayne capture her 100th career win and started Atlantic 10 play at 2-0 for the first time, ever. As a freshman, Julianne has quickly made an impact, leading the team in points and assists, while Olivia, one of the team's two senior captains, is second on the team in assists and among the top six in total scoring.
What's Mine Is Yours
Like most relationships between siblings, sharing is at the heart of Olivia and Julianne's sisterhood, whether they like it that way or not. 
From hand-me-down clothes to lacrosse sticks, hometown friends and now even the same college, it seems there isn't much the two don't do together.
"When Julianne was looking at schools, I was like, 'There's no way she's coming here, this is my place,'" Olivia admits. 
But in true little sister fashion, and before Olivia can even finish her thought, Julianne has something to say in response.
"Yeah, she told me, 'Don't even come here, don't even visit … because I know you'll like it and want to come here too,'" Julianne interjects.
Despite Olivia's initial efforts, Julianne still found her way to Davidson, and the two are now sharing the same lacrosse field again, along with the same teammates and the same community. 
"Now that she's here, it's been really fun," Olivia adds. "We've grown a lot closer through having these shared experiences. Being teammates again, it's something that we have together and that we're both equally a part of."
Together, Olivia and Julianne combined for 21 of Davidson's 57 assists. And, with help from her big sister Olivia, Julianne's move from high school to college lacrosse looked almost seamless. 
"She's just made this transition from high school to college so easy for me," says Julianne. "A lot of people I've talked to and my friends at other schools were nervous or scared, but this is just like high school again."
With the comfort of her sister close by, Julianne managed something Atlantic 10 lacrosse has never seen before. Through eight weeks of the regular season in 2021, the freshman was named the league's Rookie of the Week seven times. And the two times she didn't win? Well, the 'Cats didn't have a game those weeks. Those awards culminated in Julianne being named the league's Rookie of the Year.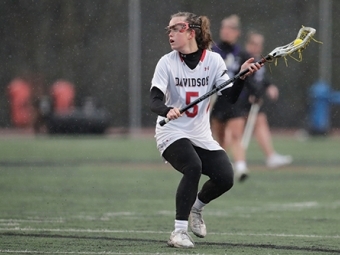 Polar Opposites
On a 90-degree afternoon in Davidson, in April, Olivia Carey is playing wall ball by herself on the last stretch of brick covered in shade behind the Baker Sports Complex. She's working on her craft, by herself, trying to better her game despite having just five games left in the regular season of her lacrosse career.
"Olivia is just that ride-or-die type of kid," Wayne says of the four-year starter. "She was always in the mix during our recruiting process, but the more I saw her play, the more I just fell in love with her work ethic."
Wayne also notes that Olivia has "really stepped up into her senior captain role this season," and what she does behind the scenes, when no one is watching, only proves that further.
Julianne's work ethic is similar; however, the rookie is gifted with the ability to be a bit flashy when the ball is in her stick.
"They're such different players," says Wayne. "Olivia has a quiet confidence, which is backed by how hard she works. Julianne's confidence is a little bit louder, she is a lot louder altogether, while Olivia is much more soft-spoken and will lead by example." 
The sisters echo this sentiment from their coach, adding with a laugh, "besides playing the same sport and going to the same school, we couldn't be any more different."
Being one of 32 pairs of sister-teammates in Division I women's lacrosse doesn't necessarily make the Careys unique. However, their on-field chemistry, or perhaps lack thereof, does.
While Julianne has recorded 20 goals as a freshman, and Olivia has nine of her own this season, the two have assisted each other just once each this year. Although they're not finding each other often on the Wildcats' attack, the two have had no trouble creating a chemistry within their position group, as the team ranks 21st in the nation in assists per game, and both of the Careys rank individually in the top 100 in total assists.
"I don't actually feel like there's any sort of special connection between us on the field," says Julianne. "It just happens."
"I think our whole team is really close, and our attack has such great chemistry that we're just doing what we need to do to win, and that means fitting into our roles to play the best we can as a unit," Olivia adds.
Their respective "roles" match their personalities, too. If you sit down and watch a Davidson lacrosse game, here's what you'll more than likely see: Julianne, the louder, more outspoken younger sister, has no trouble driving to the goal, taking on three to four defenders at any given time and finding the back of the net with style. Olivia, the soft spoken, quietly confident older sister will sit back, calmly watch the play unfold before her and find a teammate cutting to the net to set, dish them an on-point pass and set them up for a successful shot on goal. 
"I just love assisting," Olivia says. "I think it's way more fun than scoring."
A Family Affair
A six-hour and 51-minute drive is all it took for Ken Carey to make the trip from Blue Bell, Pa., to Campbell University back on Feb. 28. 
He arrived in remote Buies Creek to see his daughters play, stood outside the stadium fencing and watched from about 60 yards away, due to COVID-19 protocols and regulations.
In late March, he made a slightly shorter drive from his home to George Washington University, this time to watch the game from the parking lot on his cell phone through the ESPN+ broadcast.
"Our dad is loving this," the two say, practically in unison, with smiles beaming from their faces. "After the George Washington game, he went home and re-watched the game on the TV, because he said the screen was too small. He wanted to see it clearer the second time around."
Who could blame him? 
His two daughters, who once bickered over stealing each other's clothes and hanging out with each other's friends are now joined at the hip. They've shared the field together one last season and have excelled athletically and academically. Perhaps there really is medicinal power in the game.
---
This article was originally published in the Spring/Summer 2021 print issue of the Davidson Journal Magazine; for more, please see the Davidson Journal section of our website.
Published
Category
Davidson Journal Spring/Summer 2021