New Need-Based Scholarship Honors Beloved Professor and Lifelong Friend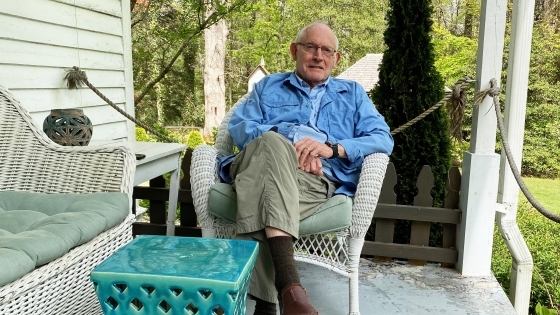 Charles Cornwell jokes he was the only freshman to arrive on the Davidson College campus "with hayseeds in his pockets." His journey began on a North Carolina farm; then it was on to Davidson where he cultivated a love of learning, ultimately securing a position on the faculty.
For Roger Brown '78, William J (Jim) Haynes II '80, Bruce Holliday '78 and Steve Holman '78, Professor Emeritus of English Charles Cornwell '61 left a lasting impression—as a teacher, mentor and lifelong friend.
To celebrate the impact Cornwell had on countless students throughout his career and in recognition of the close faculty-student relationships that set the Davidson experience apart, Brown, Haynes, Holliday and Holman have created the need-based Charles Cornwell '61 Scholarship to benefit future Davidson students. The group has committed $320,000 to the fund and encourages others to contribute.
"I realize now that when we were in his classroom, Charles was probably 35 or 36 years old, and I thought he was the epitome of wisdom and maturity," Holliday said. "I always got the sense he had a genuine interest in me personally; it was more like a friendship than a business or advising relationship. We had a great start, and it just got better from there."
Cornwell left Davidson in the middle of his career and relocated to Virginia to attend seminary.
"To this group, Charles was that legendary professor who opens your mind to new ideas, but even more, to a new way of seeing yourself," Brown said. "We want to honor him for what he gave us."
 I am especially pleased that four of my accomplished former students have established a unique scholarship for deserving applicants who grew up in a rural setting.
Charles Cornwell '61
The friends met Cornwell at varying points in their college careers and bonded with him regardless of their individual academic and personal pursuits. While many of their interactions were academic in nature, the group had plenty of fun—like when Haynes wanted to plan a special dinner date, and they borrowed Cornwell's home. Brown, Holliday and Holman were along for the ride, serving as the chefs, waiters and musical entertainment for the evening.
"I met Charles before the first day of classes," Haynes recalled. "He helped me untangle what appeared to me a complicated way of signing up for classes. He became my adviser and is still my adviser. Forty-five years later we continue together to untangle the problems of life."
The Cornwell Scholarship will give preference to students whose childhoods resemble Cornwell's. He grew up on a dairy farm in Lattimore, North Carolina.
"I am especially pleased that four of my accomplished former students have established a unique scholarship for deserving applicants who grew up in a rural setting," he said.
Cornwell instilled a love of learning in his students, inspired by things like "Caveat Lector," a student reading group that met regularly at Cornwell's home. That love has remained a constant in his life. Last summer, Cornwell read the entire canon of Faulkner, in order.
"Charles modeled that kind of life for us," Holliday said. "Watching him, talking to him—he made it very clear that there was much more to life than what we had experienced in our first 18 years. It is a learning experience, just being around him."
Over the years, the friends—all five of them—have found reasons to get together. The bond that started at Davidson remains strong, through milestone birthdays, careers changes, moves, family and more.
"We go to college, and we're unformed masses of clay, trying to find our way in the world. And we cross paths with people who help us figure it out," Holman said. "Charles was one of those people for me. He is such a kind, decent, honorable man, and that's something I don't think as a society we care enough about. Charlie emblemizes that way of being."