True Crime: NY Prosecutor Jackie Kasulis Takes on Mafia, Pharma Bro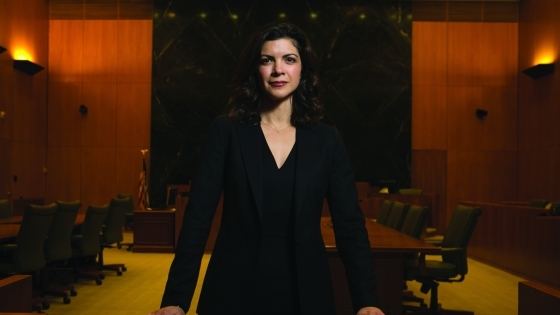 Prosecutors know from agonizing experience that the longer a jury takes to reach a verdict, the more likely they will acquit.
Jackie Kasulis was recently sworn in as acting United States attorney for the Eastern District of New York, adding to a prosecutorial resume that includes mob convictions, a bribery confession by Goldman Sachs and taking down "Pharma Bro" Martin Shkreli. She is now the chief federal law enforcement officer in one of the highest profile jurisdictions in the nation, which includes Brooklyn and Staten Island.
This story appeared in the spring/summer 2020 issue of the Davidson Journal magazine.
So, after a full day of deliberations and no questions or requests—not a word—from the jury room, Assistant United States Attorney Jackie Kasulis feared the worst.
Until that moment, it didn't seem possible for Kasulis's anxiety to grow. She had just finished six weeks of the highest-pressure trial of her career. The BBC dubbed defendant Martin Shkreli, a brash pharmaceutical company CEO, as "the most hated man in America" after he raised the price of an anti-AIDS drug from $13.50 to $750 a pill. The national media called him "Pharma Bro" for his smirks and confident denunciations of the trial in Brooklyn, New York, including dismissals of Kasulis and her colleagues as "the JV team." 
Shkreli's lawyer was Benjamin Brafman, profiled in The New Yorker as "The Last of the Big-Time Defense Attorneys" and whose past clients included Michael Jackson and Dominique Strauss-Kahn, former head of the International Monetary Fund.
Moments after Kasulis made an argument or conducted an examination of a witness, the media would dissect it in tweets. The platoons of reporters covering the trial required an overflow room in the courthouse—complete with giant video screen—and Shkreli fed the circus by once walking into the press crowd and venting about the trial.
Law is like saying, 'I'm in business.' It can mean anything. . .That's one of the reasons I was attracted to law school—the many paths… Davidson taught me to keep an open mind and explore my interests.
The federal case against Shkreli, though, had nothing to do with the drug price hike. He was charged with securities fraud and wire fraud from what amounted to a Ponzi scheme with two hedge funds he founded and the pharmaceutical company he owned—a distinction largely lost on the public.
Now the jury was deciding his guilt or innocence, and after two days of deliberations, the jurors' only communication was to ask for an explanation of fraudulent intent—a fundamental element of the case. Kasulis's stomach twisted. Oh, God, she thought, what if the jury members don't understand the case? 
She and fellow prosecutor Alixandra Smith, both from the Brooklyn U.S. Attorney's Office, and Shkreli's defense lawyers, had to remain within a few minutes of the courthouse during jury deliberations so that they could return quickly for the verdict. Kasulis and Smith tried to focus on other work and took breaks walking the Brooklyn promenade, a sidewalk trail along the East River that looks across to the Manhattan skyline.
After five days of deliberations, the jury sent word: They had reached a verdict. 
Lawyers, court staff, reporters and gawkers all raced back to the courthouse. A journalist, told there was a verdict, blurted an expletive and darted out to call an editor. The judge raised her voice and called for calm in the courtroom, trying to control the pandemonium.  
The jury soon returned, and Kasulis sat at the government's table in the courtroom with her colleagues. She once gave the final arguments in a triple murder case against a dangerous Gambino crime family associate while five months pregnant with twins and a day before a doctor ordered her on bedrest. Shkreli's case, however, was the most intense, highest-profile moment in her life. It was the culmination of months of preparation and weeks of courtroom strategy and agility.
And, now, she was trying to contain her fear that, on her watch, the most hated man in America was about to walk.
The judge silently read the slip of paper with the verdict and handed it back to her deputy, who returned it to the jury foreperson. 
"How do you find the defendant on the first count?" the judge asked.
Kasulis began a mantra in her head, an incantation of reassurance that she could find another job, that life would remain good despite this calamity: "I have two beautiful children and a husband who loves me. I have two beautiful children and a husband who loves me…"
Into the Tech Bubble
A month after Davidson College's commencement in 1998, newly minted graduate Jackie Kasulis (Jackie Rasulo, then) loaded up her red Jeep with duffle bags and a few comforts of home. Her mom, Maria Rasulo, climbed into the passenger seat for a cross-country drive from her hometown of Bradenton, Florida, to Los Angeles. Kasulis's career was starting on the same sort of curious, exploratory path as her academics.
The daughter of an endocrinologist, Kasulis enrolled at Davidson with an eye toward medical school. Though born on Long Island, she was a Floridian from age 5 and learned of Davidson from a family friend. She attended Manatee High School, in Bradenton, Florida, a football powerhouse that produced star University of Nebraska quarterback Tommie Frazier. Leo Spooner, one of Kasulis's classmates and now in-house counsel at Dolby Laboratories, in San Francisco, rarely saw her at social events but did "if I managed to get myself into one of the advanced or AP classes." She graduated at the top of her class, a likely ticket to the Ivy League, but with a painful shyness—a sense of reserve, a "hyperfocus" on academics, Spooner says, and "great glasses."
To Kasulis's parents, Davidson's palpable sense of community seemed a better fit. And they were right.
She started stepping forward at Davidson. She developed an array of friendships, served as social chair of her eating house and landed roles in college stage productions. She found mentors among the professors who also pushed her to challenge herself. By her junior year, she had built up the gumption to try a semester in India, the first real overseas trip of her life.
Her first days in the country were jarring. Poverty and overcrowding on a scale she had never seen firsthand pounded her senses. The dramatic shift in culture had her contemplating going home. Instead, she hung in and immersed herself in the community and what she describes as "the mashup of thousands of years of history."
The semester abroad proved a life-altering confidence boost. She had ventured well beyond her comforts and usual interests. The combination of her campus experience and immersion in India helped her navigate new cultures, languages and beliefs.
"It set me on a trajectory in life that wasn't about being afraid," she says. "It was about being up for the challenge." 
Med school had slipped from view, replaced by the humanities. Once back on campus, she switched to a history major and scrambled to get in the required courses before graduation. She contemplated graduate school but was in no rush, so she checked out some of the campus interviews through the career center.
Leigh Rawdon, a 1995 alumna, was director of operations for Infonxx, a startup lifted by the tech bubble that aimed to replace cell phone companies' 411 service and make money doing it. The company needed to hire, so Rawdon suggested replication—try recruiting at Davidson. She had success there. Graduates usually came with a strong work ethic, lack of pretentiousness and a full tank of integrity.
Rawdon checked in with the Center for Career Development, lined up interview space and booked a room at the Carnegie Guest House. Kasulis stopped in for one of the interviews, and Rawdon saw presence and determination—the essential ingredients for a high-pressure environment. Kasulis was hired. 
The transcontinental Jeep ride followed several weeks later. She arrived in Los Angeles on Saturday, moved into an apartment on Sunday and started the job on Monday.
"I thought, 'I lived in India for four months,'" Kasulis says. "'I can handle Los Angeles.'"
She was running a 300-person call center, which soon involved crawling around underneath banks of computer servers and diagnosing and fixing wiring with zero training.
Rawdon, now co-founder and CEO of the Tea Collection children's clothing line, confessed that the Infonxx enterprise sounds preposterous today.
"It was such an incredible, exhausting, terrifying career experience," Rawdon says. "They threw me in the pool, and we figured stuff out. We threw [Kasulis] in the pool, and she figured things out."
The two years of swimming included navigating occasional legal issues in the telecom world. When Kasulis's then-boyfriend was applying to business schools, he raised the idea of law school for her, based on both her demonstrated aptitude and their occasional debates. She applied, got into NYU and Columbia and enrolled at the latter, paying her own way with loans.
Transactional law looked like the path but, once again, it was time to explore. She enjoyed criminal law class and indulged in procedural shows like "Law and Order"—caricatures, but prosecution looked intriguing nonetheless.
After a summer at the U.S. Attorney's Office in Tampa, she was hooked.
"Every day is different," Kasulis said, "and you feel like you are doing something important for your community, something that matters and affects people's lives."
Her time on the stage at Davidson came into play, as she quickly felt comfortable presenting arguments in a courtroom.
Back at law school, she focused on criminal law but kept her perspective wide. She volunteered for immigration work with Catholic Charities and at a maximum-security prison, teaching classes on prisoner's rights and representing them at parole hearings.
Kasulis spent four years at a New York law firm, pouring bonuses into loan payments, until she could afford the pay cut of a federal prosecutor's job. She applied to U.S. Attorney's Offices up and down the East Coast and landed in Brooklyn. She met her husband, Tim Kasulis, who was then working at the Manhattan U.S. Attorney's Office—blood rivals to their counterparts across the bridge. After they were married, they held equivalent leadership roles in their respective offices, which caught some defense lawyers off guard when they tried to use one office as an example to the other.
The law offered a diverse landscape that let Kasulis do what she did at Davidson, in India and in the sub-floor of a computer room—try things and figure them out.
She has prosecuted murderers, Wall Street manipulators, La Cosa Nostra crime family members and Goldman Sachs bankers in a multi-billion-dollar money laundering scheme.
"Law is like saying, 'I'm in business.' It can mean anything," Kasulis says. "That's one of the reasons I was attracted to law school—the many paths… Davidson taught me to keep an open mind and explore my interests. After that experience, I never felt like, 'Oh, I'm not going to be able to take that on.'"
Brafman, who was Shkreli's defense lawyer, has mixed feelings about the verdict but described Kasulis as one of the most talented adversaries he has ever faced in a courtroom, and someone he admires.
"She's very effective on her feet in the well of a courtroom," Brafman says. "A lot of good prosecutors who are smart, write well and have good credentials don't do well when they have to stand up and address a judge or a jury. Her rebuttal summation in the Shkreli case, just in terms of her effectiveness, was very polished, very precise. She nailed it."
The Verdict
When the judge in the Shkreli trial asked the jury foreperson for the verdict on the first count, a conspiracy charge, he confirmed Kasulis's dread.
"Not guilty," he said. 
Kasulis tried to compartmentalize the alternative career scenarios racing in her head and continued to listen.
"Not guilty" on the second count. 
The case, the trial, the entire enterprise was nosediving. 
The third count?  "Guilty."
Wait. What?
By the end, the jury found Shkreli guilty on three counts, including securities fraud, the most serious charge. The not guilty verdicts were primarily on the conspiracy charges—jurors apparently were convinced that Shkreli had acted alone in his fraud schemes.
That was a Friday, and the weekend brought Kasulis overdue family time and some recharging that was bound to be drained the following week.
Shkreli was ultimately sentenced to seven years in prison for his crimes. Two years later, in the summer of 2019, the U.S. Court of Appeals for the Second Circuit upheld the conviction and, last fall, so did the Supreme Court of the United States.
Published
Category
Alumni and Family Engagement