Team USA Paddler Evy Leibfarth '25 Gets Taste of Olympic Competition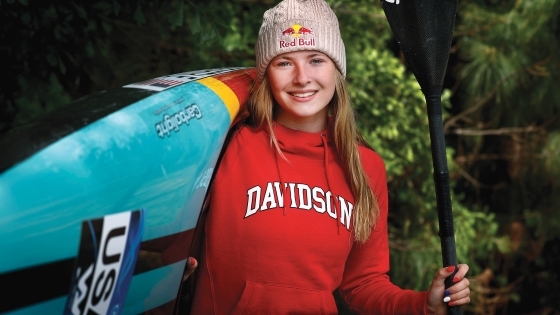 Evy Leibfarth '25 had what she hopes is just a first taste of the Olympics.
While she didn't come home with a medal, she advanced to the semi-finals in both of her competitions this week. She placed 12th in the kayak slalom K1 category. She also made history as the first American to compete in the new women's canoe slalom C1 race, placing 18th.
At just 17, Leibfarth was the youngest in both paddling categories at the 2020 Tokyo Olympics (postponed from last year because of the COVID-19 pandemic). She plans to take a gap fall semester before heading to Davidson in January.
"Didn't have the runs I wanted this race," she posted on Instagram. "Still so happy to have this amazing experience, and looking forward to taking what I've learned into the next races, and hopefully, the next Olympics!"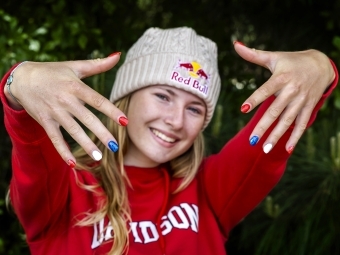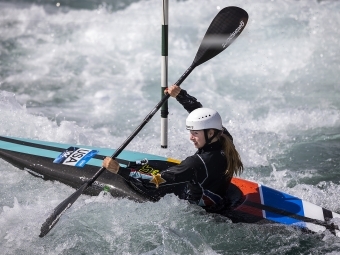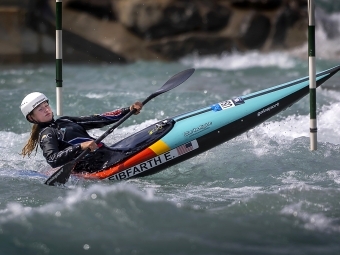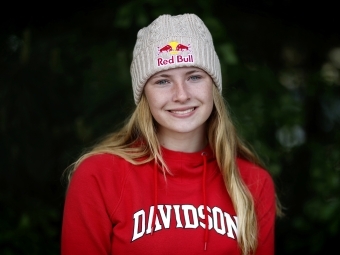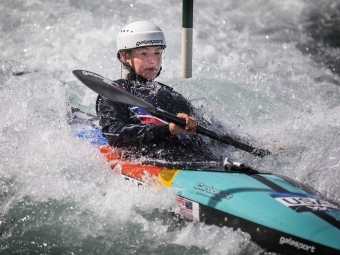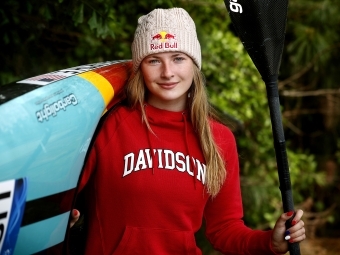 Read more about her here:
---
Published July 22, 2021:
On the way into her first day of kindergarten, a tiny four-year-old Evy Leibfarth looked back at her sniffling mother and said, "Mommy, why are you following me?"
"It was a bittersweet moment. Lots of other kids were hanging on their parents' legs, begging them not to leave," Jean Folger says, "And here was my little one ready to take on the world."
Watch out, world: She's more ready than ever.
Leibfarth landed in Tokyo earlier this month pumped up to paddle her way through the summer Olympics. At 17, she'll be the first woman to represent the United States in canoe slalom, and be the youngest athlete in a competition that's also making its Olympic debut.
Qualifying for the Olympics was one of the best things to happen to her in a banner year. She also became the first American to win the Junior World Cup championship in women's slalom kayak. And learned that she'd join Davidson College's class of 2025.
"It was two weeks of being completely over the moon," she says of this past spring, when she was accepted to Davidson and qualified for the Olympics. "I'd been looking forward to making the Olympic team for years, and hoping so much to get into Davidson, which is my dream school.
"I am counting down the days until I get to campus."
In the meantime, she's got plenty of action to fill those days. The Olympic paddling competitions start July 25th and she's slated to run in both canoe and kayak races.
The COVID-19 pandemic that postponed the 2020 games until this summer still looms large. She and other Olympians live in bubbles, maintaining social distancing, masking and mandatory testing rules. Anxiety abounds: Several high-profile athletes, including United States tennis star Coco Gauff, had to drop out after testing positive for the virus.
No spectators are allowed at the games. But as one of her coaches, Evy's dad, Lee Leibfarth, will be with her. Folger will watch Evy's competitions with other Olympians' families at an NBC viewing event in the United States.
Despite the unease surrounding the games, Leibfarth is coming in on a career high note. She spent the first part of her summer training and competing in Europe before winning the Junior World championship gold medal in slalom kayak, and a bronze in slalom canoe.
"It was really great to be in Europe to paddle different courses and see a lot of my friends and train with the U.S. team," she says. Winning the medals puts her "mentally into a good mindset for Tokyo."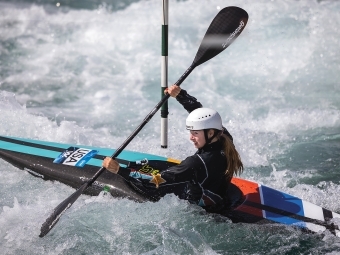 A Life on the River
Leibfarth grew up in Bryson City, along the Nantahala River in western North Carolina. Her mom and dad met as river guide instructors, got married, and when Evy was born, passed their love of the outdoors to her. They never pushed their sport on her, but from an early age, she wanted in.
As a toddler, she'd ride with her father as he kayaked along the river, yelling "Faster, Daddy!" She got her own kayak—pink with a sparkly paddle—for her fourth birthday. She started competing at eight, and along the way, had to convince her sometimes-nervous parents that she could handle the rapids. She rose to their many challenges in still waters before they agreed that their very determined daughter had the skill to navigate rougher courses.
Her dad, an elite paddler who'd coached the U.S. National junior team, became her coach. She travelled the world, winning multiple medals in international competitions. At 14, she became the top-ranked female paddler in the country.
She started attending school through the online K-12 International Academy when she became a serious competitor. She had to meet some tough academic standards: Her mom had previously taught high school English; and her dad, math.
"They both instilled in me this love for learning," she says. "That's one of the reasons why I'm so excited to go to Davidson, I feel like people there really take education seriously."
Her family spent part of the past few years living near the U.S. Whitewater Center in Charlotte, where she trains; and summers competing in Europe and South America. In 2019, she raced in her first senior world championship, and her fourth-place finish earned the United States a women's canoe berth in the Olympics.
"It was really exciting but terrifying. I remember sitting there, so nervous but smiling so big because I was also excited," she says of that race. "I'm pretty equally nervous before all races. I always push myself to do my best, whether it's a small race or a big race."
Gratitude Rises from Disappointment
As she prepares for the biggest race of her lifetime so far, Leibfarth has an upbeat attitude and a sense that no matter how things play out, she's thrilled to have landed here. The older she gets, the stronger she gets.
She turned the profound disappointment of last year's postponed Olympics into a new challenge, working to gain perspective.
"It did give me a chance to step back and realize how grateful I am for the opportunities I've had," she says. "Normally I'm travelling so much I don't have time to process things before I move on to the next place. The pandemic gave me time to do that."
On a typical day, she gets up by 6:30 a.m. and does two 90-minute water workouts during the day. She also jogs, or does some other aerobic land exercise, and devotes lots of time to stretching. Her flexibility, one of her greatest strengths, comes from her early training as a gymnast.
She skateboards, snowboards and surfs for fun. And yes, it freaks her coaches out that she might wipe out on a skateboard, but she assures them that she's careful. She usually takes off one day a week to go on a relaxing walk or hike and spend time with her friends.
Leibfarth has paddler friends around the world. She enjoys going out for coffee and shopping in whatever city she's in, welcoming the chance to ditch the workout clothes, dress up, and put on makeup. (An Olympian secret here: She loved that first kayak largely because of its pink color and sparkly paddle.)
She brings a box of markers and art journals everywhere. Drawing relaxes her and gives her a visual record of where she's been, who she's met, and what she's seen. She's never had formal art lessons but learned from her mom. Evy often draws portraits of people and rivers—"but not when they're racing because that's really hard to do," she says with a laugh.
She's spent her time in Tokyo learning the course and exploring the Olympic village. She says she'll treat the Olympics like any other race and follow a routine that's worked just fine so far.
"I'm usually nervous, but I talk to my teammates to distract myself. Two hours before my run, I listen to music, (all different kinds) which gets my mind off the race," she says. "A big part of it is the mental part.  I try to visualize it—you need to see yourself doing the course before you actually paddle it."
One thing that's made these past few months especially fun is meeting her new classmates through group chats. She's taking a gap semester in fall and will join them in January for the spring term. She plans to major in biology and minor in data science, with an eye on sports medicine.
"Everyone's got their housing assignments, and I'm so excited for when that happens for spring semester," she says. "I'm so excited to find out who my roommate will be.
"Just talking to the class of '25, everybody's so interesting, they have these neat passions and I'm so excited to be a part of that community because I know it will help me grow as a student and as a person," she says. "It seems like everybody is as passionate about learning and going to Davidson as I am. You can tell they really want to be there; they're not just going to college to go to college."
Once upon a time, the four-year-old Evy began preparing her parents for this moment. She has grown into what her mom describes as "glass half-full" optimist who sees the best in people and situations and views the world with wonder.
"She's enthusiastic, adaptable and keen to try new things," Folger says. "In sport, Evy is a beast. She's strong, tenacious, and super competitive."
And more determined than ever.
"Evy's superpower is definitely her determination," Lee Leibfarth says. "Once she sets her mind on a goal, she is unstoppable. Whether it's qualifying for the Olympics, becoming junior world champion, or getting into Davidson, she is driven."