Alums Contribute to Expansion of Africana Studies Department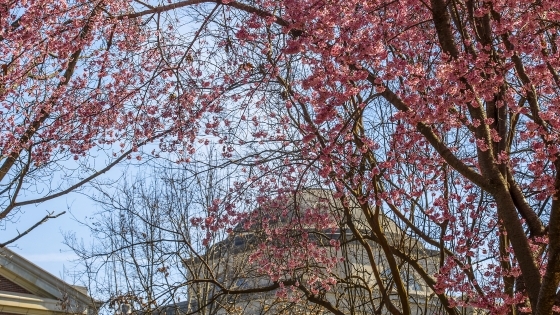 Bob Denham '61 and B Millner '61 grew up in segregated North Carolina and attended a segregated Davidson. They admit to living most of their lives oblivious to racial issues.
But in time, spurred on by recent events, ignorance gave way to a desire for education—they paid closer attention, and they read about systemic racism and injustices that didn't make it into school textbooks. Today, the classmates have created the Denham and Millner Faculty Recruitment and Retention Fund for Africana Studies to contribute to the expansion and excellence of one of the college's youngest departments.
"A lot of things came together for me at once," said Denham, whose son, Scott Denham, is a longtime Davidson faculty member. "In recent years, some of my classmates wrote compelling papers on social and political issues. The Commission on Race and Slavery was formed, and I kept up with [Commission Chair Anthony] Foxx's remarks on that. I read Ta-Nehisi Coates and learned about errors Davidson had made in the past. President Quillen came out and apologized for the college's racist history. All this during the Black Lives Matter movement and a pandemic. These things influenced me and made me think about ways we could make things better."
As Denham, who retired as an English professor from Roanoke College in Virginia, thought about what he could contribute to move the college forward, he called on his friend B, a retired banker who is enjoying a second career as a sculptor and painter. He turned out to be the perfect partner.
"Bob was my inspiration for this gift," said Millner. "When he told me he was going to do this, I was blown away, and I told him I'd match whatever he planned to do. I also felt like it was time for some payback. I did not have a relationship with a Black person as a peer until I went into the U.S. Army. My understanding of systemic racism has only come along in the last few years, really—I think it may have started with a book called Wilmington's Lie, which is about a white supremacist-led massacre in Wilmington, North Carolina, in 1898."
The Africana Studies Department's curriculum reflects the great ethnic, racial and religious diversity within the category of "blackness," and explores the artistic, historical, literary and theoretical expressions of the various African and African Diaspora cultures. This gift will bring leaders in the field to campus, further expanding the department's offerings for all students.
Denham and Millner met with Vice President for Academic Affairs and Dean of Faculty Philip Jefferson to explore their interest in supporting the college. 
"We discussed how the college might fulfill its commitment to expanding our very fine Africana Studies Department. They recognized instinctively that, as alums, they had a vital role to play in supporting the initiatives of the college," Jefferson said. "Their gift is transformational as it will help us to attract and retain the most promising and accomplished teacher-scholars in an area that is critical to our curriculum. It will impact generations of Davidson students who will learn from and interact with these faculty mentors. I am so grateful to Bob and B for their insight, vision and wisdom."
Better Late Than Never
Millner and Denham played freshman basketball together at Davidson—rather, Bob played, and B spent time warming the bench. They were both English majors and, their senior year, became roommates. The friends were in touch, though infrequently, until a chance encounter in London two decades ago brought them closer together again. A familiar gentleman walked by Millner in a museum … his friend Bob. They caught up over dinner and have remained connected ever since, planning several visits and trips together, many centered around art exhibits.
In addition to a love of art and travel, the friends have always shared an appreciation for what Davidson did for them.
"My greatest Davidson influences were my teachers," said Denham, who was one of three brothers to attend the college. "When you put students in contact with good teachers, good things happen. And that was the case for me. My father died when I was 17, and professors like George Abernethy, George Labban and William Goodykoontz became surrogate parents for me. I came in as a math major and got turned onto English. Senior year, I wrote a paper titled "Racial Equality in the South." I have no clue what I said or why I said it, but it was obviously something that was on my mind."
Millner loved his Davidson experience overall. He maintains a close connection to the college and has served on the Board of Visitors and the Board of Trustees.
"I simply matured as an individual," he said. "That's how Davidson changed my life. If I had gone to another college, it might've happened there, too, but it happened at Davidson. I think the only reunion I've missed was my 5th Reunion, and I can't remember why I didn't go—I just love the place."
Denham and Millner exemplify the proverb "better late than never," and they are thrilled to support alma mater and future Wildcats through this gift.
"I'm 82. I want to make the time I have left count. You start thinking about those things at this age," Denham said. "If you're going to act, you need to act now."
To learn more about supporting the Denham and Millner Faculty Recruitment and Retention Fund for Africana Studies, contact Jeff Prince, director of major gifts, at jeprince@davidson.edu or 704-894-2137. Gifts can also be made online at www.davidson.edu/makeagift by writing in the fund's name as the designation.