A Sweet Week of Warm Wildcat Welcomes to Start the Year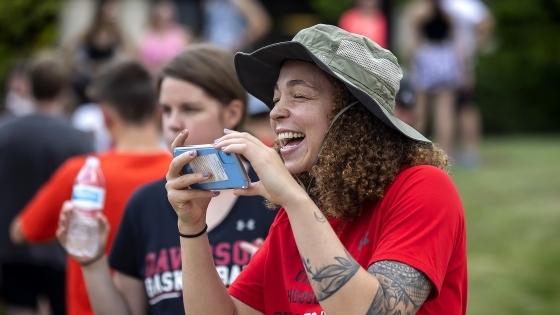 They flocked to the bookstore for Wildcat merch, raced from one orientation event to another, and bade their families tearful farewells after an outdoor picnic.
They signed Davidson College's Honor Code, to promise academic honesty and integrity. Now the class of 2025 has blended in with returning students as the college gears back into full swing for the fall semester.
Classes began Monday after busy days of moving in, orientation and connecting with friends, professors, and staffers. With a 96% vaccination rate among students, the campus bustled with the traditional rites of the new school year.
Here are some scenes from campus: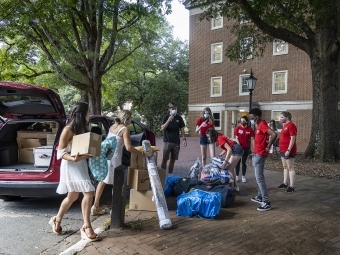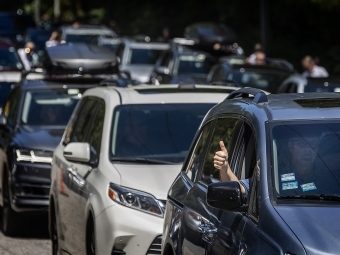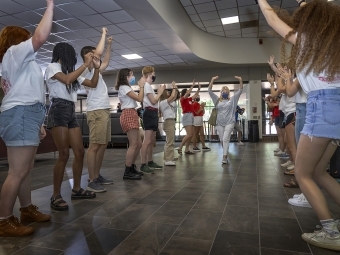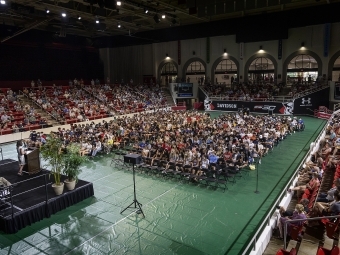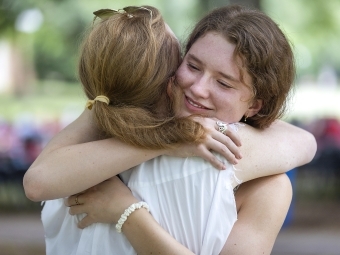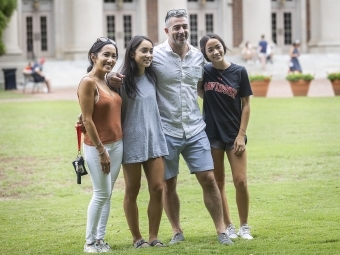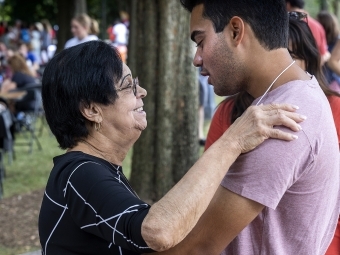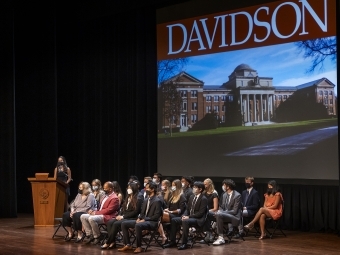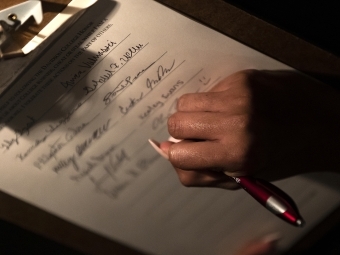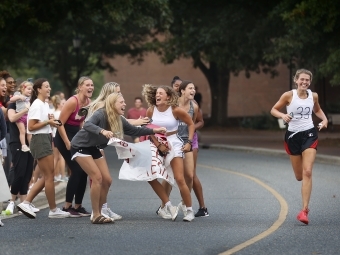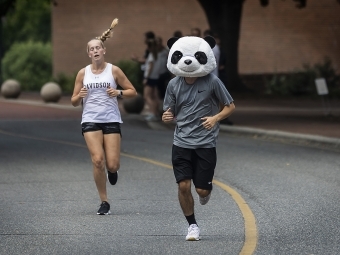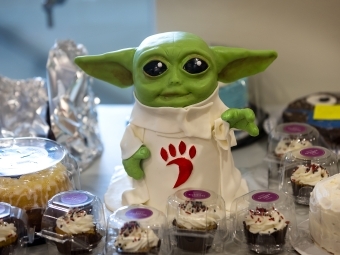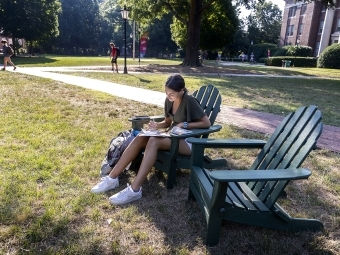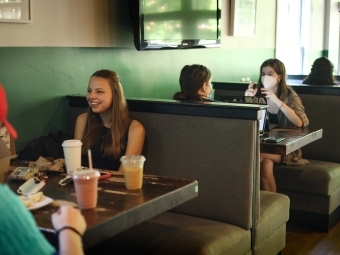 Moving In
"Belk or Richardson?" Felix Sammons asked cars loaded with incoming first-year students and their families as he held up a sign with "Welcome First Years!" written in black and red.
As August in North Carolina goes, the temperatures soared into the mid-90s and students traveling from far and near sweltered as they moved into their dorms. Still, they seemed excited to be on campus.
Sammons, a Richmond, Virginia, native and orientation team member from the class of 2024 remembers how welcome people made him feel when he arrived last year.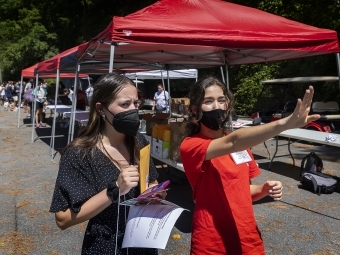 "I want to make them feel included and give them the true Davidson welcome," he said. "When people did that for me, it was very exciting and very reassuring that even though we're in a pandemic, we're going to get through this together."
"It's gone pretty well," he said of moving in, "probably because everyone is so nice."
Modern "essentials," from Keurig coffee makers to fashionable throw pillows to a bright red microwave made their way from the residence hall lawns to the dorm rooms with the help of the orientation team.
"My roommate and I have decided on a Boho theme," Rani Greer, a first-year women's swim team member from Pontotoc, Mississippi, said as a passerby admired her stylish nightstand. "I got it for $130 bucks at Home Goods. I think that was a great deal!"
She's excited to start her college career at Davidson, which she selected, "because it's a small D-1 school, where people have close relationships with their professors, and I could prioritize academics and be an athlete."
A Peppy Welcome
Davidson students don't welcome newcomers quietly.
Last week's events included the annual gathering where college leaders speak to first year and transfer students and their families at Belk Arena. They entered the arena via a human tunnel of singing, dancing and cheering orientation leaders. Some seemed surprised, but others jogged, sashayed, and danced as the music blared.
Many parents enjoyed showing off their moves, and one theme clearly emerged: Abba's "Dancing Queen" is possibly the most universally beloved, multi-generational feel-good pop song of all time.
Chris Gruber, vice-president and dean of admission and financial aid, welcomed the group with an array of biographical tidbits.
The 550-member class of '25 hails from 22 countries, 46 states and Washington, D.C. Forty-three are aspiring visual and performing artists; 132 are recruited student athletes. Their most popular names are Abbie, Jack and Ben. Some other points of interest:
One started an organization pairing high school students with senior citizens to lessen loneliness during the pandemic and bridge the generation gap.

PBS NewsHour featured another who sewed masks to raise money for women in Uganda and Nepal.

One founded The Awesome Pothole Company, using recycled materials to fix potholes.

One leads a unicycle troupe; another worked wrangling Alpacas at a bed and breakfast.

And one speaks seven languages and sings in six.
One student, Gruber said to delighted applause from the audience, "calls themself 'a Broadway loving, thrill-seeking, movie-watching, music-obsessed swimmer.'"
Sweet Rewards
The pandemic iced last year's annual Cake Race for first-year students. So, for the first time that anyone can recall, the college held two separate competitions for the classes of 2024 and 2025.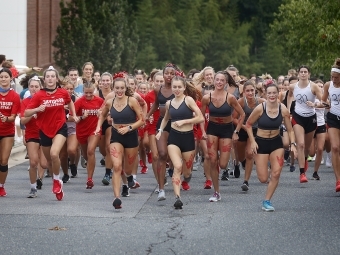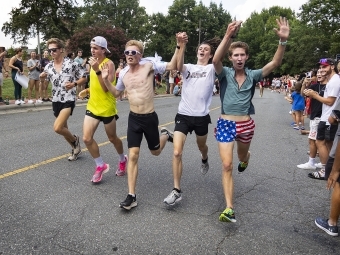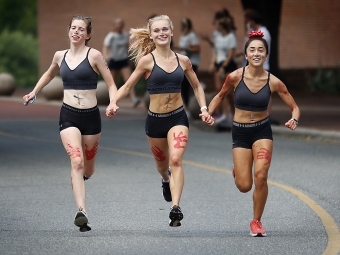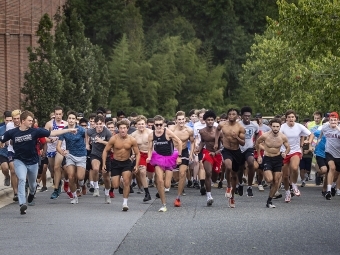 The college community and its many friends from local families, schools and businesses donated some 600 cakes, cupcakes, gift certificates and other treats. It's a new record, breaking 2019's previous count of 272 donations.
This beloved tradition began in 1930. A Davidson track coach wanted to scout out talent among first-year students and offered cakes baked by faculty members' wives as an enticement to win. The race was mandatory then, today it's not. Still, hundreds of students run a 1.7 mile course around campus and nearby. Runners pick a cake based on the order they cross the finish line. The college held four separate competitions on Wednesday, for men and women in each of the two classes.
Davidson's track and field team members did their sport proud, clinching the top honors in each race.
The race also recognizes superior baking, and men's head tennis coach Drew Barrett, a perennial star in that category, came through again, creating a Baby Yoda cake for each class. Other bakers, from dining services staff to local friends, filled the donation tables with clever, crumbly confections.
Nell Alexander grew up in Davidson and spent many childhood days baking cakes with her family and friends for the race. It's something many in Davidson do; she also has a special connection through her dad, Chris Alexander, the college's director of parent giving.
Nell graduated from Dickinson College as an economics major in May and is now job hunting. She understands how the pandemic restricted campus life and was happy when her parents told her that the race was on and both classes would run.
She reached out to newly graduated friends across the country on Instagram, asking what advice they'd give to first-year students. They came through, and she wrote their responses in icing on the cakes.
Advice ranged from "Read the syllabus," to "Join clubs to meet people" to "Save an easy class for senior year." Other wisdom included "If it's free, it's for me," "Don't take calc unless you have to," "Be yourself" and "Sis: Leave him."
She spent the better part of two days and nights baking 22 cakes in all.
"I know the freshmen and sophomores haven't known college without COVID," she said, "so I wanted to try to make the start of the school year a little more special for them and introduce them to the tradition."
You Belong
The pandemic upended the new class's high school years, affecting everything from in-person learning to college visits to cancelled proms and sporting events. Many took virtual Davidson tours and engaged in Zoom sessions and interviews.
Davidson received 6,424 applications in the admission cycle, the highest number ever—and had an acceptance rate of 17.8 percent, its lowest ever.
Sixty-seven new students are the first in their families to go to college. Forty-eight come from other countries around the world.
President Carol Quillen advised the newest college community members "to question what everyone takes for granted…listen to us old people—but selectively—and hold on to your sense of wonder."
She urged them to believe in themselves and trust that the college community is there for them.
"We can all fall into that imposter syndrome. That sense of, 'Can I do it? Am I good enough? Will people like me?'" Quillen said. "If things go wrong and you feel like they're spiraling out of control, know that we all feel that way sometimes. When you get worried, talk to someone—a friend, a professor, a counselor…you are the reason we are here.
"We all have doubts, but I want you to know—if you are sitting here, you belong here."
Published
Category
Admission & Financial Aid
Traditions
News Headlines
Student Life