Athletics Done Right - The Next Step: Davidson College Announces Plans for New Facilities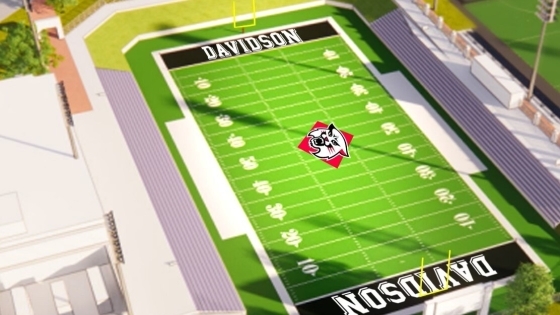 Nearly one in four Davidson College students competes in Division I sports. They are scholar-athletes who strive for excellence in all pursuits and are recognized among the top summa cum laude graduates each year.
Today, Davidson College Athletics announces plans for new facilities to further enhance experiences for scholar-athletes, members of campus and Wildcat fans. While still in the design phase, the goal is to complete all elements of the project within a total cost of $45 million. Initial leadership commitments totaling nearly $16 million have been raised to date.
Facility plans include a new stadium adjacent to the Carol Grotnes Belk Turf Field that will serve as the home for Davidson's football and lacrosse programs; a new fieldhouse, featuring a premier sports performance center equipped to serve all 21 Division I teams, along with an athletic training room, locker rooms for football, lacrosse and field hockey; and an enhanced track and field complex. The stadium will feature a new continuous seating concourse, state-of-the-art videoboard and improved fan amenities.
The track currently located at Richardson Stadium will be renovated, allowing Davidson to host meets and events. It will include new locker rooms for the track and field and cross country teams, as well as create enhanced cardio fitness and wellness opportunities for the greater campus community.
Davidson has hired Odell Associates as the architectural firm. Depending on fundraising and design progress, construction could begin as early as Summer 2022 and is estimated to take two years to complete.
The Time Is Now
Initial conversations and planning for a new phase of facility development began in 2018, soon after Chris Clunie '06 took the helm as director of athletics. A needs assessment conducted as part of the Athletics Done Right Strategic Foundation identified opportunities for updates and noted that the synthetic turf and track are at replacement age. Additionally, the current weight room cannot adequately and efficiently support more than 500 scholar-athletes. These needs plus interest from current donors and partners elevated the stadium, fieldhouse and track complex as critical priorities necessary to meet and exceed aspirations for Davidson Athletics.
The new projects align with the college's commitment to provide a first-class experience for scholar-athletes, with access extended to the entire student body, faculty and staff.
"Davidson Athletics is positioned for growth and continued excellence, thanks to the exceptional scholar-athletes, coaching staffs and donors, and so many others, who believe so deeply in our mission to do athletics right," said Director of Athletics Chris Clunie '06.
"Our collective investment in new and improved facilities demonstrates the role of Division I athletics in the footprint of this institution—we are committed to leadership, service and impact academically, athletically and in the community. I am excited by what these enhancements will bring to the Davidson College community and look forward to taking this next transformational step with Davidson Athletics." 
Davidson scholar-athletes earn frequent recognition for their athletic and academic performance. In the past seven years alone, Davidson has celebrated five NCAA team appearances, 16 NCAA individual appearances, four All-Americans, two Academic All-Americans, 10 conference players of the year, 14 conference rookies of the year, nine conference coaches of the year and more than 200 all-conference performers and 94 all-academic selections. 
For more information about the plans and to discuss the impact of your philanthropy, contact Director of Athletic Development Brandon McCladdie in the Davidson Athletic Fund Office at 704-894-2657 or brmccladdie@davidson.edu.