Love of Art Takes Root, Grows Into Beautiful Tribute to Professor Emeritus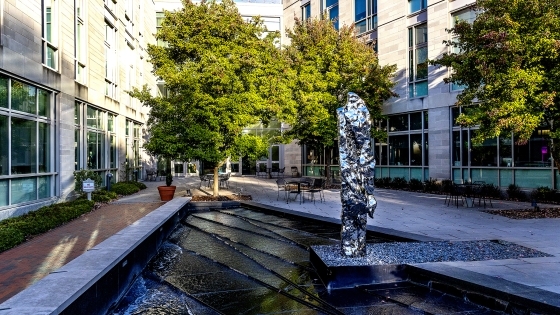 In the Holland family home, two things were evident: a deep appreciation for art and a love of China and its culture.
It is fitting, then, that the college's newest sculpture, given by Professor Emeritus of English Gill Holland's three adult children and their families, honors Holland and his wife, Siri, and adds to the campus collection its first Chinese artist, Beijing-based Zhan Wang.
"Davidson has shown great leadership in sculpture," said Holland's son, also Gill. "We want to support and enhance that vision while also honoring our dad. It's amazing when anyone dedicates 40-plus years of their life to an institution. The idea was a total slam dunk." 
The sculpture, "Artificial Rock #119," is part of a series of stainless steel structures, for which Wang is best known. The works reimagine "Gongshi," also known as scholar's rocks, which are naturally occurring rocks traditionally appreciated by Chinese scholars.
Gill remembers his parents "dragging" the kids around art museums on family vacations. While he says there was some kicking and screaming in his early years, the love for art stuck and has become important to each Holland child and their families. Most of his own family vacations now involve museums, though his three young children limit him to one a day.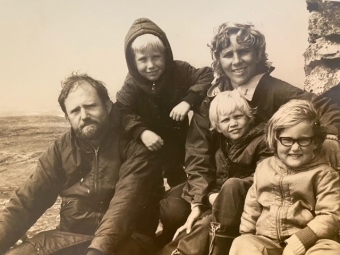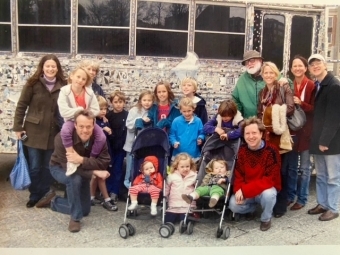 "We took a cross-country road trip this summer and were at the de Young Museum in San Francisco," he said. "We turned the corner, and there was one of Wang's artificial rocks. We immediately said about Davidson's piece, 'This is going to be so cool.'"
Professor Holland has long studied Mandarin and classical Chinese, and published a book of translations of classical Chinese poetry. The family lived in China twice. Daughters Astri Holland Kollme and Siri Lise Doub have fond memories of their dad practicing Chinese characters and incorporating the culture into their lives.   
"He would point out the art behind the characters and speak each word slowly so we could hear its true beauty," they said. "He regularly made meals of authentic Chinese food prepared in a wok with traditional Chinese bowls. For many years, the night before Christmas Eve, we'd drive to the Lotus in Mooresville to enjoy Peking Duck, an hours-long meal. It felt like something really special."
Art is a passion shared by both parents. Siri grew up entrenched in the art world of Norway and, in addition to articles on English and American literature, Holland published articles and reviews in Norwegian literature and art and also translated Norwegian painter Edvard Munch's diaries.
"We think it's marvelous that China will have a little bit more presence on campus so more students will get interested in studying the language and culture," Professor Holland said. "We have lived in Davidson since the 1960s, and the college means everything to us. We're so grateful that the children have given Siri and me this tribute, and we also appreciate the ways Davidson has been so receptive in opening up campus to something like this." 
The Holland children's homes are filled with art from their families' travels--Batik from Indonesia, carved wooden horses from the Philippines, Japanese paper cuttings, Norwegian watercolors. They offer reminders of shared experiences and memories made. They hope "Artificial Rock #119" will bring new opportunities for shared memories and experiences to the Davidson College community.
"My dad's trademark saying is 'great stuff,'" Gill said. "This is great stuff."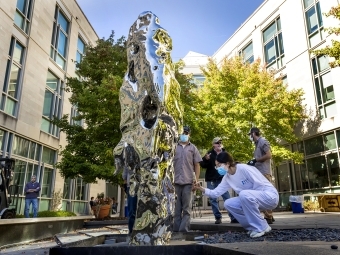 Artificial Rock #119 is a gift of the families of Augusta and Gill Holland, Astri and Barrett Kollme and Siri Lise and Robb Doub, in honor of Siri and J. Gill Holland Sr., Professor Emeritus of English. 
A public dedication will be held Friday, Oct. 22, at 4:30 p.m. All are welcome to join on the Mauzé Family Terrace at the E. Craig Wall Jr. Academic Center on Davidson's campus.
Published
Photography
Holland Family (family photos)