​​​​​​​Leading Through the Impossible: Army Colonel Recounts Tragedy of Afghanistan Withdrawal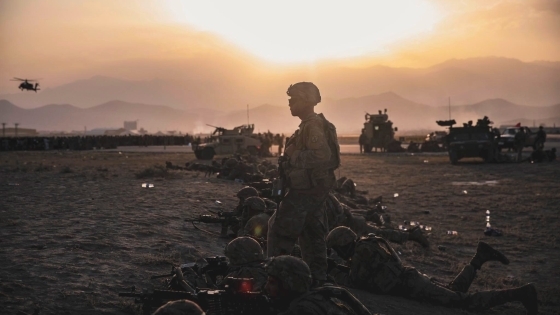 The "Man with 500 Questions" warned Colonel Matthew Hardman about what was ahead. 
Hardman commands the 3rd Brigade of the Army's 10th Mountain Division, a storied unit that fought in the mountains of Italy in World War II and most every major U.S. engagement since. Last summer, he was headed to Afghanistan to help lead the withdrawal of U.S. troops. On a stop in Qatar, he ran into his Army mentor's mentor, a retired colonel and, now, civilian analyst whose relentless queries earned him the eponymous nickname. 
"He looked me in the eye before I left," Hardman said in a telephone interview from Kuwait. "And he said, 'You're probably going to make the hardest decisions you ever make in your career.'"
Things Started to Go Badly
Hardman, a 1997 ROTC graduate of Davidson College, served in Afghanistan before and also deployed to Iraq. He earned a master's degree in history at George Washington University and taught as an assistant professor at West Point in between a succession of command positions.
The Army tasked Hardman with two roles in Kabul. He was the commander of security forces and chief of staff for all of the Army's units on the ground in Afghanistan. He and his troops were to help complete the withdrawal, help advise and assist the Afghan government and security forces, safeguard the U.S. embassy and bolster security at the airport.
Then-President Trump had signed a deal to remove all troops by last spring, and President Biden delayed it until September. Either way, the Afghan people knew that the American troops that had held off the Taliban were leaving.
As the days ticked down, hundreds of Afghans scrambled to leave the country. A crush at the airport began to build. The Taliban was seizing control of other major cities at alarming speed, sometimes without gunfire.
"[Hardman] was put in a very difficult position," said retired Gen. Chuck Swannack, former commander of the 82nd Airborne Division. The circumstances at Kabul Airport, he said, made it impossible to take some of the more effective steps to mitigate risk, such as limiting the number of people and building out extra standoff space.
Hardman described the situation as tragic from all directions.
"I had units on the ground that I was responsible for," he said. "It was really chaotic, a really dangerous situation. I was also really fortunate. I had really good people on the ground."
His troops deployed at Kabul's airport and the embassy. The battalion commanders grasped the gravity, and the risk—in the tragedy for the Afghan people and the impact on the soldiers who were trying to stop it.
Hardman was drawing on everything invested in him throughout his career by professors, mentors, institutions and friends.
"It was right here, right now," he said. "You had to get control, so we could do this as safely as possible…Nobody wanted to be in that tragic situation, but they knew that we were doing something important, that a lot of people were relying on us. We wanted to do right by the Afghans. We wanted to do right by the mission. These 18- and 19-year-olds who had never before served in Afghanistan felt that."
Grier Martin, a fellow Davidson alum and Afghanistan veteran, said Hardman's education and experience likely helped him take on such a complex mission.
"It was not full-on combat," said Martin, now a lieutenant colonel in the Army Reserves. "It was a mission that was not just providing security, but also figuring out who gets to go through the gates and who doesn't. It involved, I suspect, interacting with a lot of local Afghans, some with allegiance to the Taliban. You need the technical skills of leading combat troops and the human skills to know what motivates people, to have an understanding of different cultures and their history, their politics."
The troops under Hardman's command heartened him. He watched Marines who hadn't slept in days helping as many families as they could. One put his arm around a grandmother and walked her through the line to get on a plane. Others were helping deal with sick or dying children.
What they couldn't do was prevent the horrific scenes of Afghans chasing a U.S. plane down the runway, some clinging to it.
An Explosion at the Airport
On Aug. 26, Hardman walked out of a meeting with diplomats and Department of Defense officials and received a text message: There had been an explosion at the airport gate. He hustled to the command post.
"The initial report seemed like everybody was going to be okay," he said. "Within about 10 minutes it became clear that it was going to be a horrendous day."
Two suicide bombers killed 60 Afghans, 11 Marines, an Army soldier and a Navy sailor.
"We were gutted," Hardman said.
Five days later, the last U.S. military plane left Kabul and ended the nation's longest war.
Hardman was among the "Gen Xers" who put on a uniform in the late 1990s. The millenials followed, along with Generation Y. He considers himself an "old guy" in the Army now. He keeps reaching out to young soldiers to better understand their perspective. They think and do things differently, he said, and they are inspiring.
"Every generation, they want to serve," he said. "They want to have a sense of purpose, to be part of something bigger than themselves. It's incumbent on the rest of us to help them to achieve that purpose. Unleashed, they're amazing…We're going to be okay."
Published
Category
Alumni and Family Engagement
News Headlines
Alumni Stories