College Adviser Offers Tips to Unlock Financial Aid Through the FAFSA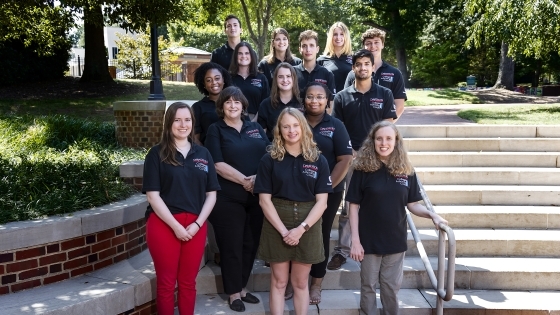 For countless families, the Free Application for Federal Student Aid (FAFSA) is the key to unlock financial aid for college—but many of them don't realize it.
The Free Application for Student Aid, better known as the FAFSA form, is completed each year by all prospective and current undergraduate students to determine their eligibility for financial aid. It's also the first step to free or affordable college for prospective students—students who complete the FAFSA are more likely to enroll in higher education, persist in their college coursework and obtain a college degree.
Enter Rose Botaish '20. The English major and history minor is working with high school students and their families to navigate the FAFSA process as a member of the Davidson College Advising Corps.
The College Advising Corps places well-trained, college graduates from institutions of higher education as full-time advisers in under-resourced high schools, where they work closely with the high school counseling staff.
Botaish works at Statesville High School in North Carolina to take the burden off school counselors by managing and coordinating many college-related counseling tasks. This allows the counselors to focus on other things, such as the social and emotional needs of their students. With the pandemic forcing schools into a new world of primarily virtual learning, it became more challenging to work with students on their FAFSA forms because students were not always present at school.   
Many students worked full-time jobs to help care for their families.
"The academics were just on the back burner," Botaish said, "because they had to do what they had to do."
When the organization myFutureNC re-focused attention on the FAFSA with a competition to boost FAFSA participation for 2020-2021, Botaish and her colleagues seized the opportunity to raise awareness of and remove barriers to the $150 billion in federal student aid that's available to students and their families for college in the form of grants, scholarships, loans and work-study positions.
Those barriers range from lack of knowledge about the opportunity for aid to difficulty completing the form; but, for those who persist, there are a variety of potential sources of "free" money.
"Some people only think about student aid as being loans they're going to have to pay back later, but there's a lot of free money available for college students," Botaish said. "You can get grants from the state and from the federal government, and financial aid from the colleges you apply to. Many scholarship applications ask for FAFSA information, too, because they want to know about your financial need."
In September, myFutureNC awarded Statesville High School a grant for "innovative strategies to boost their FAFSA completion rate for their senior class" during the 2020-2021 school year. Using multiple strategies—from texting and calling students to hosting FAFSA events on campus on location and in collaboration with community organizations—Botaish and her colleagues increased the school's senior class FAFSA completion rate by more than 11 percent.
Botaish relied on persistence, proactivity, and creativity.
"Last year our students were all over the place," she said. "It was really hard to even just get into contact with them. We had to continually think about how we were going to meet each person, each family, each student where they are."
Botaish's message for all families of high schoolers?  
"It's not guaranteed you'll get money if you fill out the FAFSA, but it's guaranteed you won't get financial aid if you don't," she said. "Take half an hour and possibly save thousands of dollars!"
Here are some things to note about the FAFSA, courtesy of Botaish:
Colleges and universities use the FAFSA to determine how much financial aid they'll offer you; even if you don't qualify for state or federal aid, it is possible you qualify for financial aid from the school you are trying to attend.


 

Depending on your finances, you could receive a federal Pell Grant for 2022-2023, which is money that does not have to be paid back.


 

Depending on your finances, you could receive state grants to help fund college. These are first come, first serve in North Carolina, though, so it is important to complete the FAFSA as soon as possible. Colleges have their own priority deadlines, so students should familiarize themselves with the deadlines at the colleges where they are pursuing admission.


 

Some schools require the FAFSA even for merit-based scholarships.


 

Even if you don't qualify for grants or financial aid, you are required to complete the FAFSA to take out direct subsidized and unsubsidized loans, Grad PLUS loans and Parent PLUS loans. The current interest rate for direct unsubsidized loans is 3.73%, and you have a six-month grace period after you graduate or leave college before you must start paying back the loan. If you take out a private student loan from a bank, interest rates are higher, typically around 6-10%.
The FAFSA application will remain open through June 30, 2022, for the 2022-2023 school year but Botaish and others agree, the earlier you fill it out, the better. Many schools award aid on a first come first serve basis, and states have individual deadlines for state money.